"TRICK OR TREAT! TRICK OR TREAT! GIVE US SOMETHING GOOD TO EAT!"
Hallowe'en is around the corner. Get your costumes ready and prepare yourself to feast like the zombie and party like the monster you are. We bring you activities, meals, and fiestas infused with a Hallowe'en theme around Jakarta and Bali.
SCARY FAMILY ACTIVITIES
Se of us have a mini-me (or more) to take care of, in which case Hallowe'en adult parties have to be struck off this year's agenda. Luckily, there are a couple of spooky events that you can take your children along to.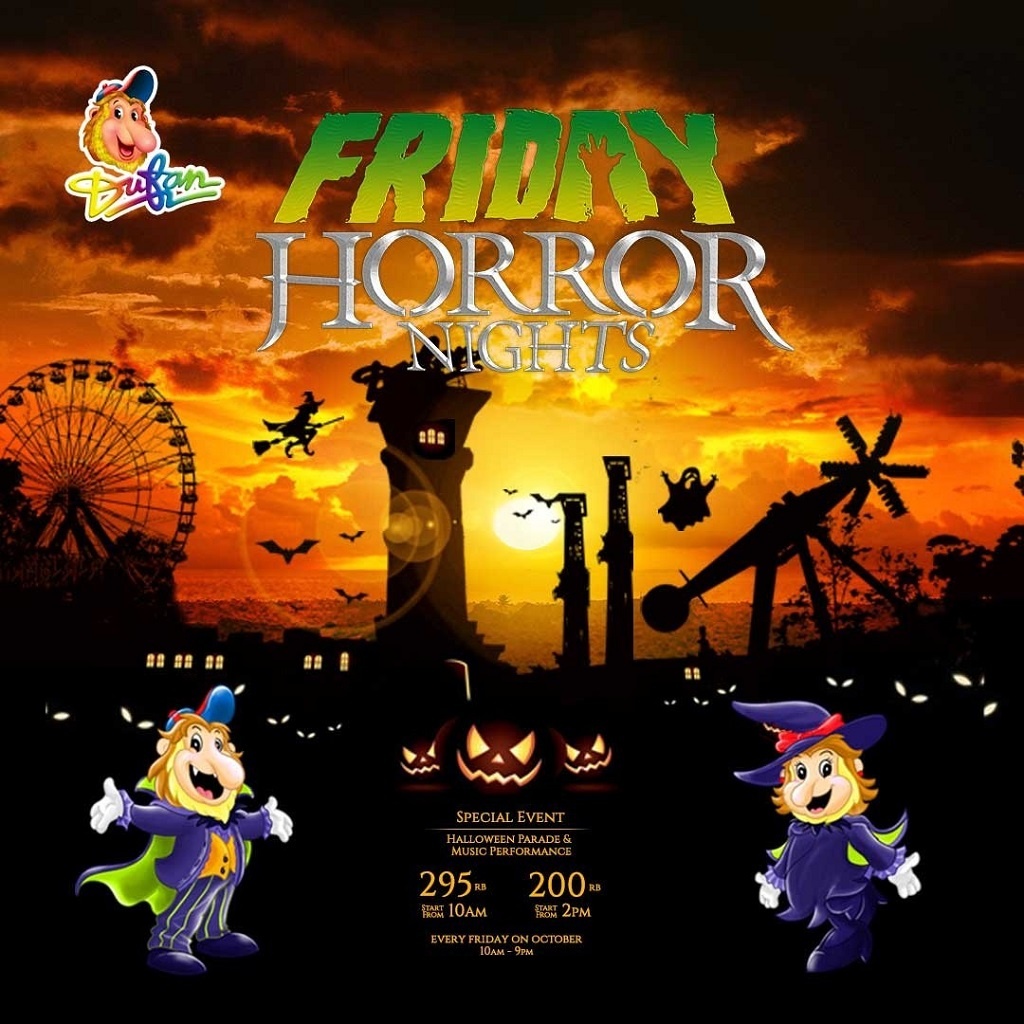 • DUFAN, ANCOL
Dufan had organised a new event called Friday Horror Night, where visitors can enjoy special appearances such as the Carnival Parade where people with scary carnival costumes and musical performances decorate Dufan throughout the whole month of October.
Date and Time: Every Friday in October, 10am-9pm.
Price: Rp200,000 to Rp295,000
Address: Jl. Lodan Timur No.7, Ancol, Jakarta Utara.
For more details visit https://www.ancol.com/id/destination/dunia-fantasi or visit Instagram @infodufan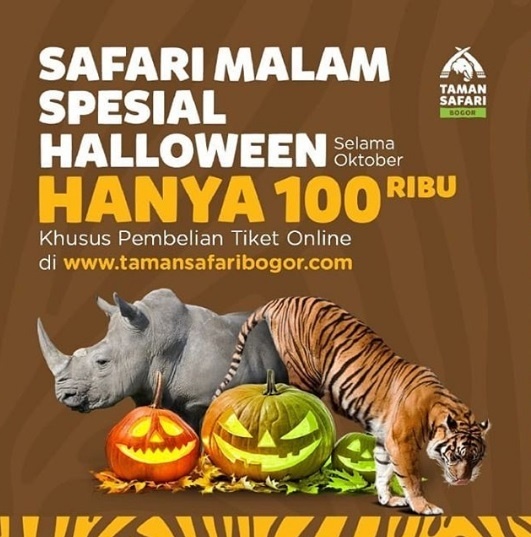 • TAMAN SAFARI, BOGOR
During October, Taman Safari welcomes visitors to roam on a special night safari. Visitors hop on a tourist train for 45 minutes, overlooking Taman Safari in a spooky atmosphere with officers donning ghost costumes while handing out sweets and masks to visitors.
Date and Time: Every Saturday in October, 6:30pm.
Price: via tamansafaribogor.com only Rp100,000 but on the spot purchase is Rp160,000-180,000 (Indonesians) and Rp300,000-350,000 (expats)
Address: Jl. Kapten Harun Kabir No. 724, Bogor, Jawa Barat.
For more details visit https://safariprigen.com/ or visit Instagram @taman_safari
GOT BLOODY WITCH MILK?
Sure, indulging in pumpkin curries, pies, latte, etc can be done on any other day, but these restaurants bring out the best Hallowe'en-themed buffets where you can eat unforgettable dishes with your significant other, family, or friends. Don't hesitate to wear your costume – you might be able to snatch a spooktacular prize for wearing the best costume!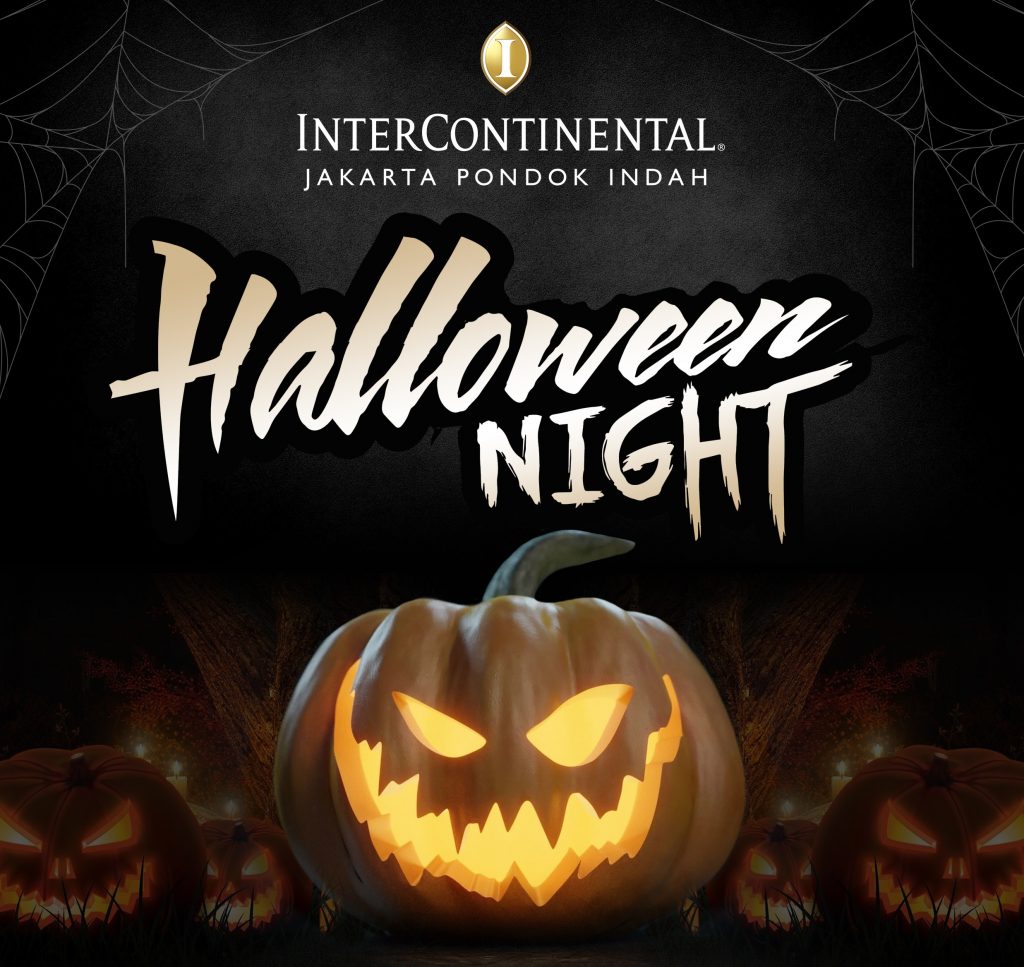 • INTERCONTINENTAL HOTEL, PONDOK INDAH
Sugar & Spice, Level 1 offers the Spooktacular buffet of delectable flavours from five continents. All guests will be welcomed with a Hallowe'en-inspired beverage, while children will not only enjoy their dinner but can also sign up for free face painting as their favourite character by a professional face painter. To add to the Hallowe'en vibe, the restaurant will be decorated with Jack O' Lanterns and spider webs, with welcoming staff dressed in Hallowe'en costumes.
Date and Time: Thursday 31st October 2019 at 6-10pm.
Price: Rp388,000++/person
Address: Jl. Metro Pondok Indah KAV. IV, Kebayoran Lama, Jakarta Selatan.
For more details call (021)-3950-7355 // 0811-1037-355 or visit www.jakartapondokindah.intercontinental.com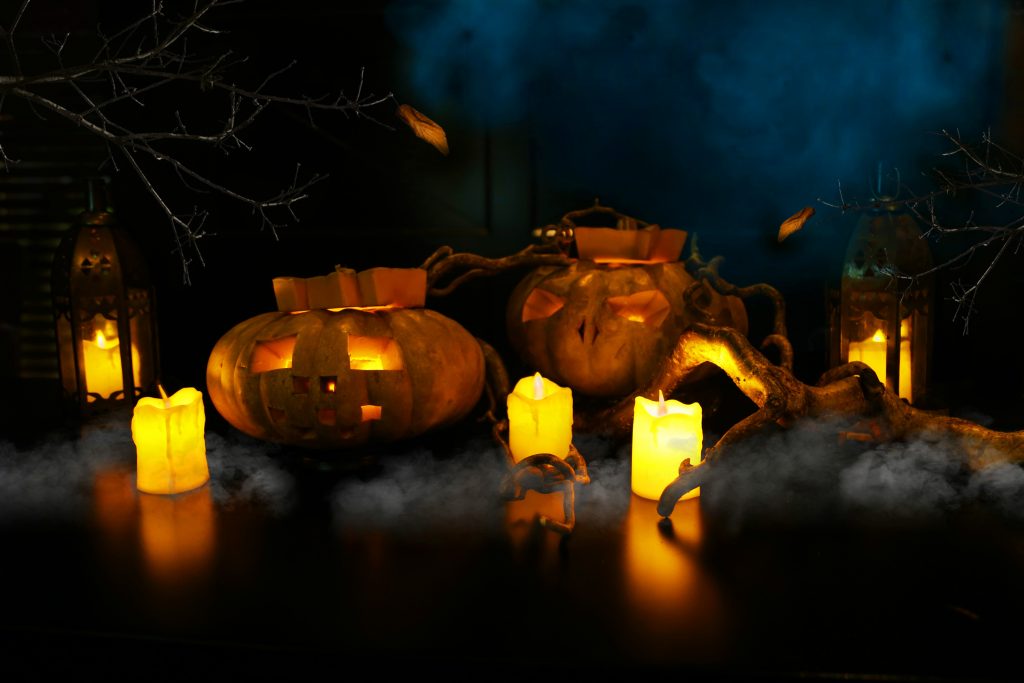 • PULLMAN JAKARTA
Wear your best costume and savour in a sumptuous Hallowe'en-themed buffet at Sana Sini Restaurant, Pullman Hotel so you can snag a chance to win a 1-night stay or Sunday brunch for 2 people.
Date and Time: Sunday-Wednesday, 27-30th October for pumpkin carving competition and Thursday 31st October for best costume competition, AT 12-3pm.
Price: Brunch on 27th October is R0520,000++ / Dinner on 27-31st October is Rp480,000++
Address: Jl. M.H. Thamrin No.59, Gondangdia, Menteng, Jakarta Pusat.
For more details reserve through (021)-3906-444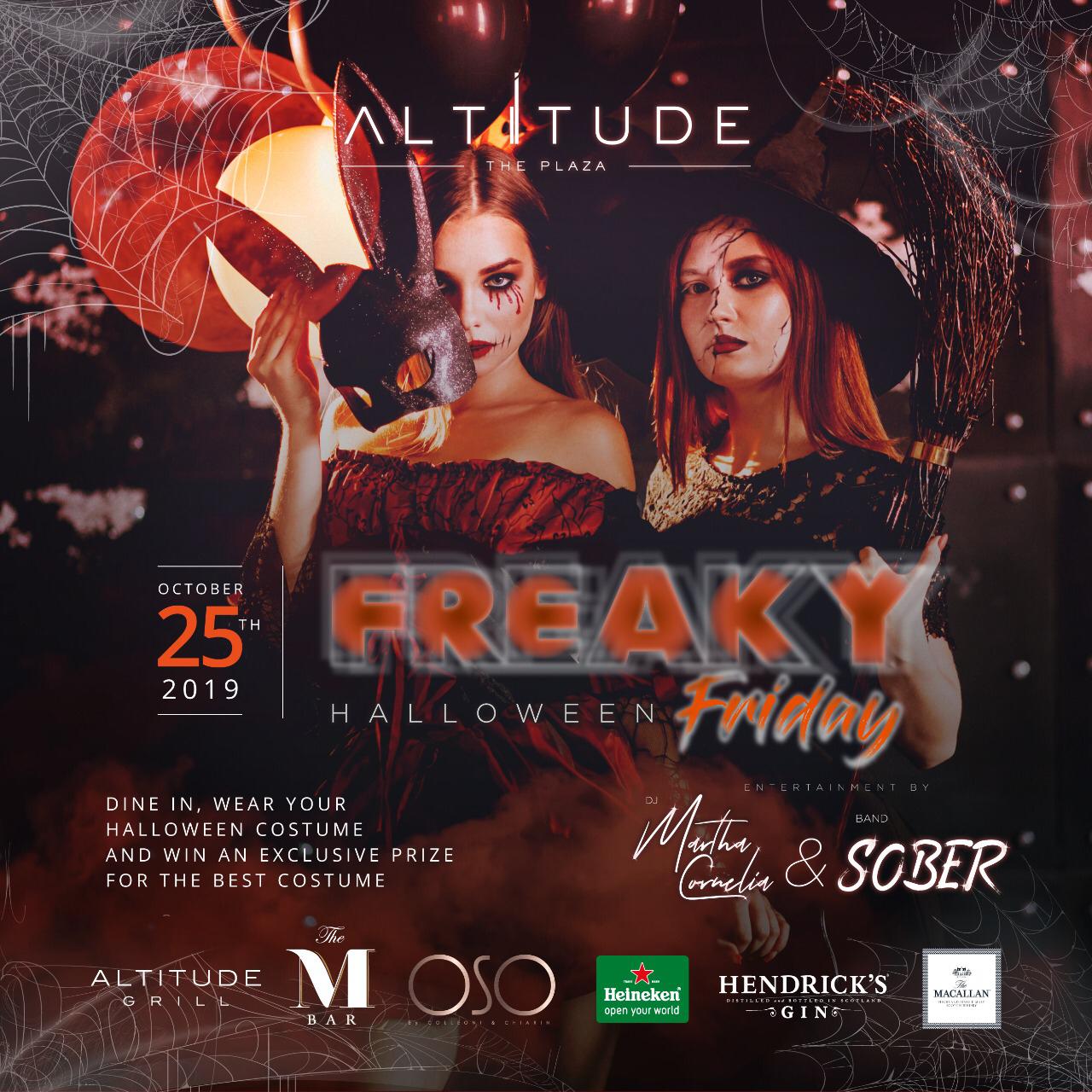 • ALTITUDE GRILL, JAKARTA
Dine in and wear your best Hallowe'en costume at Altitude Grill's Freaky Friday night. An exclusive prize at Altitude Grill, Oso Ristorante, and Altitude M Bar can be yours.
Date and Time: Friday 25th October 2019 at 10pm-5am.
Price: 5 Course Dinner for Rp680,000++/person
Address: The Plaza, Jl. MH Thamrin No. Kav 28-30, Jakarta Pusat.
For more details call (021) 2992-2448 / 0813-2130-1643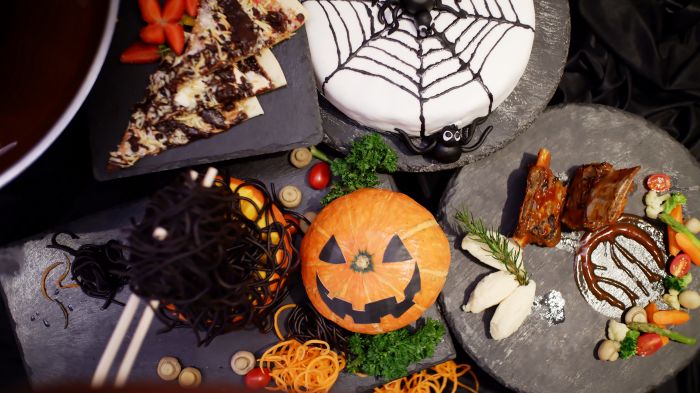 • HARRIS HOTEL & CONVENTION KELAPA GADING
Bring your family and friends to the HARRIS Café at HARRIS Hotel & Conventions Kelapa Gading for a Hallowe'en Buffet Dinner. Executive Chef Anton Sujarwo and team have prepared appetising dishes including bloody spare ribs, scary sushi sashimi, witch hair pasta, dragon leg, and a refreshing dessert of black cake, spider cake, pumpkin cake, orangettes, bloody jelly, hermits, and Tarantula croquembouche.
Date and Time: Thursday 31st October 2019, at 6-10pm.
Price: Rp235,000 net/person & Rp117,500 net/per child aged 6-12 years old
Address: Jl. Boulevard Bar. Raya, Kelapa Gading Timur, Jakarta Utara.
For more details call (021)-4587-8200 // 0811-9592-220
MONSTERS FIESTA
For all of you responsibility-free witches, goblins, vampires, and ghosts, you should check out these Hallowe'en parties in Jakarta and Bali – but beware of the dates because some of them occur during and after actual Hallowe'en.
Hide Your Kids, Monsters Are Out in Jakarta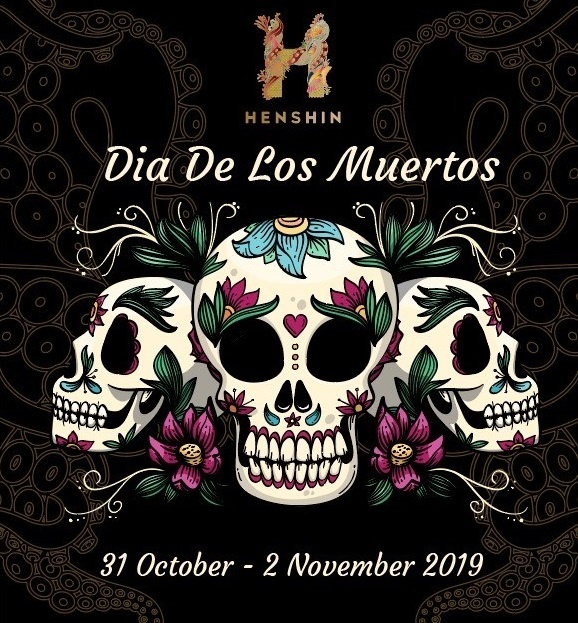 • HENSHIN, THE WESTIN
Treat yourself with Henshin's Hallowe'en-themed cocktails, spider blood and black hat on Dia De Los Muertos. DJ LPR will be spinning on 1st November 2019 so better wear your best Halloween costume for a chance to win the prize!
Date and Time: Friday 1st November 2019 with special offers only at 5-8pm.
Address: Level 67-69, The Westin Jakarta, Jl. HR Rasuna Said Kav C-22 Jakarta.
For more details RSVP to 0878-0002-8008/(021)-2788-7768 or email [email protected].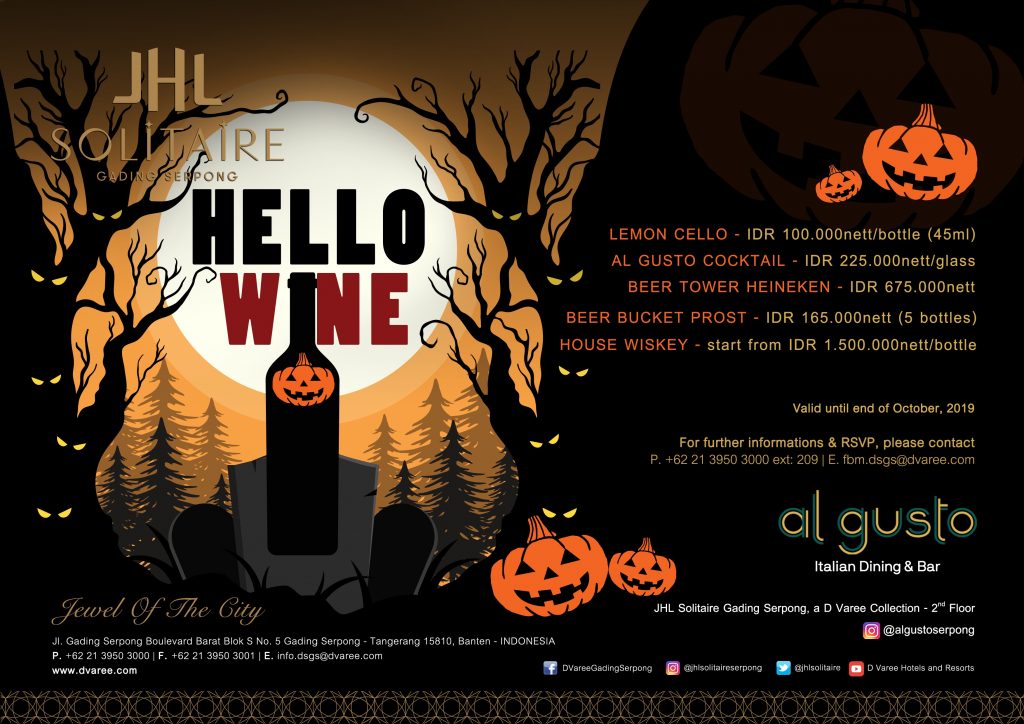 • JHL SOLITAIRE HOTEL, GADING SERPONG
Hellowine at Al Gusto Italian Dining and Bar, JHL Solitaire Hotel Gading Serpong, offers you a promo of 1 bottle of Lemon Cello for Rp100,000 net (45ml), Al Gusto cocktail for Rp225,000 net, Heineken beer tower for Rp675,000 net, Prost beer bucket for Rp165,000 net for 5 bottles of beer, and house whiskey starting from Rp1,500,000 net/bottle.
Date and Time: Thursday 31st October 2019, till the clock hits midnight.
Address: Jl. Gading Serpong Boulevard Barat, S/5, Gading Serpong, Tangerang
For more details call (021)-3950-3000 or visit www.dvaree.com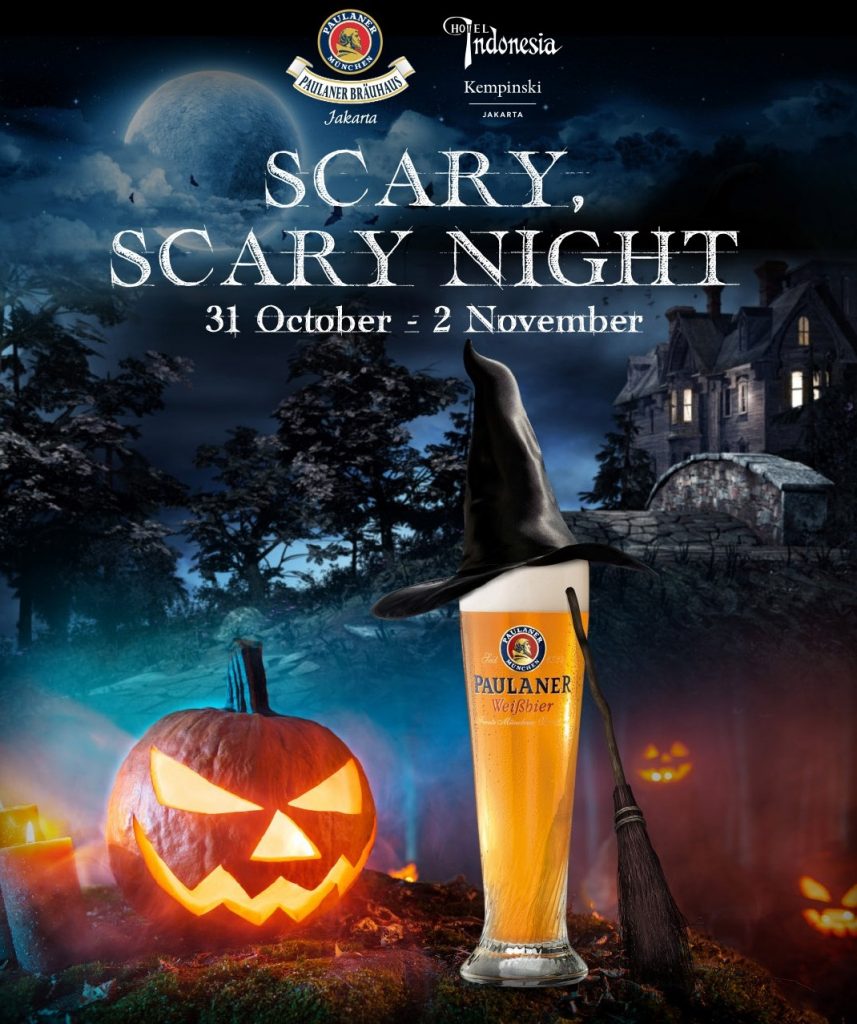 • PAULANER BRAUHAUS, GRAND INDONESIA
Join on Paulaner Brauhaus' scary nights with your scariest Hallowe'en costume, then snap it and upload it to Instagram using #HalloweenatPaulanerJakarta and get a chance to win dining vouchers worth up to Rp1,000,000! Or, play the Hallowe'en Spin Wheel and take home some interesting prizes.
Date and Time: Thursday 31st October-2nd November 2019 at 6pm-3am.
Address: Grand Indonesia, East Mall, Jl. M.H. Thamrin No.1, Jakarta.
For more details call (021)-2358-3871 or contact [email protected]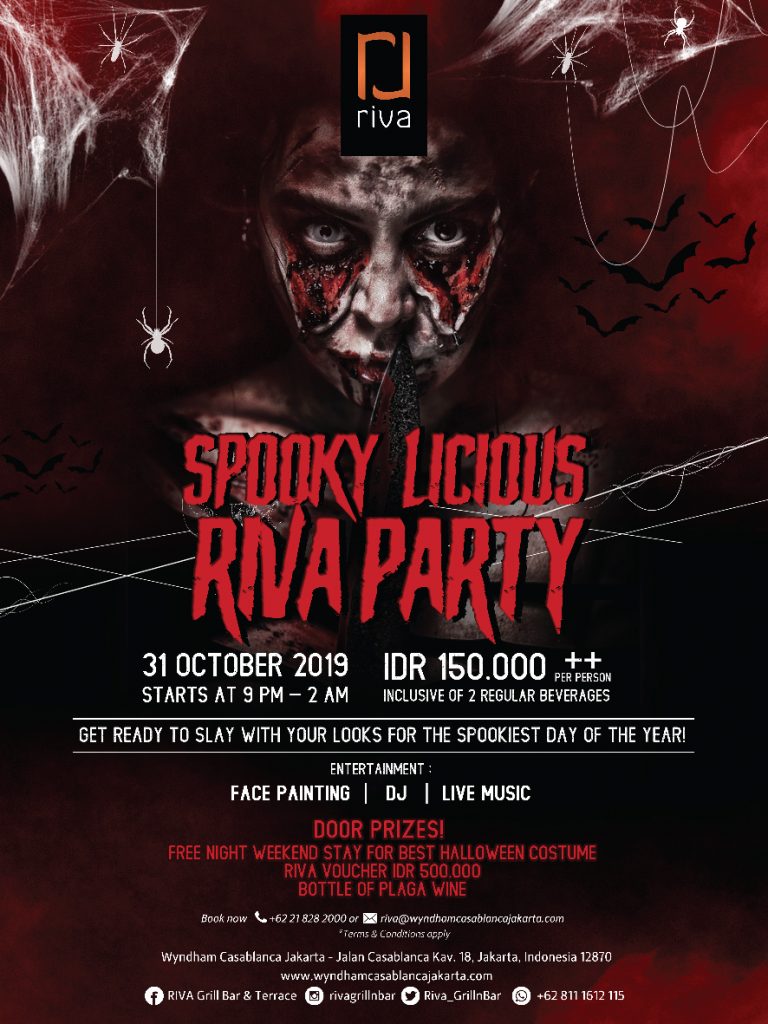 • RIVA, WYNDHAM CASABLANCA JAKARTA
Get ready to slay with your looks for the spookiest day of the year at the Spooky-licious RIVA Party, where face painting, DJ sets and live music awaits you monsters. A door price of a free night weekend stay waits for the best Halloween Costume winner, as well as a RIVA voucher worth IDR 500,000 and a bottle of Plaga Wine.
Date & Time: Thursday, 31 October 2019 at 9 pm-2am
Price: IDR 150,000++/person inclusive of 2 regular beverages
Address: Jl. Casablanca No.Kav.18, Menteng Dalam, Tebet, Jakarta Selatan.
For more details: Reserve through (021)-828-2000 or visit [email protected]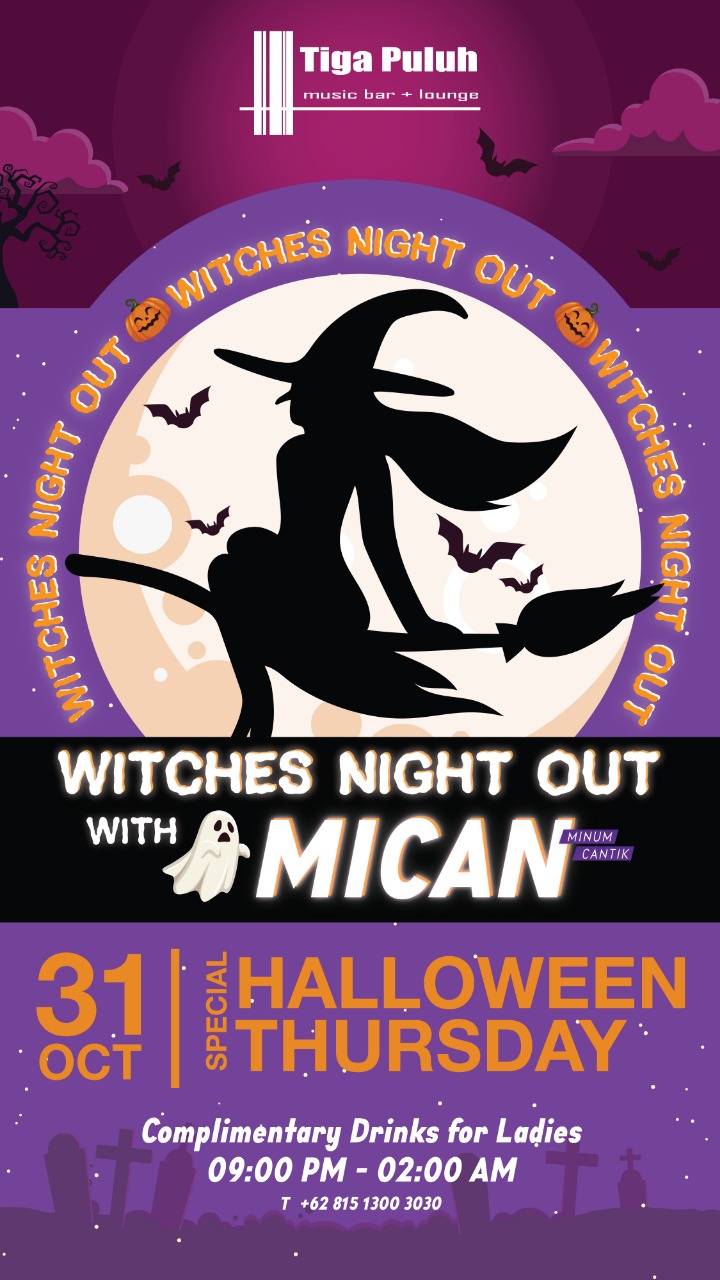 • TIGA PULUH, LE MERIDIAN HOTEL
WITCHES NIGHT OUT is a Hallowe'en party at Tiga Puluh Music Bar + Lounge that will feature live music from Twilight international band and DJ Deena. Stand a chance to win a free night weekend stay for best costume.
Date and Time: Thursday 31st October 2019 at 9pm-2am
Price: free flow beer for Rp200,000++ (until 11pm only) and ladies get complimentary drinks all night long
Address: Lower Level – Le Meridien Jakarta, Jl. Jenderal Sudirman Kav. 18-20, Jakarta Pusat.
For more details reserve through (021)-1300-3030 / (021)-251-3131
Let's Fly on a Broomstick to Bali
•MOTEL MEXICOLA, SEMINYAK
The island-famous Motel Mexicola Hallowe'en Party celebrates The Day of the Dead in La Momias de Guanajuato. Plenty of food, drinks, pre-Hispanic dancers, an Aztec show, and of course DJs will see the Mummies of Guanajuato come back to life for one night only at Mexicola just to haunt you! Everybody has to dress up for this ultimate Hallowe'en Party in Bali, so watch out for the best dressed competition and win prizes.
Date & Time: Thursday 31st October 2019 at 6pm-3am
Price: Free, 21 years old plus
Address: Jl. Kayu Jati Jl. Petitenget No.9X, Kuta Utara, Bali.
For more details reserve through (0361)-736-688 or email [email protected]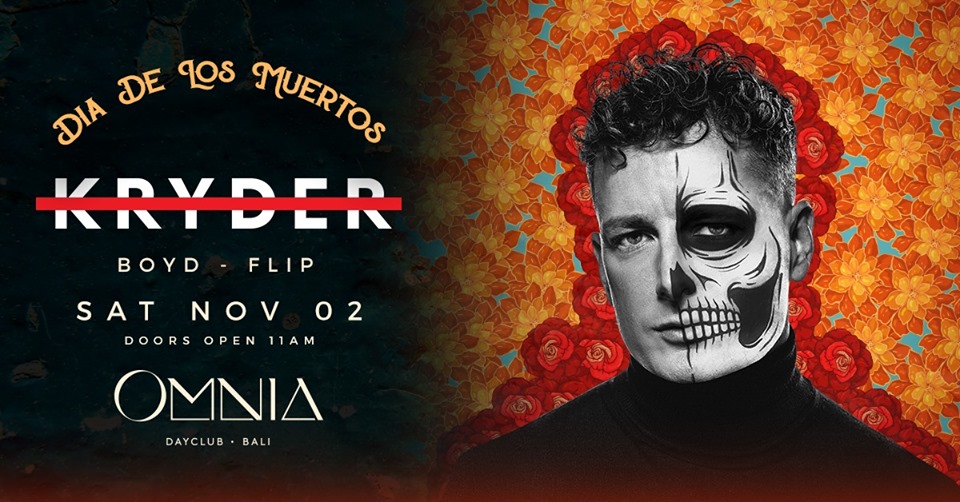 •OMNIA, ULUWATU
Set on the cliffs of Uluwatu, OMNIA Day Club Bali welcomes you to elevate Dia de Los Muertos experience with KRYDER. OMNIA is mixing up their usual Swim into Saturdays with a Day of the Dead theme, where endless sunshine, cliff top views, tequila cocktails, and Mexican cuisine will take over this stylish day club.
Date and Time: Saturday 2nd November 2019 with Main Deck music at 11am-8pm and after-party under Sake no Hana at 8pm onwards
Address: Jl. Belimbing Sari, Pecatu, Kuta Selatan, Bali.
For more details reserve through [email protected] or 0812-3856-9307 or visit www.omniaclubs.com/bali/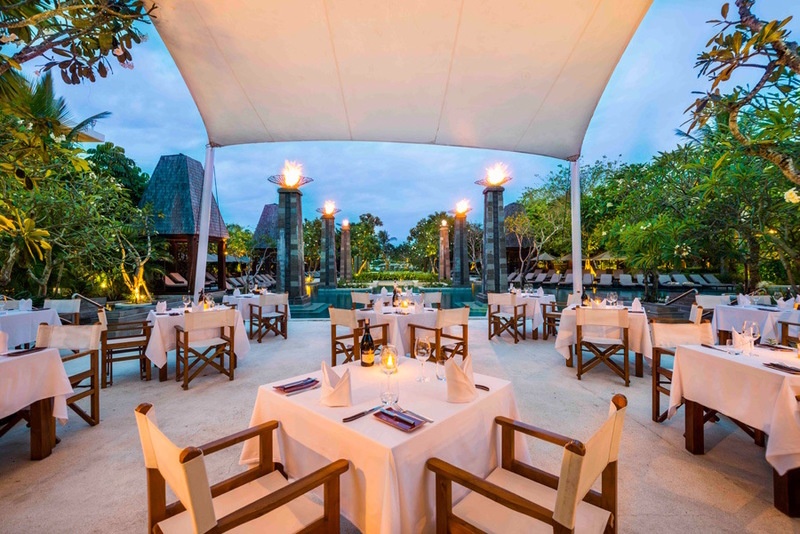 •SOFITEL BALI NUSA DUA BEACH RESORT
Delight in a special Hallowe'en edition of the popular Brunch à la Française featuring an eclectic spread of tantalising food within three packages. Choose any of the packages and enjoy several benefits that come with it, including free dining for kids under 12 years old, free access to La Villa Des Enfants Kids Club, exclusive access to the pool, and a 20% discount for all SOFITEL SPA treatments.
Date and Time: Sunday 27th October 2019 at 11am-3pm; Thursday 31st October 2019 at 6-10:30pm – Wicked Hallowe'en Dinner
Price for brunch: A non-alcohol package for Rp699,000++/person; a basic alcohol package for Rp999,000++/person; and a premium alcohol package for Rp1,899,000++/person.
Price for dinner: Rp449,000++/person
Address: Kawasan Pariwisata ITDC Lot N5, Kuta Selatan, Bali
For more details reserve through (0361)-849-2888 or [email protected] or visit sofitel.accorhotels.com/9078