If Jakarta is the city that never sleeps, not least because of the rousing pre-dawn call to prayer blaring from thousands of loudspeakers, then some of its insomnia stems from the area broadly known as Kota, where there's a dizzying array of diversions at all hours.
The brief for this article was "entertainment in Kota", including a look at the Stadium and Illigals nightclubs, which are actually in the administrative unit of Maphar in Taman Sari subdistrict, West Jakarta. Geographical quibbles aside, nothing could be further from my idea of entertainment than spending time inside Stadium and Illigals, which are located nearly side by side in alleys running off Jalan Hayam Wuruk. Stadium is the veteran, having just celebrated its 15th anniversary, while the provocatively named Illigals opened in late 2010. It replaced the 1001 (Seribu Satu) nightclub, which was infamous for its drugs and casino, as well as its gimmick of having nude women acting as tables from which diners could feast on sashimi.
Entertainment means different things to different people. Options in Kota include immersion in art and culture, from museums to puppet shows, music, heritage sites, ports, temples and traditional markets. Other diversions include shopping, dining out, cycling, billiards, soccer, photography and learning martial arts. Sadly, the Indonesian term tempat hiburan (entertainment place) tends to be synonymous with massage parlours, nightclubs and karaoke venues – the sort of places that are supposed to shut down over the Islamic fasting month of Ramadhan. That said, not all karaoke halls and spas are brothels.
If your notion of a good time is taking ecstasy (for which you can be sentenced to four years in jail), gradually going deaf to loud noise and perhaps finding a like-minded sexual partner, then Stadium is the place for you. The second floor has 24-hour karaoke rooms of various sizes, costing from Rp.242,000 to Rp.726,000 ($25-$76) for two hours, while female singing companions can be hired for Rp500,000 each and imported spirits start at about Rp.1 million per bottle. On the third floor is a brothel with strippers and a live music bar, open from 1pm to 3am. An hour of sex costs Rp.325,000 and the ladies are "local", meaning there are no longer any Chinese or other "imports", as they are now at Malioboro – a high-class bordello under the same management. But few people go to rat-infested Stadium for the karaoke or the brothel. The main attraction is that it's a relatively safe place to buy ecstasy (sold on the premises for Rp350,000 a pill) and dance to music variously classified as progressive, hardcore, house, hip-hop, trance, etc. The thronging disco on the fourth floor is open from 9pm to 11am, so errant high school kids can go there early in the morning without arousing their parents' suspicion. Police raids involving ID checks and urine tests are rare but not unknown, as is gang violence. Readers are strongly advised not to purchase narcotics just because some places seem above the law.
While Stadium has aged beyond its 15 years, Illigals – located behind a facade of fast-food places – is much classier in terms of decor, cleanliness and prices. The dress code is "no cameras, no weapons". Downstairs is a nightclub which charges an entry fee of Rp.200,000 or more when supposedly big-name DJs are performing. On the second and third floors are karaoke rooms ranging in cost from Rp.1 million to Rp.15 million, while a so-called "lady companion" costs from Rp.500,000 for a local to Rp.800,000 for a mainland Chinese – and these prices don't include sex. The brothel is at the fourth-floor sauna and spa facility, where there are the usual "sexy dancers" – including one who gets into a cage which is then winched several meters off the ground. Costs for prostitutes are Rp800,000 for a local, Rp1.5 million for a Chinese, Rp1.7 million for a Vietnamese and Rp1.8 million for a dour looking Russian. Imported spirits are about Rp.850,000 to Rp.1 million per bottle, somewhat cheaper than Stadium's prices. A small bottle of beer costs about Rp.115,000, but it's not really a place to go to for heavy drinking unless the occasion is a stag night or someone else is footing the bill.
Anyone intending to use a credit card at these places need not worry about embarrassing items appearing on subsequent statements, although some customers prefer paying in cash due to fears of card scams or paper trails. A word of warning to anyone who sits down in venues where strippers mingle among patrons and offer hands-on lap dances in exchange for the punter buying them shots of red water. These shots cost about Rp.50,000 each and if you're not aware of what's going on, a pair of girls can quickly down 20 more of these little glasses, creating a nice addition to your bill.
Stadium and Illigals are just two of the many places offering illegal action in the nightlife area that covers Pasar Baru, Mangga Besar, Lokasari, Glodok and Ancol. The king of the decadent brothels is Alexis in Ancol. When an official of the Islamic Defenders Front (FPI) was asked why FPI has never protested against Alexis, he replied that it's a normal family hotel. FPI was created with the support of the security forces in 1998 and doesn't dare go near the well protected, big establishments. The only Islamic incursion I witnessed during my research into Kota brothel bars was a small boy clad in white robes and carrying a donation box for an Islamic charity, which he proffered among the bored women before receiving some money from the mamasan.
Obviously, Kota's sex industry caters for than just men seeking women. Down the road from Stadium is an old firetrap called Moonlight, which on weekend nights is a major venue for gay men on the prowl. Illigals occasionally hosts gay-themed events and Stadium generally has a mixed crowd. And then there are dozens of young, tall imported Chinese men based in Glodok, working as gigolos.
For movie buffs, entertainment in Glodok used to involve perusing the extensive pirate DVD markets, which a few years ago offered a wide range of foreign films and TV series. But with people turning increasingly to torrents to download their favourite shows and films, Glodok's sprawling DVD market is finally starting to decline. Many vendors now offer only new releases, especially rubbish genres such as horror, supernatural, killer animals, porn and cartoons.
For people averse to illegal activities, Kota's Wayang Museum stages a different type of puppet show each Sunday, from 10am to 2pm for only Rp.2,000 a ticket. Each year the museum holds a week-long puppet festival in Fatahillah Square, with nightly shows running until 4am and attended by hundreds of people keenly cheering the heroes and hissing the villains. On weekend nights, the square has performances by local bands, ranging in style from traditional to reggae to rock to rap and hip-hop. Even the usually staid Bank Mandiri Museum on October 7 hosted a marathon metal rock concert featuring bands such as Asphyxiate, Tikus Tanah and Umbra Mortis.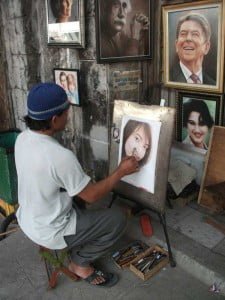 People looking for something different can have their portrait painted streetside on Jalan Pintu Besar Selatan for about Rp.400,000 to Rp.500,000 on a canvas measuring 40 by 50 centimetres, or larger if you want to pay more. If you don't fancy sitting through the noise and pollution, you can just leave a photo with the artist, spend the day in Mangga Dua, browsing the latest electronics goods at the lowest prices in town and then collect your painting.
As for unwinding in pleasant surroundings in Kota, it's hard to beat VOC Galangan – a nearly 400-year-old Dutch shipyard and warehouse, which has been restored and offers food and drink. Its huge grassy courtyard is an oasis of serenity, where you can sit for hours chatting with friends or just reading in solitude. Perhaps more entertaining than going deaf, getting exposed to venereal disease and breaking the law.
Kenneth Yeung lives over the road from Stadium and Illigals.