People are still falling prey to online romance scams. An aspiring lawyer and a wealthy socialite are among the latest victims.
The voice was feminine, alluring and fake. On June 16, a prospective lawyer named Aris Munandar (23), from Kemanggisan in West Jakarta, received a phone call from a woman who identified herself as Jacqueline 'Elin' Michelle. She had found his phone number and photo on Facebook and wanted to chat.
Over the next couple of days, they shared more phone calls. Romance blossomed, especially after Elin mentioned that her father was a member of the Sampoerna family, which used to own one of Indonesia's biggest tobacco companies.
Aris fell further in love when Elin sent some enticing photos of herself. What he didn't realize was that his dream woman was actually a 44-year-old balding, short man, who had swiped the sexy photos from another Facebook account.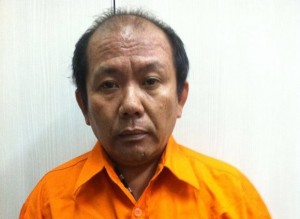 Harsyah Muhad Armal Samaun is a man with a talent for disguising his voice. Posing as Elin, he persuaded Aris to transfer Rp.100,000 in credit to his phone. Aris was soon asking to meet in person, so "Elin" told him to first rendezvous with one of her father's employees, who was none other than Harsyah.
They met on June 20, near Harsyah's rented room in Senen, Central Jakarta. Harsyah passed on a message from Elin, saying she wanted a discreet meeting in a hotel room as she was afraid of being seen in public by reporters. Aris gave the scammer Rp.1.2 million to pay for a hotel room.
Harsyah booked a cheap room at the two-star Farel Hotel in Senen. Aris moved in, but Elin never showed up. Instead, she phoned with excuses for her absence. She said she wanted to get married, but warned that her parents would insist on a dowry.
Pretending to act as a go-between, Harsyah instructed Aris to inform his parents that he had already impregnated Elin, so they would be more amenable to paying a dowry. That evening, Aris went to his parents to tell them his exciting news, then he returned to the hotel, but still his dream woman failed to appear.
Over the coming days, Elin telephoned with sweet words and promises of love and marriage, keeping Aris besotted. He gave Harsyah Rp.1 million in cash, as well as Rp.5.5 million for the purchase of 8 grams of gold jewellery. Harsyah went out and bought some realistic fake gold bracelets and necklaces.
Harsyah later called Aris from a different phone and posed as Elin's mother, saying that 8 grams of gold was insufficient. She wanted at least 10 grams of gold for her daughter. Harsyah also made calls posing as Elin's father and older sister, both pushing for a dowry of Rp.17.5 million and a marriage license fee of Rp.700,000 so the wedding could go ahead.
Another day, Aris received a call from Harsyah posing as celebrity shaman Ki Joko Bodo. He said the marriage would bring great benefits to Aris.
By June 28, Aris had handed over Rp.35.5 million. He eventually became suspicious. On July 2, he told Harsyah that he needed to leave the hotel in order to withdraw more funds. He never returned. On July 18, he went to police, complaining that he had been conned, hypnotized and held captive. Harsyah was arrested early the following morning.
Police initially thought they needed to track down a gang of confidence tricksters, including some women, but Harsyah confessed to acting alone and then demonstrated his gift for voices. He now faces charges of kidnapping, confinement, extortion and fraud.
For Love and Money
A Polish man in Jakarta allegedly combined the "sweetheart scam" and "black dollars scam" to con Rp.1.3 billion (US$99,000) out of a wealthy lady, Sari Wahyuni.
Sari received a message on Facebook from a handsome American man named Collins Mark. The fact that his first name and surname seemed to be mixed up should have been a giveaway. He claimed to be a widower, working as "commander surgeon" at the Central Texas Medical Center. They soon exchanged mobile phone numbers and began a romance via online chatting application WhatsApp.
On June 22, Mark said he was sending US$2 million in cash to Sari. But first she had to pay Rp.94 million to "an American diplomat" stationed in Jakarta for a delivery charge. The phony diplomat was a Polish man named Pawel Cwiklinski (36). Next, Sari was asked to transfer Rp.2.375 billion to buy a "special cleaning fluid" to wash the dollars, which had been dyed black. There never were any real dollars, but Sari provided half of the requested funds.
As requests continued for more money, Sari twigged that she had been conned and went to police. Cwiklinski was arrested on June 29 at Green Lake City housing complex in West Jakarta. Police seized seven mobile phones, two BCA online banking tokens, one BCA card, an e-KITAS, a few counterfeit US dollars amounting to $280, a container of non-specified chemical, a MacBook laptop and just over Rp.1 million in cash.
Jakarta Police official Hendy Kurniawan said officers were still seeking Cwiklinski's accomplice, Collins Mark, and had put him on a wanted persons list.
It did not seem to dawn on anyone that Cwiklinski might have been acting alone and that Mark never existed. Mark Collins is an old name in online romance scams.
Elsewhere in Indonesia, people have been spoofing Facebook accounts of provincial governors, motivated by greed or mischief. Earlier this year, police said they found ten fake accounts in the name of West Nusa Tenggara's governor, made by people trying to raise funds. In March, a fake Facebook account in the name of Bali's governor contained the posting: "Reclamation will continue because I have approved it and have received a gratification of Rp.500 billion which is quite a lot for a pension."