Skyscrapers dot Jakarta with lights, shimmering like visions from the future. Executives glide imperiously down the corridors of corporate places.
Millennials gallivant from one latest café to the next, at co-working spaces, revelling in the city's exuberant nightlife and basking in its incandescence.
Jakarta, nicknamed The Big Durian, is home to more than 10 million people. Over the years, the administration has slowly attempted to revamp its public transportation system to combat traffic jams, congestion, and air pollution which are objects of dread and loathing for just about anyone in the metropolitan city. The TransJakarta Bus system, for instance, was established in 2005, and has slowly made its way onto the major roads of the city.
Jakarta's transportation progress was further punctuated with improvements in the commuter line train, or KRL, with cleaner, state-of-the-art trains, more comfortable seating, and stricter regulations. In March 2019, residents of the Big Durian marvelled at the country's first ever subway train – the Mass Rapid Transit – a breath of fresh air, and a new alternative for travelling from Central to South Jakarta, despite only the first phase having been completed.
Many have waxed lyrical about their MRT experience, some even dubbed it a dream come true, something they had yearned for in their younger years during trips to Singapore and Hong Kong. Meanwhile, the LRT (Light Rail Transit) will soon be making its commercial debut, connecting the affluent suburb of Kelapa Gading to the newly-built Velodrome Stadium in East Jakarta.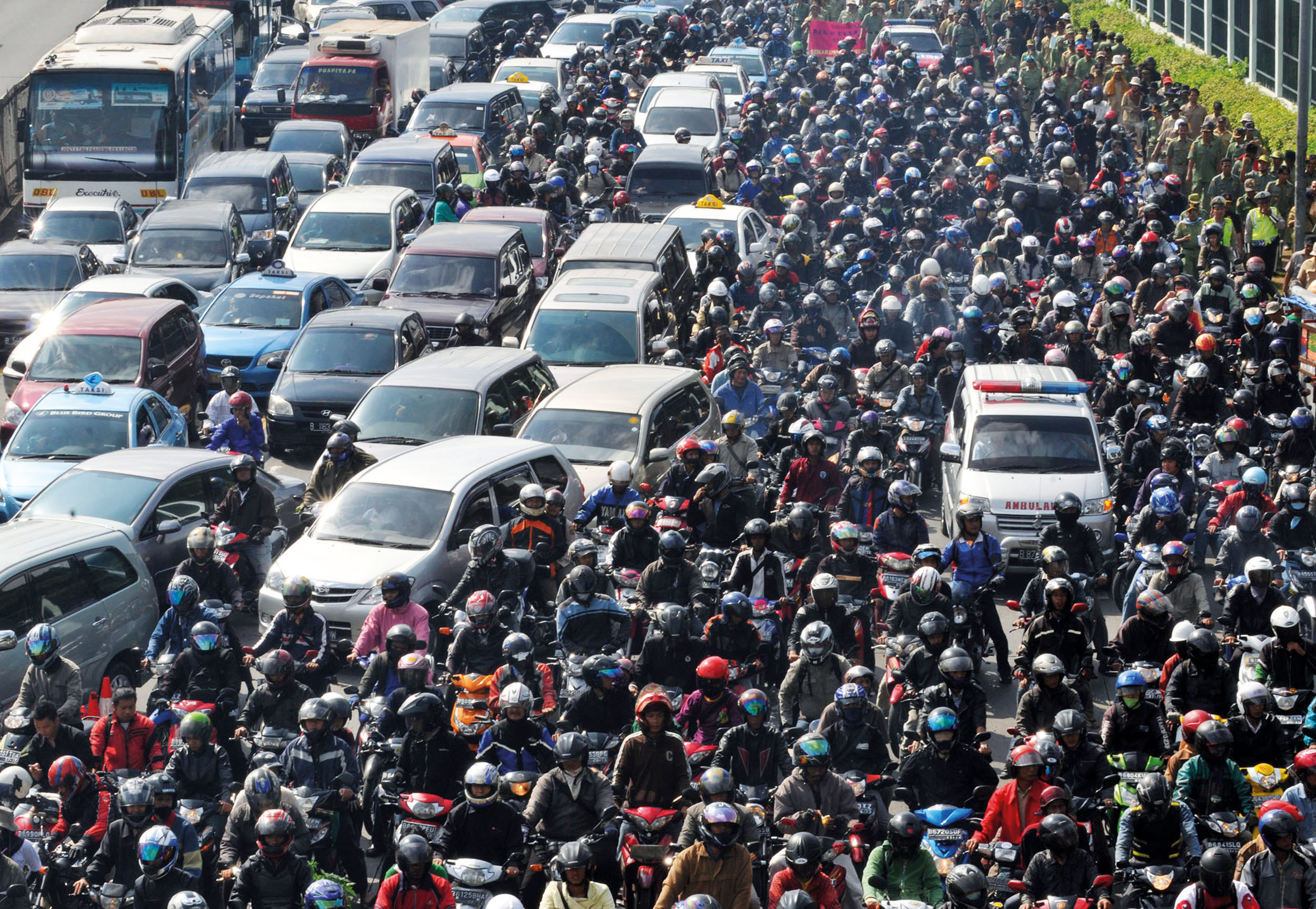 Traffic, pollution, and congestion are simply outcomes of Jakarta's unruly, haphazard city planning. In its present state, the city is deemed unable to support its massive population and therefore faces threats of environmental problems. In 2017, Head of the National Planning Agency or Bappenas, Bambang Brodjonegoro, stated that the Jakarta traffic had cost the country Rp67.5 trillion per year.
In the same year, Greenpeace Indonesia also reported that Jakarta's air possesses alarming levels of carcinogenic pollutants known as PM2.5. The levels were found to have surpassed the maximum number recommended by the World Health Organization (WHO), which is 25 micrograms per cubic metre, by three times.
The capital city's catastrophic flood risk is an ongoing problem, with waters inundating areas of the city during heavy rains, leading to epidemics such as cholera, malaria and dengue fever. In the last 30 years, it was also discovered that the city has sunk by over 10 feet, due to a frequent phenomenon found in major coastal cities called subsidence. As sea levels rise, low-lying cities such as Jakarta, Manila, Shanghai and Bangkok are in great danger of sinking.
Instead of spending millions of dollars in protecting the city from swelling waters by extending walls and barriers, which are very unlikely to cope up with present threats, investing in a new capital city with a sustainable future would be a feasible option for Indonesia.
On April 30, 2019, President Joko Widodo made an astonishing announcement in a cabinet meeting – that Indonesia's capital will soon be relocated to another city. In retrospect, Jokowi's predecessors have also attempted a similar move, although the plan has never come into fruition. While the decision is likely to be a confluence of many factors, it serves as a profound wake up call for many Indonesian citizens who have long dealt with Jakarta's complex predicament.
Most experts have supported the president's move, citing that the relocation of the government offices would considerably reduce traffic in Jakarta and reduce "Javacentrism." With over 70 percent of the country's population on Java island, inhabitants of other islands are often compelled to search for better work opportunities in major cities such as Jakarta, Surabaya and Yogyakarta, thus making the heavily populated island even more packed.
Java's indomitable appeal in terms of technology and work opportunities is currently unrivalled by other islands with 58 per cent of total internet users in the country. Therefore, there is a burgeoning demand to tackle economic disparities, the digital divide, and equality across different islands of the world's largest archipelago.
A new capital city outside of Java island would serve as a beacon of light, a possible culmination to solve the unstable demographics in the country. After all, Turkey, Brazil, Australia and the USA have also made a similar move.
Most Indonesian citizens are intrigued by the prospect of having a new capital. Demographic and science experts have championed Kalimantan (Borneo) over anywhere else, citing that the island is the least vulnerable to natural disasters such as earthquakes and floods. In 1957, Indonesia's first president, Soekarno reportedly fallen head-over-heels with a small Borneo city he named Palangka Raya, meaning holy, noble, and high in Sanskrit. Soekarno also made arrangements to move Indonesia's capital to Palangka Raya, before he fell out of power in 1965.
President Jokowi's sojourn to Kalimantan last month further confirmed what had been envisioned by Soekarno years ago; that Indonesia is set to have a new capital city outside of Java. The current president confirmed that he had inspected Bukit Soeharto in the province of East Kalimantan, along with the Gunung Mas Regency and the city of Palangka Raya, both in Central Kalimantan province. Jokowi has revealed that the Gunung Mas Regency has by far the most potential with 300,000 hectares of ready land.
Meanwhile, Bappenas had also issued a statement that the new capital city will have four zones. The first zone, which will be allocated 2,000 hectares of land, will house the Presidential Palace, the House of Representative Buildings (MPR and DPR), the Supreme Court (MA), the Constitutional Court (MK) and other government offices. The second zone, which will stretch over 40,000 hectares of land, will consist of educational facilities such as universities, science parks, museums, and homes for civil servants. The third zone, which will lie on 200,000 hectares of land, will be dedicated to conservation areas, housing clusters, an airport, as well as a seaport. The last of all the zones, the fourth one, will be built over 200,000 hectares of land, and will be a dedicated urban area to connect the future capital to other cities in Indonesia.
Previous Attempts at Capital City Relocation
During the Dutch colonial period in Indonesia, Governor-General of the Dutch East Indies, Herman Willem Daendels had planned to move the capital city from Jakarta (then Batavia), to Surabaya back in the early 1800s. He cited that cholera and malaria were endemic in Batavia, and that the city was in dire need to have a capital like Surabaya, which is well-connected and has a huge fort and a seaport. The plans were never executed and therefore went astray.
In 1920, Hendrik Freek Tillema, a Dutch medical practitioner, encouraged Governor-General of Batavia, Van Limburg Stirum, to move the capital city to Bandung. Tillema cited that Batavia's hot weather serves as a catalyst for the outbreak of various diseases.
In 1947, before Indonesia's independence, President Soekarno established a special planning agency to conduct research while searching for a new capital city. The chaotic, unfavourable situation in Jakarta during the Dutch aggression had also led Soekarno to move Indonesia's capital several times. The president's inconspicuous, clandestine moves to avoid aggression by the Dutch further led to the development of the Emergency Government of the Republic of Indonesia (PDRI). The capital was first moved to Yogyakarta. It was also briefly moved to Bukittinggi, West Sumatra.
After Indonesia's independence, Soekarno had set his eyes on Palangka Raya in 1957. However, on Jakarta's 437th anniversary in 1964, Soekarno officiated the city as Indonesia's capital.
In the 2010s, President Susilo Bambang Yudhoyono had also initiated a special committee to conduct research about the prospects of having a new capital city. However, the results were never disclosed to the public and the plans never came into fruition.