32 foreigners, allegedly sex workers, were arrested by investigators of the Immigration Office under the Law and Human Rights Ministry for violations of immigration procedures.
Late last week, the Law and Human Rights Ministry reported the arrest of 32 alleged sex workers mostly from Vietnam in raids carried out in numerous entertainment locales in Jakarta for violating immigration procedures.
Over the past three weeks, the investigators from the Immigration Office have conducted two operations and have so far arrested a total of 137 alleged foreign sex workers.
Director Yurod Saleh of the monitoring of foreign nationals and law enforcement department under the Immigration Office told reporters about the arrest of the 32 suspected female sex workers (most of whom were from Vietnam) from an operation carried out on three entertainment centres, namely in North Jakarta and Bogor.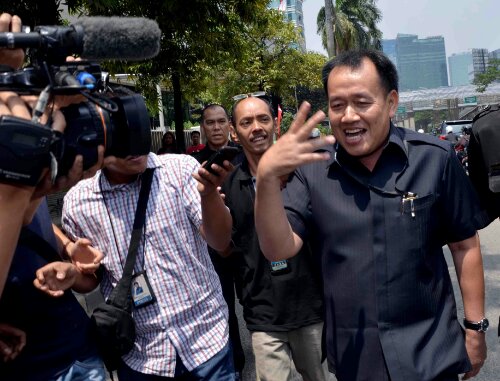 The investigators confiscated 27 passports from different nationals – Vietnamese, Chinese, Uzbek, Moroccan, Kazakh and Russian – during the raids. They were also able to seize cellphones, contraceptives, Rp5 million in cash, and uniforms for karaoke hostesses during the operations.
The arrested sex workers allegedly violated some of the 2011 Immigration Law provisions, including overstaying a visa and failure to present a passport when asked by investigators, as stipulated under Article 122 and Article 116, respectively.
Saleh told reporters that the arrested women entered Indonesia on visas on arrival and tourist visas. The director commented that they have carried out further investigation on other relevant matters including possible human trafficking networks responsible for sending these alleged sex workers into the archipelago.
It was earlier reported that the Immigration Office's investigators initially apprehended 125 alleged female sex workers, most of whom were Chinese nationals, in a series of raids conducted on New Year's Eve across numerous cities in Indonesia.