Samuel A. Pangerapan, director general for the Ministry of Applications and Information, told reporters that news portals with non-credible sources and information, thereby violating the existing Press Law as well as other existing regulations, will be blocked by the Ministry of Communication and Informatics.
Pangerapan told reporters this week that they will be working closely with the Press Council in the years to come. He warned those websites that claim to be news portals but do not possess a company name, structure, legal entity and address will be banned in Indonesia as the Press Law demands.
Pangerapan stated that "this measure is necessary to prevent the spread of hoaxes." People believing in the fake news could only cause chaos and confusion, thus the public needs to gain information from sources that adhere to the journalistic code of ethics. He said that news portals should apply for licenses and meet the necessary criteria – a practice that other media companies follow.
The Indonesian government will soon set up a national cyber agency to help monitor and filter news portals in the archipelago. Coordinating Minister for Political, Legal and Security Affairs Wiranto said that he was instructed by President Joko Widodo during a meeting to immediately create such team. The creation of the cyber agency has been in discussion since 2015, but plans were scrapped in mid-2016 due to budget constraints.
"We are technologically advanced now. We are grateful that technology has facilitated better education and helped disseminate information faster, but we are also concerned because individuals could use it to spread defamatory material. This confuses people," Wiranto stated.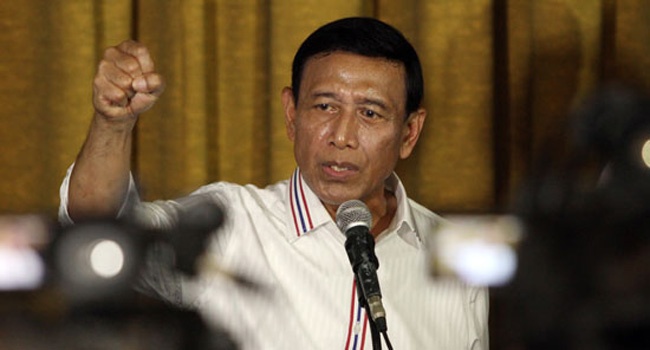 It has already reached a point where professionals such as doctors and professors are likely to fall prey to fake news circulating the Internet. Director General of Culture of the Ministry of Education and Culture Hilmar Farid said that this can be attributed to the huge influence of social media on the public where many are unable to differentiate a hoax from the truth.
President Jokowi has requested all ministries to fight this plague of misinformation and demanded that sanctions be imposed on social media platforms that publish hoaxes and proliferate the spread of hate messages.
The National Police have already declared their readiness to support the National Cyber Agency. National Police Chief Gen. Tito Karnavian said, "The National Cyber Agency will merge with the National Encryption Agency [Lemsaneg] to secure cyber activities because we are among the countries that are most vulnerable to cyber threats."
He also added that they hope the new agency can help put a stop to these problems given that Indonesia is exposed to cybercrimes with half of the total population having access to the internet.
According to the Press Council, there are around 40,000 news portals currently operating in Indonesia. As of December 2016, the ministry has already successfully blocked 11 sites, namely, voa-islam.com, nahimunkar.com, kiblat.net, bisyarah.com, dakwahtangerang.com, islampos.com, suaranews.com, izzamedia.com, gensyiah.com, muqawamah.com, and abuzubair.net.
Wiranto shared that the inauguration of the National Cyber Agency could be expected around this month.
Image credits: LombokInfo