On November 10th, 2013, the first annual Clean Up Jakarta Day (CUJD) took place, gathering 1,000 volunteers at 16 clean-up sites around Jakarta. Volunteers carried out the Indonesian tradition of gotong royong by picking up rubbish together and raising awareness about littering and the need for recycling in their city. This year, Clean Up Jakarta Day is set to be much bigger, with an estimated 5,000 volunteers around Jakarta getting their hands dirty for a good cause.
CUJD 2014 will take place on October 19th at around 30 sites across the city. The aim of the clean-up is to educate people about the detrimental effects of littering, and in turn spark an awareness of the importance of recycling. CUJD is supported by the city's clean movement Aksi Jakarta Bersih and Ambassadors Slank, with support and enthusiasm from Acting Governor Ahok.
This campaign will be carried out by volunteers of Jakarta, made up of individuals, companies, schools and organizations, Indonesian and expatriate. CUJD calls these people their 'Clean Up Heroes', and they will be picking up rubbish and separating their findings into recyclable and non-recyclable sacks as they clean from 7am to 9am on this Sunday morning. Clean up sites are nominated by volunteers and approved by the Clean Up Jakarta Day team and are listed on the website, where information is listed on how to join each site. Sites run by schools are closed to students and members of each school.
Rubbish collected on the day will say a lot about the inhabitants of this city. The recyclables will be taken by Santa Fe Relocators to Jakarta Green Project in East Jakarta and the non-recyclables will be taken to the nearest landfill by Dinas Lingkungan Kebersihan DKI Jakarta. Managing Director of Santa Fe Relocators, Jason Will says, "I applaud the organisers for their initiative in creating CUJD. It is a massive undertaking which requires much organising and planning. Santa Fe is committed to doing our part for the environment and are happy to offer our assistance as transportation sponsor."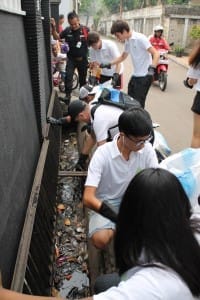 The Jakarta Green Project is a recycling collection scheme set up by street children foundation, KDM, offering a solution to Jakarta's waste problem, while benefiting its work in supporting the development of street children into independent, educated and skilled young adults. Renie, Director of Jakarta Green Project believes that it is important to raise awareness of the need for recycling in the city. "Clean Up Jakarta Day is an effective, practical event to raise awareness and educate Jakartans about the problem of garbage and give volunteers the experience that they can be part of the solution. After collecting unbelievable amounts of recyclables, they will remember to Reduce, Reuse and Recycle their own rubbish."
Clean Up Heroes will be using reused sugar sacks, sponsored by Coca Cola Amatil, as vessels to carry collected garbage. Coca Cola Amatil run regular beach cleanups in Bali and have been supporting CUJD since its birth in 2013. Volunteers will be wearing gloves sponsored by Kärcher, a German cleaning company who recently cleaned Jakarta's national monument, Monas.After the cleaning up activities, there will be a post clean-up event for the volunteers, sponsors and affiliates of Clean Up Jakarta Day. This event will serve as a platform for influential figures to talk and discuss matters related to rubbish and littering with volunteers and members of the public. Like everything related to Clean Up Jakarta Day, the three Rs (Reduce, Reuse, Recycle) will be practiced, therefore any rubbish made during this event will be recycled or reused.
CUJD 2014 aims to bring together many more communities than its 2013 event, and in so doing, they hope to raise more awareness, reaching more people, changing mindsets and encouraging a positive attitude towards the cleanliness of the city that nearly 10 million people call home. CUJD is encouraging everyone to get involved for a better Jakarta, so please get on board and let your voice be heard too.
To volunteer and for more information or to find out how to sponsor the event, please visit www.cleanupjakartaday.org (available in Bahasa Indonesia and English) or email [email protected]. Clean Up Jakarta Day is organized by Indonesia Expat.