Disaster aid groups have raised their concern over the Aceh earthquake last December 7 that damaged several schools, which they fear will cripple the children's ability to recover from the trauma of the massive catastrophe and ultimately their education.
The 6.5-magnitude earthquake that hit Indonesia's northern province of Aceh was the worst disaster to hit the region after the 2004 Indian Ocean tsunami. The 2004 undersea megathrust earthquake triggered a series of destructive tsunamis along the continental coasts bordering the Indian Ocean. Killing hundreds of thousands of people across 14 countries, the devastating disaster hit Indonesia the hardest.
The 2016 Aceh earthquake affected at least 30,000 children and students who have been out of school since then as a result of the natural catastrophe wrecking majority of the region's schools.
Yayasan Sayangi Tunas Cilik, a local aid agency, told reporters that in Pidie Jaya – one of the hardest-hit districts in the Aceh region – several schools were damaged, while at least seven have been completely destroyed.
Majority of the 140,000 residents of the town have been forced to live and sleep in shelters, where food, water, blankets and other basic necessities are being doled out by relief workers.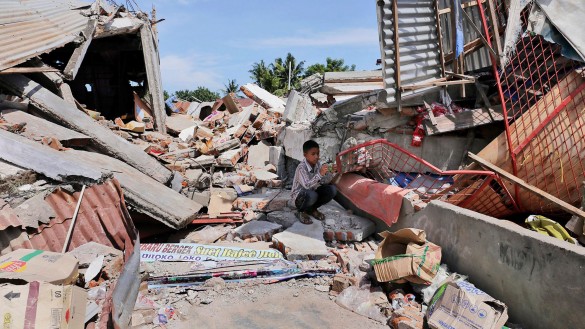 Ronald Sianipar of Yayasan Sayangi Tunas Cilik commented that while the disaster and the damage it has done may not directly impact the children's studies, it will definitely impair their sense of safety.
Sianipar added that students will always look to the school as a safe place and even the best place for them to take shelter from during disasters like earthquakes, and typhoons and floods. Schools create a "sense of normality and safety and support the children's emotional recovery," the aid worker added.
Sianipar expressed his concern that without schools, students will feel lost and lack the sense of security in a place where they can gather together and express their fear.
A report prepared and submitted by British charity Theirworld showed that at least 80 million children living in disaster or war-stricken areas have had their education disrupted the past year.
Experts stress how education is most likely overlooked despite schools providing a safe place for children to learn and play and help cope with the trauma of a disaster or crisis. They add that children are more vulnerable to trafficking, child labour, and extremism when they are out of school.
The Yayasan Sayangi Tunas Cilik representative told reporters how they are trying to alleviate the situation by creating play areas in the relief camps and temporary classrooms in tents are likewise being set up.
While Pidie Jaya authorities have stated their plans of reopening schools in time for the new academic semester in January, relief workers are worried that children will dread having to go back to school as of yet.
Global child rights organisation Plan International Jakarta spokesperson Irsyad Hadi commented that children are still afraid to go back to school. Other than the schools being badly damaged, the kids still dread having to enter buildings, Hadi concluded.
Image credits: Tribune