With Komodo Island gaining popularity in recent years as a favourite expat destination, it's easy to only come for the dragons, the diving and the divine seascapes. But many tourists who have been to Komodo Island do not know that there is a local Komodo people whose culture and language are distinct from those of West Flores's Manggarai people.
Out of the many marine destinations I've visited in Indonesia, "The Komodos" is the only region I've encountered whose locals are not fishermen. For meals, they buy fish at inflated prices from mainland Flores or Bima.
"Then how do you make ends meet?" I asked in bewilderment. In other marine destinations, locals typically keep needing to catch fish and grow gardens as their primary livelihoods. Tourism, at best, provides extra income for purchasing imported necessities like rice.
"It's hard to be a fisherman these days," said Haji Nuhung, an elder from Kampung Komodo. "When I was a young man, we could afford hajj pilgrimages from catching fish. And then fish populations dwindled since the late 1990s. Today, one hardly makes Rp.4 million to Rp.5 million (US$300 to US$375) a month from catching squid. So young people resort to making Komodo dragon sculptures, making a profit of Rp.50,000 per sculpture (US$3.75) and having regular foreign customers paying them in dollars. Many of them speak English."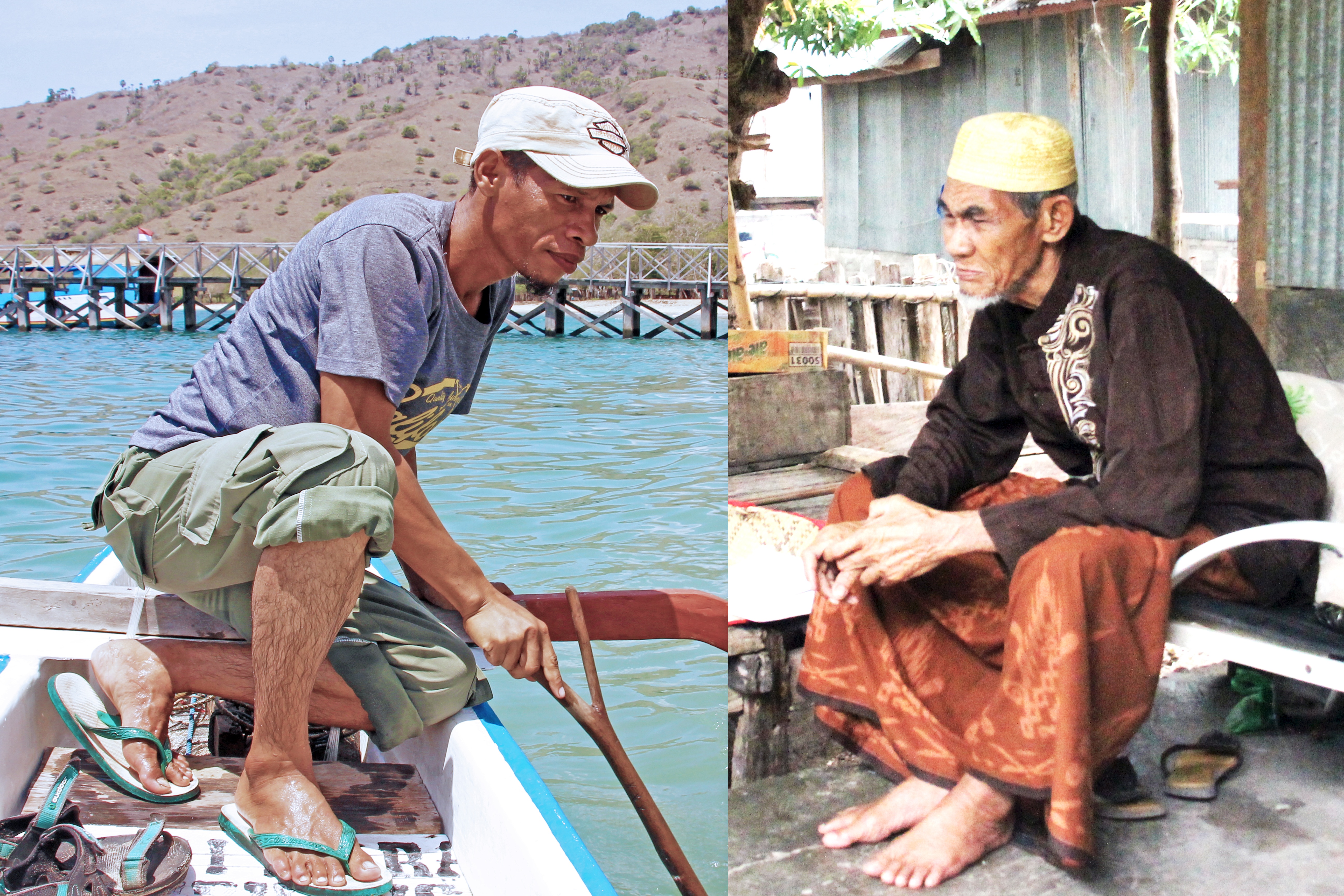 Twenty-four Komodo men work for the National Park as 'volunteer' guides on a rotational basis. They make Rp.40,000 (US$3) per trekking trip and tips on top of that. "It's good money for Komodo standards," said Nuhung, though he added that people find ways to spend the money. Education for Komodo adolescents is a major one – paid out of pocket – with the nearest high schools and universities being in Bima and Labuan Bajo.
The 80-year-old Nuhung has witnessed the Komodo economy and culture change drastically throughout his lifetime. His parents were fishermen, as was everyone else in the 1930s. Then came the Komodo Natural Reserve in the 1960s and the National Park in 1982.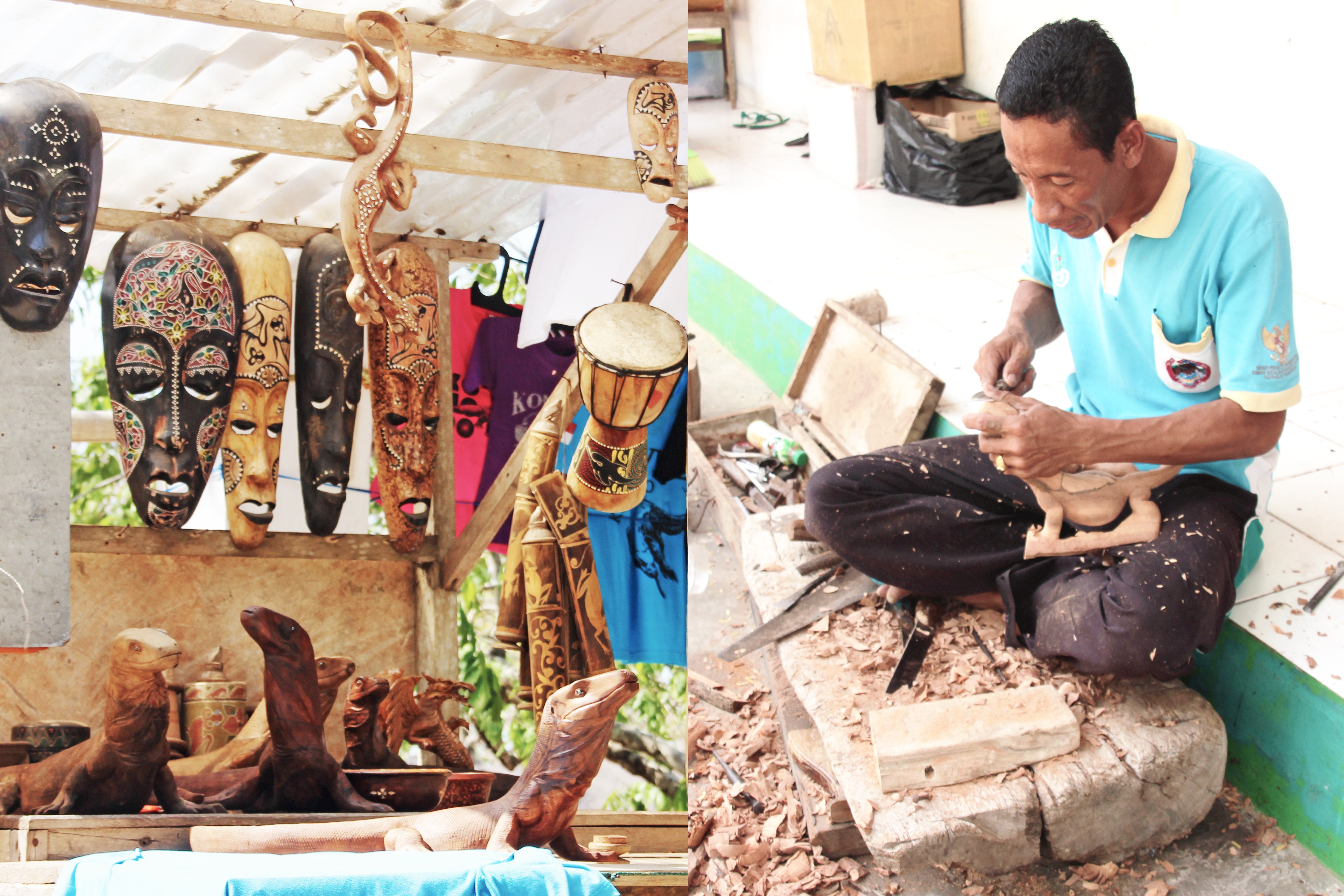 During the Natural Reserve era, only 'natural materials' such as wood, palm fibre and alang-alang (thatchroof grass) were permitted for the construction of houses. As people gathered Mother Nature's construction materials, they cleared lands for gardens and hunted game for protein on Mount Ara. Life was good but constantly arduous as well.
When the National Park took over, people were no longer allowed to log their forests and started needing imported tin roofs, tile flooring and cement to build houses. At sea, conservation zones were established.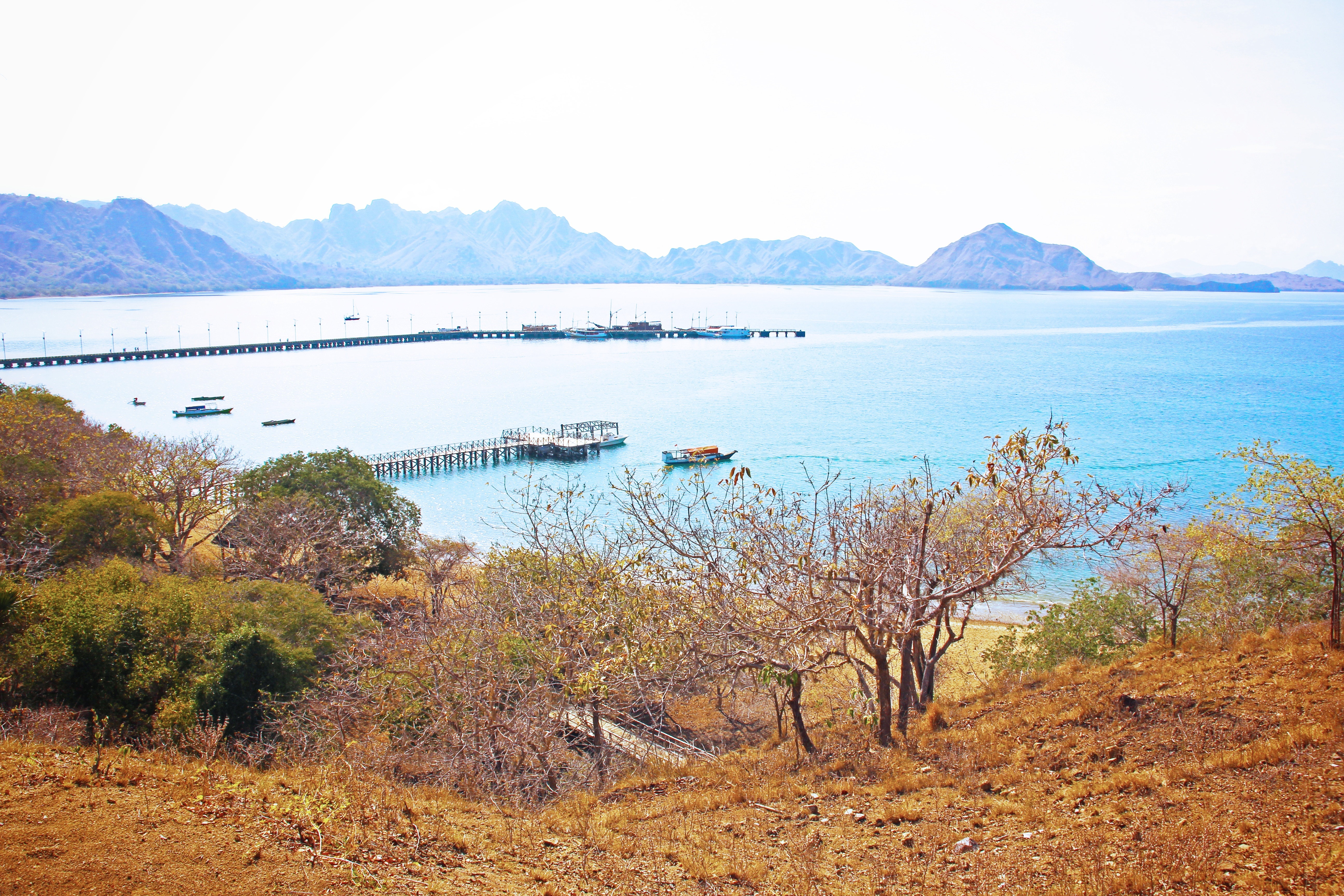 "It's been a necessary move because without it The Komodos' vast coral reefs would be wiped out by destructive fishing practices using bombs or potash. The National Park protects the dragons as well. On the downside, we lost fishing, hunting and farming as our livelihoods, as well as the culture that revolves around these former life-giving spaces," said Nuhung.
Begging to differ, National Park ranger Ridwan explained that Komodo culture does have its own concepts of conservation.
"Our ancestors worked to collect just enough resources for our needs of the day. There were taboos on collecting excess resources and wasting them," said Ridwan. "Our ancestors had chieftains who were in charge of determining fishing seasons. They looked out for signs in nature that indicate escalating populations of fish and prawn, and held community forums to determine the fishing season's terms and conditions in consensus."
"On land, there were also rules of sharing the inedible body parts of hunted game with the Komodo dragon. This is due to the Komodo people's beliefs of having been born from the same womb as the dragon," Ridwan added, referring to the Komodo origin myth.
Ridwan notices common interests between the National Park's vision for conservation and Komodo customs. But conservation conflicts frequently occur due to the National Park's failure to recognize the local conservation culture and design policies around local wisdom. He said:
"Consequently, we feel alienated by the zoning policies. Our ancestors have been here long before the National Park, but suddenly our main livelihoods are prohibited and we constantly have to ask the authorities permission for all our activities."
Inheriting an eclectic ancestry of Bajo, Bima, Bugis-Makassar and Manggarai roots, the Komodo people tend to be low-key about their cultural identity due to feeling "we're also newcomers here."
Unfortunately, this means there's little, if any, pressure for the government to establish tokens of recognizing Komodo culture's existence, such as through museums, cultural centres or literature. To this day, Komodo-based events tend to feature Manggarai cultural performances from Flores instead.
National Park food stall owner Haji Majid recalls 1988 as the alarming year the National Park passed a policy to forcibly resettle the Komodo people to Flores.
"But due to our ancestral ties with the dragon, there can be no Komodo Island dragon watching if the Komodo people cease to exist here," said Majid. "In receiving President Suharto's visit, the committee brought a Manggarai diviner from Reo (a town in the north coast of West Flores) to call out the dragons, but none came."
This embarrassing incident gave power for the Komodo people to lobby against the resettlement plans and demand the restoration of ancestral sites seized by the National Park. As a deal was settled, members of the Komodo community performed a Komodo language chant to invite the dragon. The beasts turned up in great numbers.
Majid said that if the National Park genuinely stands for 'conservation,' it should prioritize defending the existence of the Komodo people as an integral part of The Komodos' natural ecosystem.
"That means providing relevant education that prepares our young people to competently take charge of the National Park's functions and run the tourism industry. And helping our school leavers finish their education," said Majid.
It can be tough when Komodo kids have to go so far away just to attend school and do not learn the skills relevant to running the local economy back home.
Nuhung agreed, adding that he believes the next generation will be dominated by educated office workers. "They will run out of land but excel in knowledge. I have high hopes that young Komodo people will someday run the National Park," said the elder Haji.
Fast Facts
Country:                                  Indonesia
Province:                                Nusa Tenggara Timur (NTT)
Land area:                               1,817 square kilometres (Komodo National Park)
Largest city:                           Labuan Bajo, Flores
Population:                           46,262 (2012 estimate for Komodo District)
How to get there:              Daily flights into Labuan Bajo from Bali and Kupang.
Komodo liveaboards and day cruises are abundantly available from Labuan Bajo.
Alternatively, take a passenger boat from the Labuan Bajo seaport to Kampung Komodo. Haji Nuhung's son-in-law Suwardi owns a homestay and is contactable at +6281319080781.
What to bring:                     Camera, hat, trekking shoes, sunscreen, insect repellent.
                                                      Swimming costume and snorkeling gear.
Flashlight, extra batteries, power bank and a no-frills cellphone (non-smartphone) if staying in Kampung Komodo.
Draw cash in Labuan Bajo – no ATMs on Komodo Island.