Legian, on Bali's West coast, is a magnet for expats and foreign visitors. The attraction of one of Indonesia's most famous stretches of beach will only get stronger.
Late next year PT Laut Biru Bali plans to open its 219-room Blue Ocean Condotel on Legian. The property promises convenience and luxury aimed at Western travellers. The Blue Ocean will open its doors at the end of 2018.
Commissioner of PT Laut Biru, Bali Ali Shahab said that Blue Ocean Condotel is the only condotel — a mix of condominium and hotel — offered in the area.
"The Blue Ocean Condotel offers premium scenery of Legian Beach. The location is right beside the beach area," he added as quoted by Liputan 6.
PT Laut Biru Bali has contracted Australian hotel operator Mantra Group to oversee operations for the property, betting the western touch will appeal to Australians and other foreign tourists.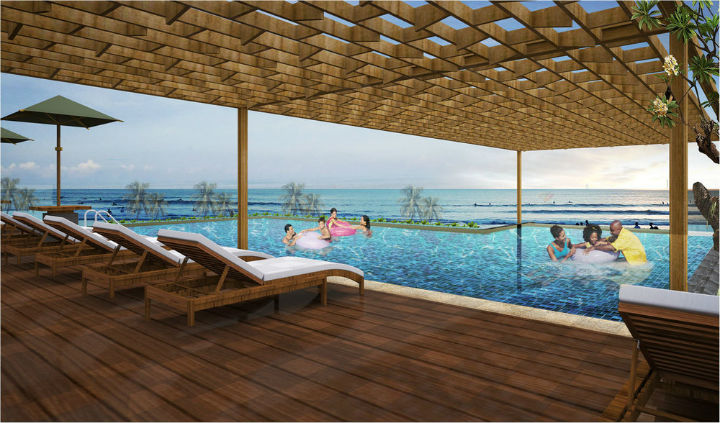 Sprawling some 16,500 square metres, the property will boast four-star facilities, including a rooftop pool and lounge, spa, fitness center, meeting rooms, playground and daycare facilities, said PT Laut Biru Bali.
During the first three years, investors will earn a 24 percent return on investment, Shahab said. With that, investor are expected to reach their break-even point in eight years. Investors are also entitled to 65 percent profit sharing after three years. The other 35 percent will be yielded back to the management.
With a strategic location, Shahab predicts that at least 80 percent of the property's units near the shore will be sold before the property opens toward the end of next year. Shahab owes his optimism to the surge in visitor numbers to Bali. Last year the island saw a 23 percent jump in the number of arrivals.
"The majority of Legian tourists are from Australia, France, Germany, Netherlands, Italy, Switzerland and Russia. They are our market targets. We're confident that both local and foreign investors will be interested," he said.
Starting at Rp.2.5 billion (US$187,659.75) the units won't come cheap, according to Kontan. Residences on offer include deluxe, executive suites and penthouse.
Still, the property might be a convenient choice for residence. It will take just 15 minutes from I Gusti Ngurah Rai International Airport, the developer says. For expats in Bali looking for a premium residence near a beach area, this might be a good option.
Image credits: Blue Ocean Condotel, Blue Ocean Condotel