The World's Most Valued Business (MVB) has turned out to be the right thing at the right time for the rapidly increasing number of responsible and consumer-focused businesses operating in Indonesia today.
With the exponential growth of the internet and the adoption of digital platforms by the global business community, a whole new level of access to information is making it beneficial for companies to become more transparent and honest in their dealings with stakeholders and consumers at every level. MVB is the bridge between these concerned groups, supplying facts and information to help responsible businesses convey their message to the rapidly growing number of people who want to know more.
This new wave of responsibility, honesty and transparency in the global business community brings with it a need to highlight, encourage and publicise the companies who are leading the way and differentiate them from more unscrupulous operators who have not yet realised the need for better business practices. This helps to give responsible companies the competitive advantage they deserve and enables them to invest more into the long-term well-being of people and the planet.
By defining seven critical value areas to identify levels of achievement – namely sustainability, best possible business practices, ethical employment, safety and security, customer service and respect, environmental friendliness and corporate values – companies can look critically at their own performance and ensure that they are heading in the right direction.
The MVB program is not a competition, it is a collaboration. It helps to identify the efforts made by a company and give added value by providing platforms to share their stories.
MVB strongly believes that close collaboration with related parties is the key to success in making good business practices part of everyday life. As an effort to make this initiative familiar to the public, MVB Indonesia has partnered with renowned Indonesian entrepreneur and entertainer Daniel Mananta as the official MVB Ambassador. Daniel was chosen for his relentless commitment to spread the spirit of modern patriotism among Indonesia's young generation through his clothing line, Damn! I Love Indonesia.
Through strategic partnerships encompassing TV, radio, print and digital media, MVB is in a position to effectively convey a very positive message about what responsible businesses are doing to make the world a better place for everyone. Talk shows, print articles and regular social media updates spread the word in very credible ways and show consumers which businesses care about more than just profit.
In addition to working together with its members, MVB also collaborates with institutions from relevant areas. Last year, in cooperation with Outward Bound Indonesia as MVB Transformation Partner, and members of MVB Indonesia 2017, the "Turning Disability into Achievement" program helped 20 physically challenged people build their confidence through special workshops.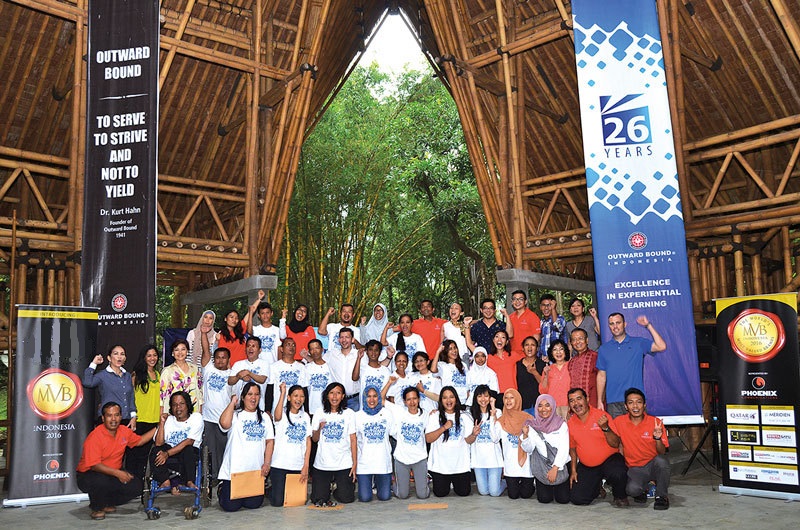 At the same time, the MVB "Tinypreneurs" program, fully supported by Coca- Cola Amatil Indonesia, IKEA Indonesia, Sarung Gajah Duduk and other MVB Indonesia members, enabled ten selected under-privileged women under the Biji Sesawi Foundation to become small independent retailers.
The concept of sustainable development is receiving growing recognition, but it is a new idea to many business executives. For many, the concept remains abstract and theoretical and is mainly associated with increased expense, not increased profit. Through a series of half-day seminars, MVB gives its members the opportunity to interact with each other so that they can discuss and share the latest and most effective methods and practices in use around the world today.
There is obviously no requirement to disclose sensitive business information, but the forum aims to encourage members to be open about things that might benefit people and the planet as a whole without sacrificing any business advantage. In its 2017 program, MVB Indonesia conducted a series of half-day seminars held at Raffles Hotel Jakarta collaborating with several organisations including Jakarta Property Institute, Kiroyan Partners, Binus University, Trisakti University and others.
The MVB program has already taken the message to thousands of international companies in their efforts to help the "companies that care" to stand up and be recognised for their achievements in ethical and responsible business practices.
Many major companies have responded to the MVB initiative while some have hesitated, but it is certainly time for businesses to realise that more and more consumers are starting to care deeply about the ethics and responsibility of the companies they do business with – and they do prefer to spend their money on products and services produced in responsible and sustainable ways.