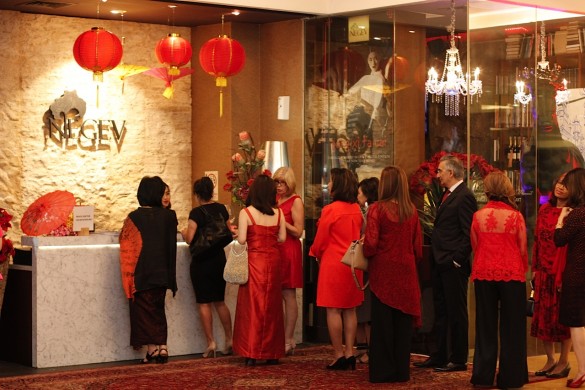 This new restaurant has the X factor. When you enter, you feel class ooze out of its multi-faceted walls. Surrounding you are sculptures, carvings, and paintings that hang from the extremely high ceilings facing down on you. There's a lot to keep your eyes busy in Negev, including the large attention-grabbing wall carving behind the long bar titled 'Evolution'. But don't be put off by its grand designs – Negev is a casual dining restaurant and gallery bar with warm hospitality, spicing up the culinary area of Kuningan in Jakarta.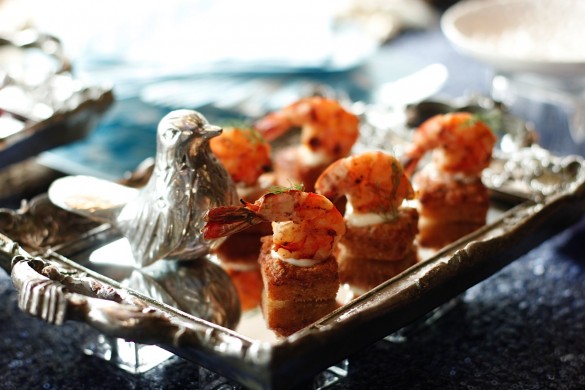 Negev is still a new kid on the block, opening only 6 months ago and is one with 'The Harvest' cake shops where I believe the best cheesecake in Jakarta comes from. Food and Beverage Director, Eric Gouteyron created the desserts at Negev as he does at The Harvest. Hailing from France, Eric has been a pastry chef his whole life, working at the River Cafe in New York for 17 years and was based in Dubai before he moved to Indonesia one year ago. "I worked with many Indonesians in Dubai. They're very nice people and that was the best team I had actually," he tells us, partly why he made the move to Jakarta.
In Dubai, Eric worked with Chef Chandra who coincidentally is Negev's Executive Chef. "Dubai in 2007 was fun and full of competition," says Chef Chandra. He moved from Dubai to a five star hotel in Jakarta, rejoining hands with Chef Eric at Negev again by accident and without forethought. Kismet? Well the proof is in the taste and tasty it sure is.
The menu is East meets West and presentation is inventive. We sampled a juicy Salmon from the Grill, served with a Papaya Barbeque sauce, followed by Spring Baby Chicken, Beef Ravioli and an incredibly rich and moreish Mushroom Risotto. Thumbs up to Chef Chandra. Try the Mushroom Soup which wins the best looking dish prize.
Then came the moment I'd been waiting for… desserts. Chef Eric proudly brings forth a warm Sticky Toffee Pudding with Butterscotch Sauce and Vanilla Cream which made me want to wrap a blanket around me and snuggle up in front of an open fire, followed by the beautiful Negev Chocolate Bar, a name that doesn't do this dessert justice – Dark Chocolate Sebayon Mousse, layered Crunchy Praline with Coffee Ice Cream, caramelized Pine Nuts and Nougatine with homemade Marshmallow. Presented so inspiringly and with so much care, this dessert is a must try and make sure to take the perfect bite, loading your spoon with a bit of each segment to truly appreciate all the flavours that make up this masterpiece. Felicitations Chef Eric. The Negev is a desert in Israel and this Negev is an oasis in Jakarta. A great place to entertain with impressive lavish interiors and equally delicious cuisine and a place which will have you coming back for more.
Negev
City Plaza Building – Ground Floor
Jl. Gatot Subroto No. 42
T: +62 21 52971333
www.negevresto.com
Closed on Sundays