Investment in property offers a compelling avenue for individuals and businesses alike, providing a tangible asset with the potential for long-term growth and stability.
Alexia Dubus is a creative designer originating from Paris, France. Her endeavours in the industry for the last 15 years have brought to the establishment of her branding and design agency as well as leading the creative team as head designer for Mirah Investment & Development. Now, in Bali, Dubus designs multiple of Bali's leading property developer's stand-out luxury projects.
Indonesia Expat has connected with Dubus to present readers with insights into her background, the real estate industry, the current trend of property in Bali, and other interesting topics.
What excites you the most about being a head designer in the property field?
It's a new challenge! After 15 years working as a designer within the F&B universe, I think it's interesting to bring this expertise to the property market.
When you create a brand, a concept, it is more than just architecture or interior design, you create a philosophy, a lifestyle. I'm really excited to work on the users' journey: how they use and live in the space, what and where they eat, how they chill, and how they sleep.
Briefly tell us about Mirah Investment & Development.
Mirah [Investment & Development] is Bali's leading property developer, we work on different types of projects including hotels, resorts, residential apartments, and residential luxury villa complexes.
We do everything from design and construction to property management.
Mirah isn't shy; they let me be bold with my designs and play around with different themes and textures. I enjoy it because they're ambitious and it's really open for me to be creative, so they are really cool projects.
Why should people trust Mirah as a developer?
Mirah [Investment & Development] are really focused on the client – what they want, and what the client experience is like. This is true, not only when clients are living in and using the spaces built, but all the way from the start of the purchase process.
You can see this care for details and care for experience, not only in the creative design process but also in the execution of the projects.
Can you walk us through your portfolio and highlight some of your most significant property projects?
We have so many projects it would take too long to go through them, but some of our most recent ones are:
Amali Luxury Residence is one of our newest projects. It has luxury apartments and penthouses built on a rare cliff-front land with stunning views across the oceans and views of the Uluwatu cliffs. It has an amazing infinity pool at the edge of the cliff, two restaurants, a gym, and a coworking area. It was created as a lifestyle project.
We have a very cool serviced apartment building on the Nusa Dua beachfront called Kiara Beachfront. This is a sister concept to Kiara Ocean Place which sold-out after only six months. It's rare to get apartments directly on the beachfront in Bali, so this is very exciting for us. As with all of our developments, we want to push the community aspect, so we have an onsite grocer, a few restaurants, a gym, a spa and nautical rental equipment to have fun on the sea.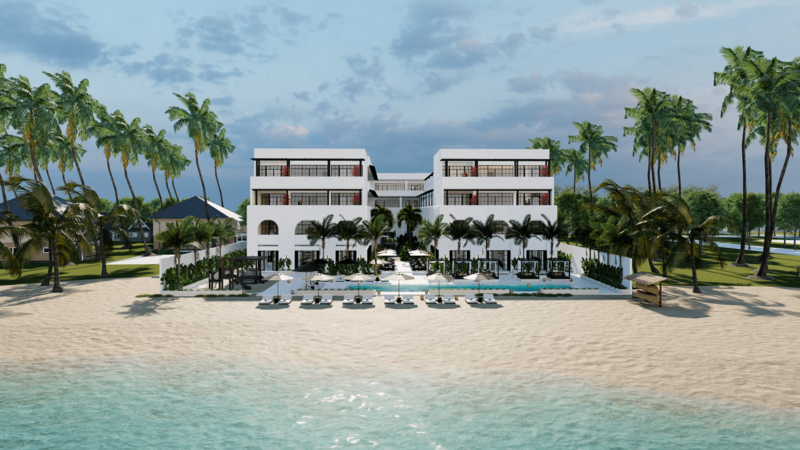 When designing a property, which one do you prioritise, aesthetics or functionality?
What makes a design or project good isn't how it looks, but how it makes you feel. What I mean is that; it doesn't always have to be beautiful because… what is good interior design? It's subjective, we all have different tastes.
What's really important is how it makes them feel. It sounds cheesy, but it matters. You have to think about what emotion someone will get when they walk into the room. Does it make them feel confident? Safe? Comfortable? The environments we create need to allow space for people to interact with their friends and create good memories.
How do you see the current design trends, especially for properties in Bali?
Everything is moving towards more high-end, more modern, more comfortable, and more luxurious. People want to enjoy the island and the tropical beauty but still be comfortable, so they are moving away from the older open-style Bali villas and want to have the choice to enclose the villas.
Bali is hot so for sure you need a pool to be fresh – and what is quite nice is the transition between inside and outside. It's like always, we try to balance inside from outside. So, you can have your feet in the pool, be fresh and discuss with someone who is cooking inside.
For Mirah [Investment & Development], what is really important is not only to work on the inside of the house, but they wanted the outside to be outstanding. It means you need to be proud. You need to feel good when you're inviting guests when you're coming to your place.
It also needs to be "Instagramable". This only started about four or five years ago. People began wanting to go to certain places to take pictures and post them on social media. At first, it boiled me. However, taking these photos promotes an ambient environment that makes people feel comfortable, so it makes sense that people want to share them.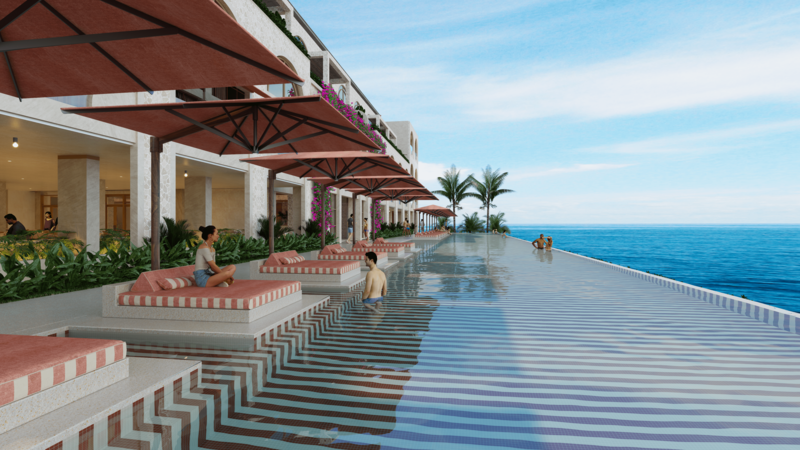 Design trends change over time. How do you stay updated with the latest trends and incorporate them into your projects?
Yes, for sure, I'm obliged to keep myself updated! Every morning I receive all my newsletters from ArchDaily, GoodMoods, and a lot more. And as often as possible keep up to date with international design fairs.
Are there any future projects planned by Mirah Investment & Development?
We have a few projects that we are working on, in the early stages. There is a lot of demand in the property market at the moment as tourism is returning to normal levels and we have a few exciting projects launching soon.
How can our readers get in touch with you and the company?
They can reach us through our website mirahdevelopments.com or directly on WhatsApp at +6285100800800.