Bruno, could you please give us a short history of the company?
Club Med's adventure started in 1950 in Baleares, Spain. After a few resorts in some beautiful destinations like Greece and Tahiti, Club Med opened its first ski resort in 1956 in Switzerland. In 1967, Club Med invented the Mini Club Med concept, where kids can try many sports, experience theatre or dancing on stage, mix with other kids from all over the world, whilst parents partake in sports or simply relax. In 1970, Club Med was elected the largest sports academy in the world.
In 2004, Club Med began its move upmarket, repositioning the brand globally, in response to customer demand for increased comfort and elegance, more services and personalization. Club Med invested over 1 billion Euros from 2004 to 2013 to upgrade the rooms and resort facilities.
As of today, Club Med has around 80 resorts worldwide, including 25 ski resorts.
What attracted you to join Club Med and what brought you to running Club Med in Indonesia?
I will say passion for travelling and for people, followed by happiness in what I do. I have been working with Club Med since 1992. I come from an IT background and the interest I had in IT projects that I led within the Club Med organization (such as the creation of the Property Management System that is installed in all our resorts, creation of electronic payment for the resort), the travelling that my job required, the Club Med staff I got the chance to work with, and the impressive culture of enterprise, drove me from success to success until I became Regional Head of IT Asia Pacific, based in Singapore in 2001.
From there, I created the Revenue Management and Price department in 2006, and ran this service for Asia Pacific until 2013. This activity brought me closer to business with the management of our pricing strategy, leading promotion and the group/corporate business.
Club Med took the decision to open a Club Med sales office in Jakarta in 2014, looking at the result of a marketing survey on Indonesian premium travellers and travelling industry in 2013.
Club Med Indonesia owns two resort properties: Club Med Bintan and Club Med Nusa Dua, Bali. Can you give us a brief description of these two resorts and what they offer to your guests?
In Indonesia, and all over the world, Club Med package prices always include room accommodation, three sumptuous international buffets—morning, noon and night—wine and beer with lunch and dinner, whole-day free-flow at the bar and snacking, a whole host of sports tuition and activities, children's clubs and evening entertainment.
Our Bali village opened in 1986 and is built on a beautiful property of 20 hectares with 393 rooms. A large array of sports is available for our guests (golf, flying trapeze, windsurf, archery, yoga, snorkelling, aqua fitness, beach volley, squash, tennis, volleyball, basketball, kayak, Boyce ball, badminton, fitness and soccer). Our guests get the chance to discover a harmony between Balinese culture and modernity, and the resort is the perfect destination for everyone. Bali was awarded the "Best Traveller Choice" in 2012 by Trip Advisor and "2nd Best Overseas Resort for Family and kids" by Holidays with Kids in 2009.
Our Bintan village opened in 1997 and has 310 rooms. The resort was built on a 20-hectare property with a 250-metre secluded beach. Sports include windsurfing, snorkelling, flying trapeze, fitness, aqua fitness, sailing, archery, kayak, beach volley, water polo, basketball, badminton, table tennis, volleyball, Boyce ball, tennis, squash and soccer. Bintan was awarded the "Best Golf Course in Indonesia" by Asian Golf Monthly magazine in 2010, and "2nd Best old course in Asian Pacific" in 2009.
Do you have plans to expand in the country?
Indeed, we have plan for future resorts in Indonesia. We are currently looking at Lombok, and some other locations like Manado.
At Club Med, staff are called 'GOs' or Gentils Organisateurs (Friendly Organizers), Clients are 'GMs', or Gentils Membres (Friendly Members) and each resort is known as a 'village'. Do you think this is what makes you unique and why families enjoy the Club Med experience?
Indeed, it is unique. GOs and GMs can share the same table for their meal, if they wish. Every night, the GO team is on stage to perform a show for our guests. It can be a circus show, cabaret, dancing, live song, or funny sketch. Once a week, the children of our guests perform on stage in front of their parents. After the show, GOs and GMs are either enjoying the free-flow at the bar or dancing all together.
In 2008, Club Med launched a new advertising campaign "Where Happiness Means the World" and over 25 million Euros was invested in this campaign over 24 countries. Can you tell us more about this slogan and how the group ensure it is realized?
Club Med business model is "Selling Happiness", and our goal is to make our guests happy. Club Med has been on a quest for happiness since 1950. Club Med was born just a few years after the Second World War, and it was a time when people wanted and needed to escape and be happy, so Club Med capitalised on the joy of togetherness.
What are the demographics of Club Med Indonesia's clientele?
Most of our Club Med Indonesian clients are families travelling with kids, or couples. 80 percent of our Indonesian clients are below 54 years and the average age of the Indonesian adult clients is 38.
I used to associate Club Med with young people and singles holidays – does this ring true in some of the resorts in the world and not others, perhaps?
It was the case at the origin of Club Med. I would say Club Med was for young people and singles holidays from 1950 to 1980. However, our all-inclusive holiday is well adapted for anyone, whether singles or groups of friends.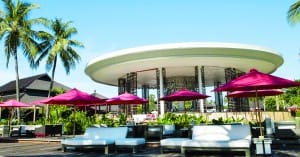 How many visitors did you have to your resorts in Indonesia in 2014? What are your projections for this year?
In 2014, we received more than 44,000 GMs in Bali, and more than 38,000 GMs in Bintan. Our clients come from all over the world, but our five biggest contributor countries are Australia, China, Korea, Singapore, and Japan. We have good expectations for Indonesian guests in the future.
How much, on average, will a family of four spend on a weekend at Club Med in Indonesia?
On average (mixing peak and off-peak period, mixing all the resorts), it is around 170 USD per person. Kids below four are free and kids from four to 11 pay 60% of the price.
In Club Med, the earlier you book, the better price you get.  Off-peak, I am currently selling Bali at 122 USD per person, and Phuket at 119 USD per person. When you know that this price includes the room, the breakfast, lunch, dinner, free flow at the bar, all sport activities, kids club – it is quite a good deal
What are your company's visions?
More upscale, more comfort and elegance, more all-inclusive, more services and personalization, more happiness is our strategy for the Club Med of tomorrow.
More green is also an important factor for the future. We just opened a new resort in the Maldives in January, which is very representative of our vision. 52 overwater villas and beach villas with private pools, 151 to 168 sqm2, 100% eco-nature and friendly, solar panels covering 100% of energy needs and with private butler. Club Med will stay friendly and multicultural.
With your insight into the travel industry, what do you foresee happening in this industry in Indonesia? Are there any lesser-visited areas today that will take over in the future? 
Indonesia is an extremely beautiful country, with amazing and stunning locations, a rich culture, and the kindness of the people is impressive. The travel industry will definitely bloom in the next coming years. The number of Indonesian travellers is increasing, so is the number of foreigners visiting the country. The country has so many unexplored treasures that the future of travel industry is surely promising.
Thank you, Mr. Courbet. To get in touch, please email:

[email protected]