Canggu Community School (CCS) has recently welcomed its new Primary and Secondary Principals.
Mike Hopaluk (MH) joined CCS as the new Primary Principal last year. Hailing from Vancouver, Canada, Hopaluk's journey in education has taken him around the globe, showcasing his passion for diverse learning environments. Beginning in Korea, he evolved from a teaching role to several leadership positions, notably excelling in International Baccalaureate (IB) schools, particularly the Primary Years Programme (PYP) and Middle Years Programme (MYP). Hopaluk's commitment to educational innovation led him to Abu Dhabi, where he flourished as a PYP coordinator, vice principal, and ultimately the primary principal. 
Earlier this year, Rick Odum (RO) was welcomed to CCS as the Secondary Principal. With a strong foundation rooted in Texas Public Schools, Odum's journey reflects his diverse expertise; spanning English, psychology, and humanities, as well as his impactful role as the Director of Advanced Academics. Odum's academic prowess shines through with his impressive academic credentials—a Bachelor's in History, a Master's in Literature, and a Ph.D. in School Improvement. His international voyage also commenced in Abu Dhabi and expanded to encompass pivotal roles in Korea and Zambia, where he excelled as the Director of Teaching and Learning, secondary principal, and more. 
Now based in Canggu, Hopaluk and Odum continue to thrive as educators, embodying an unwavering commitment to educational excellence and innovation, enriching the lives of students and educators alike.
Mike, you've spent over a year in Bali. What are your thoughts on the expat life here so far?
MH: I think there's something for everybody. If you want to go and do things out at the beach or the restaurants, there's definitely that. But if you just want to find your nice, quiet space from the world on the island, there's also that. I have a small group of friends, so I don't go out all over. But I have found the things that I like doing, playing paddle and going down to the beach and enjoying the sunset. So for me, I'm more for enjoying that quiet life.
But for expats, I think it's number one. The people in Bali are really welcoming, I couldn't be happier with the relationships I've built and I see that at the school. We work with a lot of Indonesians here, and it's really great how we can have that opportunity to connect and try to learn a little bit more. One of my goals this year is to learn more about Bahasa Indonesia. I've set out to become a little bit more connected, hopefully, with the local culture.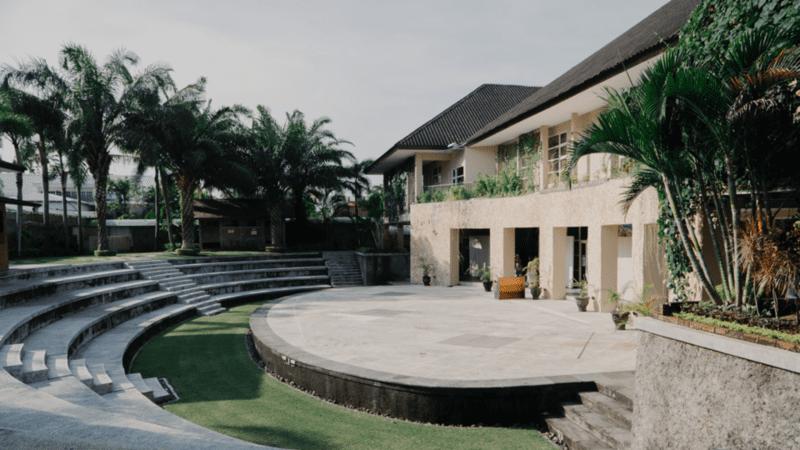 Briefly inform our readers about Canggu Community School.
RO: As a community school, we serve the community of Canggu and its surroundings. We have students from a lot of different places on the island who actually commute all the way through the traffic to get here. And that's because we offer a very high-quality educational program with a loving and caring community. We take a lot of pride in the professionalism and the care that our teachers offer to our students. And I think we're built on a service mindset for the kids.
Why does CCS use the British National curriculum?
MH: I could speak from a primary point of view. Many years ago, as the school was being developed and finding what their curriculum was, that seemed to be a highly-recognised curriculum around the world. It's a well-rounded curriculum that focuses on knowledge, understanding, and skills. Very similar to a lot of non-national curricula. I think that focus really aligned well with the population and it continues to do so.
RO: In addition to that, we also have the IB Diploma Program in years 12 and 13. While we use the national curriculum, a lot of that is preparation for the DP Diploma Program in our last couple of years.
As recently appointed principals, what are the visions and values that you aim to implement for the students of CCS? And do you have a strategy in place?
MH: We have four core values at CCS; respect, learning, engagement, and balance. We like to tie everything we do here to at least one of those core values. That respect, really, comes down to how we speak to each other – whether that's me speaking to a child or a parent speaking to a teacher – it should be done with respect. The more that we can model that for the children and use that language of respect, learning, engagement, and balance, the more it becomes a part of the student's understanding of the world. I definitely like how those are our core values, and it's pretty easy to align with a lot of what we teach here.
RO: Absolutely. I want the school to be a place where students are safe to be themselves, to essentially learn how to be self-advocating adults. They know that they're going to have a highly engaging, highly fun learning environment. They can take intellectual, and academic risks and succeed, fail, and then grow through that process. Part of becoming a respectful, competent adult is building that resiliency and I think that's an important part of our program.
We're consistently talking to our teachers about working with this lens with the children and making sure that they know they're safe and supported, that our expectations are clear, that our assessments are aligned with what they're being taught in class, that their feedback is growth-oriented, and really modelling this sense of how to be a competent adult because we're with them throughout the day. We're that adult, and that's an important responsibility for our profession. So in terms of plans and grand schemes and such, it's the actual on-the-ground work of reinforcing and remembering that our responsibility is to model these values for the kids on a daily basis.
From your personal observation, how do you think the pandemic has impacted the younger generations in terms of learning as well as social behaviour?
RO: I think it's a little too early to say exactly what has been affected. Overall, more research is still out there to be done. In my opinion, one of the big conclusions that people have had about the pandemic after a lot of instructions and moving online, etc. isn't what they want. They want to be present physically with other people. That is an important piece of learning that isn't going to be replicated through technology. 
The danger in removing oneself physically from the learning environment is a socialisation that has become increasingly prevalent over the last few years, even without the pandemic. Students are more anxious now than they have been in the past. I believe everyone is, but particularly students. That's one of the reasons why we have to double down on safety and on paying attention to the kids' social and emotional needs.
But in terms of content, knowledge, and all, that's a secondary consideration compared to kids' health and safety, both emotionally and physically. Because if you don't have that, you can't get the knowledge and skills. So I think that's the number one thing that educators need to pay attention to when it comes to getting back to normal.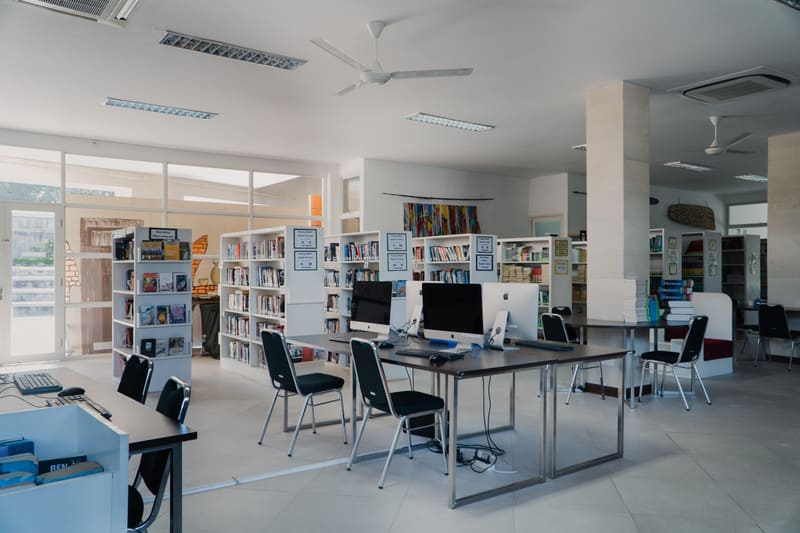 In your opinion, what are the traits young people should have as they prepare for a future in a rapidly evolving world?
MH: I think just a wide skill set. Providing them with opportunities to explore many options for their interests and passions may allow them to develop some of those character traits and know what it is that drives them or what they find challenging therefore pushing them a little bit forward. But being open-minded is really important and is something that we do a great job here of having with almost 50 different nationalities and cultures. Principles are another thing, to know what is right and what's the right thing to do in certain situations.
RO: I completely agree. I would also add that we talk about critical thinking skills. The ability to not only analyse and evaluate but to also pull apart fundamental structures behind particular things down into component parts while still having a sense of the whole.
Another thing in terms of facing an increasingly complex and confusing world is learning where and how to focus one's attention. Being able to maintain a particular control over your perception because this world can overwhelm you. Unfortunately, this world can lead you towards Nihilism. You need to learn how to focus on things that are points of positivity and growth rather than simply looking for problems. That's something that I think is lacking in the world and I would like to encourage it in education.
What's next for you and Canggu Community School?
RO: I think in five years, you can come back and talk to us. You're going to see a school that is – what you would call in the education world – a destination school. That is a school where parents choose where to live because of the school, people choose where to move because they want to teach in the school. That's where I see us in five years. I think all the pieces are in place for that to happen.
MH: I agree. It's not necessarily about where I want to be, but hopefully, where the school is. Last year was a very productive year as far as being our first post-COVID year. Great things were happening and the amount of support from the whole community just means that we have the pieces so we can continue to find where they go and really use that leverage and capacity to grow.
How can our readers get in touch?
Pay our website a visit, you can find all our contact information there. Including our telephone (+62) 361 844 6391. You can also find us on Facebook and Instagram @canggucommunityschool or email us at [email protected].