It takes more than two months before a new habit becomes automatic, depending on the person's behaviour, the individual, and the situation.
But one small action will eventually become a bigger impact, regardless if it's concerning the environment or our daily lives. As the President Director of Danone-AQUA Indonesia, Corine Tap has continued the company's belief on using business as a force for good for everyone and the environment. Indonesia Expat had the chance to discuss with Corine on Danone-AQUA's inspirational efforts which you can tag along with to safeguard our home, planet Earth.
People are aware of the Danone- AQUA brand, but what is it that you wish people knew more about the brand?
A lot of people know us as a water business; but they don't know that we are also one of the largest B Corp Certified companies in Asia — which means we are always considering the impact of our decisions on our team, customers, suppliers, community, and the environment; balancing purpose and profit, and using business as a force for good.
We are committed to putting the health and safety of people and community at the heart of our mission.
There are some cases where consumers can identify the taste of water is different according to the brand of the packaged water they drink. Is there a reason behind this?
The best and purest form of water comes from nature, from numbers of active volcanoes in Indonesia — that's why we source our water from selected springs that preserve the purity and natural mineral content which gives its authentic taste depending on the source.
This is also why our priority is to protect and preserve the balance of nature, to be able to continue providing the best quality of mineral water for everyone in Indonesia for generations to come.
How has the company adapted to the "new normal"?
We were able to adapt by staying true to our core mission; continuing to put people's health at the heart of every decision. We rolled out support in multiple layers — starting with our staff; educating them and their families about how to stay safe and prevent the spread. Then launching new initiatives to protect and support our communities and supply chain.
One of the most vulnerable communities to be impacted by COVID-19 is the waste-collectors working within an informal sector. We worked with many partners such as "Octopus Indonesia" in collaboration to donate food and personal protective equipment to enable them to continue working safely and continue their livelihoods, which is also crucial to protect the environment and support the circular economy.
To date, Danone-AQUA has donated at least Rp30 billion in the form of medical equipment and ready-to-eat meals. We supplied all the needs to referral hospitals, not only in Jakarta but also in other cities. To date, we have supported more than 15 hospitals across Indonesia.
We also collaborated with companies like Grab — to create new ways to safely recycle from home, with the launch of the "AQUA-GrabExpress Recycle program." We must continue to adapt and find ways to support each other as a community and as a nation.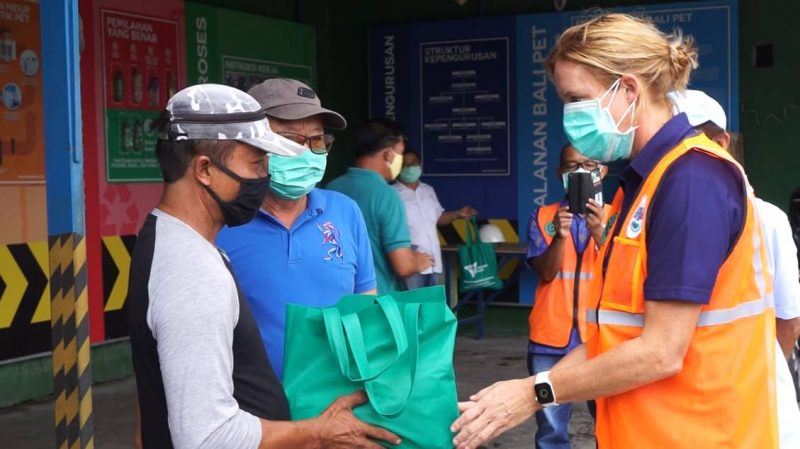 What are your thoughts on Indonesia and its eagerness to save the planet?
I'm very heartened by the intention of Indonesia's much-needed shift towards a more environmentally sustainable economy, such as the aim to cut marine plastic waste by 70 percent within the next five years.
Our company is continuously supporting the government's achievement targets to reduce waste to the sea. Danone-AQUA has launched a #BijakBerplastik movement which focuses on three commitments to tackle the plastic waste problem in Indonesia, namely the development of waste collection infrastructure, consumer education related to waste management, and product packaging innovations.
Danone-AQUA also targeted in the year 2025 to collect more plastics than used, educating up to 100 million consumers, ensuring 100 percent of our packaging can be reused, recycled for compost, and increasing the content of recycled material in bottles to 50 percent.
Single-used plastic is one of the highest contributing wastes in Indonesia. How does Danone-AQUA tackle this issue?
We have been pioneering towards a circular economy since 1993 when we established our first recycling program. Our dream is to eliminate all plastic waste from the system, by reusing and reprocessing materials to manufacture new products. For example, we produced Indonesia's first 100 percent recycled and recyclable plastic bottle.
To achieve these targets, we are currently conducting various initiatives including building unified waste management (TPST) with the government of Lamongan Regency, arranging the learning modules of "My waste my responsibility book" for elementary school children and storybooks for kindergarten, and continuing to conduct research and trials for more environmentally friendly packaging innovations.
Since its launch two years ago, Danone-AQUA has educated more than 18 million consumers to be wise in daily consumption and waste management. Our Recycling Business Units collect more than 13,000 tons of plastic bottles every year, and in Bali, we are collecting more plastic than what we are producing.
But the best innovation happens when we collaborate with others — for example, we did a "Bottle2Fashion" collaboration with H&M where recycled plastic flakes are processed into recyclable polyester for H&M clothing. Yet, much more needs to be done! Our #BijakBerplastik movement is a call for multi-stakeholder collaboration to innovate solutions to solve plastic waste issues in Indonesia. Join us!
As an effort to reduce plastic bottle waste, bringing bottles or tumblers is preferable nowadays. Does Danone-AQUA provide some sort of water filling service across the nation?
Seventy percent of our business model is already circular by the AQUA Jug; a refillable large water jug which can be reused and redistributed across the nation. We hope to expand this model to other convenient and smaller bottle products in the future.
Danone-AQUA became the first fast-moving consumer goods company in Indonesia to receive the B Corp certification. What exactly determines a company to receive this certification? How was it receiving this recognition?
This is one of my proudest achievements. A company is named a B Corp only if it displays great social and environmental responsibility, as well as public transparency and accountability. Receiving the certification is testament to Danone-AQUA's commitment towards the health of people and planet.
Our profit is balanced with purpose, so the growth of the business positively impacts employees, communities, and the environment. But we don't want to stop here. Beyond continuing to bring positive impact through our work, I hope to become a role model as a leading B-Corp to inspire other companies and spread the movement in Indonesia.
The company's program, AquaPeduli, was established in 1993. What are the next steps?
As mentioned earlier, we have innovated and launched new technologies, systems and projects to tackle the plastic waste issue in Indonesia. We believe that full circularity is crucial to long-term sustainability as well as resilient, self-sufficient supply chains.
Beyond plastic, Danone-AQUA has and will continue to expand its sphere of influence to positively impact other environmental issues like water conservation and climate change. For example, aside from the solar energy we already have implemented in a lot of our plants; we continue to innovate new ideas such as developing "Refined Used Cooking Oil (R-UCO)" as an alternative energy source for our industrial machinery.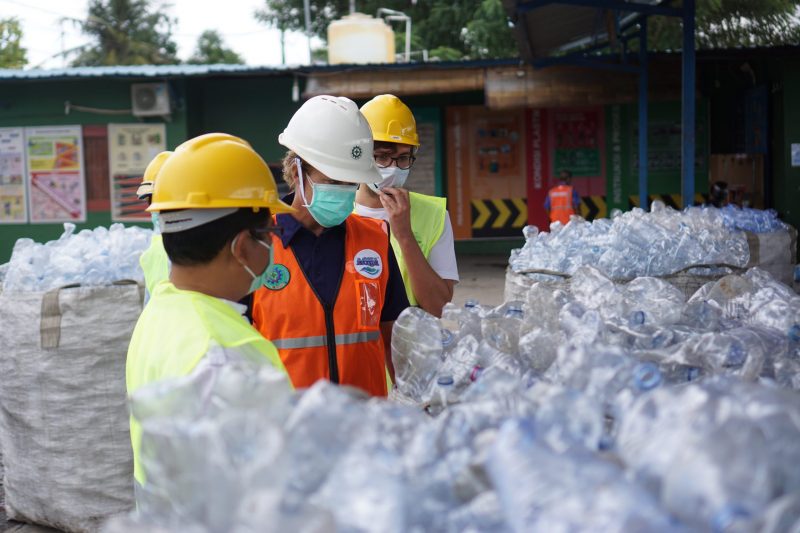 Would Danone-AQUA produce packaged infused water or any other innovation to remind consumers to be more hydrated?
Hydration is so important – with poor hydration can have a disastrous effect on our sleep quality, cognition, and general mood. We have isotonic beverages, namely Mizone that has a great way to incentivise people to stay hydrated while supporting their active lifestyle as it contains varieties of vitamins and minerals needed.
The coronavirus can stay on surfaces for quite some time, although the definite duration is still a debate. How does Danone-AQUA ensure the safety of its products?
Because the purpose of Danone is all about protecting our health, everyone on the team understood the importance of implementing safe precautions and was incredibly rapid to implement processes such as physical distancing and protective equipment. Danone products are safe for consumption. The risk of infection arising from contact with food or packaging materials sourced from commercial suppliers is believed to be very low, as stated by relevant international authorities, including WHO, EFSA, ECDC, and the Indonesian government.
Moving on to you, Corine. Please tell us about yourself.
Well, one of the most important aspects of my life is that I'm a mother of four children. I was born and educated in the Netherlands, and have travelled and worked across the world from China, India, Australia, New Zealand and now Indonesia.
I'm very grateful that I won the "Best Green CEO" at the 2017 Social Business Innovation Award, and hope to continue a legacy of pioneering the cross-section of environmentalism and business leadership.
You've continued the company's tradition of promoting both physical and environmental health. What have been the biggest struggles you've faced in doing so?
The challenges we face often involve many stakeholders coming from many different perspectives. The challenges we face, whether climate change, water conservation or plastic pollution, need to be tackled collectively.
My biggest struggle is bringing everyone together to all be part of the solution. Oftentimes, there is a communication gap between non-profit, public and private sectors — but this gap needs to be closed if we are to solve the challenges ahead.
My dream is to solve this challenge and invite everyone to collaborate and innovate for inspiring solutions.
Personally, how do you contribute to help the environment?
Aside from being a female role model to other young women wanting to use business as a force for good, I'm a big advocate for coral reef preservation — coral reefs are so vital because they are home to millions of marine organisms and are the key to protecting the biodiversity of the ocean. I also spend a lot of my time taking part in cleanups, because every little part counts!
If you could give one tip to our readers who wish to contribute to the well-being of our environment, what would it be?
I think it's great if everyone can be more aware of their ecological footprint. Are we consuming more than what the Earth can sustain? Using free tools like the Footprint Calculator is a great way to find out! (www.footprintcalculator.org)
We must never take more than nature replenishes, use water responsibly, and take time to appreciate nature. We must also remember that our own health is interconnected with the health of the planet! Staying healthy and hydrated is important to take care of your own health, so you have the energy and quality time to do purpose-driven work to protect the planet.
What do you like to do in your free time?
I'm a lover of the environment and our ocean, and one of the best ways to experience it is underwater! So I love to go diving with my family. I'm also an experienced equestrian, spending time in nature with horses overwhelms me with gratitude for this planet we share.
Thank you for your time, Corine! Hope you're healthy and safe.