Since the COVID-19 pandemic has ravaged our economies worldwide, there has been much speculation about what our investment will be like tomorrow.
While some believe that once the "plague" is over everything will return like before, some others are betting on a radically different outcome.
So different, in fact, that prominent US news magazine Foreign Policy has already come up with a new word to define this new era of economics: fuzzynomics. An era of more awareness and less greed, where people will have greater control over what they consume and what investments will really mean for the long-term wellbeing of communities.
Wishful thinking, you might say! Here in Bali, BIC (Bali Investment Club) is already working to build a different entrepreneurial model for the iconic tourism island. This new model will broaden sources of income to avoid repeating errors of the past. It's a scheme that doesn't only apply to Bali, but to many other parts of the Indonesian archipelago as well. "The last thing Bali needs in the future is another five-star hotel," says Tom Courly, co-founder of this new financial entity which claims to be the first-ever to set foot in Bali. Before the pandemic, tourism accounted for about 70 percent of the island's GDP. Now, it's been one and a half years since holidaymakers deserted the Indonesian island paradise, leaving local communities in disarray.
Consequently, some in the local administration have already figured out, like SMESCO, a private branch of the Ministry of Cooperation and SME, what the economic future of Bali could look like with far fewer tourists. "Their office has contacted us recently and after our first meeting, we both admitted that our purpose was similar," further explains this Frenchman. He was brought up in South Africa and holds an MBA, along with 10 years of experience in advertising, consulting, and entrepreneurship. "We have the same vision about Bali; a vision that encompasses many transformations, where the island would become a new economic zone," he asserts.
But how does Bali Investment Club work? It is mainly a financial proxy between expatriates, locals, institutions and businesses. It is a social club, but one with a mission; and some human values that are duly served by its own specific jargon. "We seek high-net-worth individuals, meaning, somebody with around $1 million in liquid financial assets to join our 'angel network'. We are a hybrid. We sit between venture capital and a social club," adds the young manager. So far, BIC has managed to attract all sorts of investors: foreign individuals, Indonesians, and sovereign funds, that is state-owned investment funds that deal in real and financial assets with public money. Not to forget the usual venture capital funds possibly joining as one-shot associates on a particular bargain.
Mostly targeting SMEs
If you have between $100,000 and $2 million to invest in a sound project with positive social and environmental impacts in Bali, this is the investor club to join. If you have even more money to invest, BIC offers a hedging strategy as well, a tactic aiming to hedge one investment by making a trade-in another. Another way to say you must not run the risk of putting all your eggs in one basket. On the other hand, if you have only $20,000 in your purse, that will do too, as BIC is mostly targeting SMEs. It is a way to reconnect to Bali's true economic scale but also to adjust to the very cautious forethought of today's so-called new normal.
BIC doesn't bet on radical expansion, like tourism in the past, but on diversification. "Our approach to the island economics is holistic," he articulates, once again saying a word rarely used in the world of finance. "Bali needs economic stability where tourism will just represent an added income. Bali doesn't need big international players, but small and medium enterprises which invest in people. We need here to override the logic of outright profit and give our trust to the people," says Tom Courly. Everything in a spirit of collaboration is outlined by the Indonesian concept of "gotong-royong", that BIC has made its own since the public launching of their activities last June in Pererenan, Bali.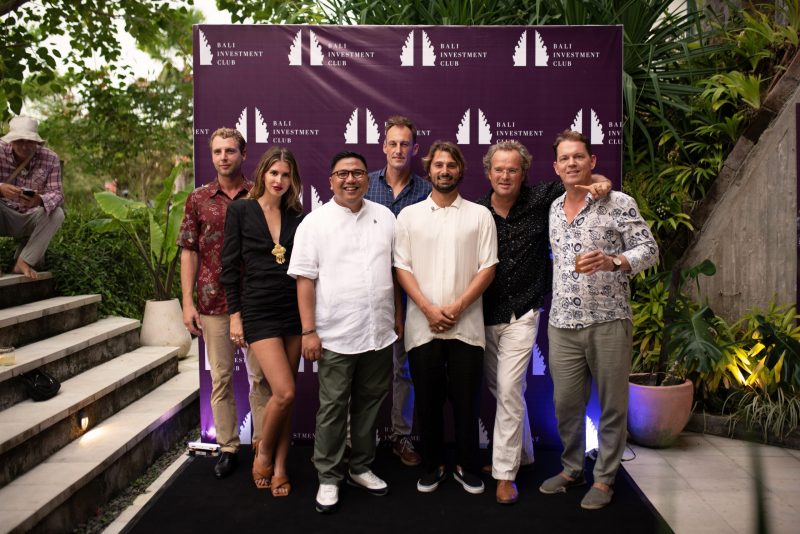 "We also do monitoring and act as mentors"
Who are the investees targeted by BIC? Any local startup company with "good ideas" about the economic restructuring of Bali. The startup must have completed the "seed stage", meaning it has already started to prove itself in the real world. It must also be committed to innovative entrepreneurship with added value for the people at the bottom of the economic pyramid and/or the environment. If your business is looking for some growth equity (expansion capital), then you should contact them to progress through their steps. "We don't just act as bankers to the companies. We also do monitoring and act as mentors once a deal is made. It's very strategic in a sense, as we help the business to succeed, hence we're able to remove some risk from the investment," details the young manager.
Bali Investment Club is a financial tool adapted to the tiny size and huge fame of the island. It pays homage to the unparalleled shine of this mythical place with a distinctively soft approach. It claims core values that are defined in three simple words, "truth, trust, and faith", and BIC intends to have every stakeholder consider these ideals. It wasn't always the case in the past. Do you remember the start of mass tourism with the mammoth Nusa Dua complex in the early 80s or the failed Dubai-style polderisation of Benoa Bay more recently? Will the under-construction Kura Kura Bali project that is starting a Balinese-value-based hub for the future in Serangan really be different? Time will tell…
For the time being, BIC is betting on Bali becoming an epicenter for emerging ideas; a hub for new networks, systems, communities, and projects that redefine the way we relate to each other and the world, says its website. From a rural society thrown alive to the big mouth of mass tourism a few decades ago, it is now time to consider Bali with a different perspective on its future. A more respectful one that takes into account the people in a sustainable environment. Will investment clubs like BIC be the key to the metamorphosis? The pandemic has brought up a crucial need for change everywhere, we can fairly admit. Like Tom Courly likes to say with sincere simplicity, "invest in the change you want to see."