Originally established in Malaysia in 2011 as MyTeksi, Grab is a Southeast Asia-focused transportation application founded by Harvard Business School graduates, Anthony Tan and Tan Hooi Ling, which has since evolved into the largest ground transportation app in the region, providing car, taxi, bike and delivery services. To date, Grab has more than 250,000 active drivers, 13 million downloads and 1.5 million bookings in the region. We meet Managing Director of Grab Indonesia, Ridzki Kramadibrata, to learn more about the challenges the company faces in Indonesia.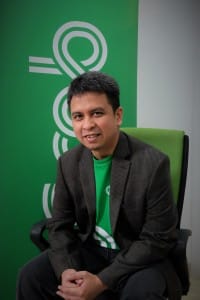 Can you give us a brief history of Grab and what inspired its founders to build the business?
The idea for GrabTaxi first started when co-founder Anthony Tan was a student at Harvard Business School and a classmate pulled him aside to gripe about his horrid experience with the local taxis. The friend wasn't sure if the driver was taking the right route and what should have been the right fare. That jibe from the friend forced Anthony to think about a solution and take it up as a project, at Harvard.
Grabtaxi was born in a Harvard lab but it was groomed travelling in the sun in cramped taxis, educating the uneducated drivers, and overcoming their reluctance to adopt technology. But the challenges weren't limited to that. The drivers were reluctant to upgrade to a smartphone; they were never exposed to the Internet or GPS. Gadgets scared them. If a team was talking to taxi drivers to understand their inhibitions and working to find a solution to their challenges, another team was talking to mobile manufacturers and service providers to subsidize smartphones and the internet for the drivers.
Anthony took up the challenges and the rest is history.
Grab rebranded in February. Please tell us about this new image.
The new logo was designed with freedom at its core. The dual lines are inspired by roadways and they represent the endless road of possibilities. They symbolize the new journey Grab is taking in parallel with its passengers, drivers, employees and society at large.
What is your reaction to the taxi driver riots of March 22?
First of all, we wish to clarify that we are not a transport operator. We work with independent transportation providers to deliver GrabTaxi, GrabCar, GrabBike and GrabExpress services to all our appreciative customers.
On that day, the safety of all drivers, passengers, and the public was of utmost importance for us.
We are a legal entity in Indonesia, we are registered as a taxpayer, and we respect and are committed to complying with every local prevailing law and regulation. We are proactively communicating with the government as well as industry stakeholders to provide efficient and safe transportation for Indonesians.
The ridesharing industry is still in its infancy and we will continue to work with the government and all industry stakeholders to expand the regulatory framework. We believe that it's our shared objective to make the Indonesian public transportation more efficient, and to enable all Indonesians to commute safely. We believe that the Ministry of Transportation's operating guidelines will consider the interests of drivers and passengers in Indonesia, and we will completely support them. 
After the violent riots, you announced that GrabCar formed the Indonesia Car Rental Cooperative (PPRI), recognized by the government to operate legally in Indonesia. What are you doing to comply with the requirements the government has set?
Currently, Grab is assisting and ensuring that our cooperative partner will be able to fulfil all the requirements directed by the government.
We regret that for the meantime we will not be recruiting new driver partners through our cooperative partners, which we believed had a significant contribution to the country's economic growth. We will focus on finishing the required licensing processes for our cooperative partner, so that we can continue to give positive contribution for our driver partners, passengers, and the public in general.
We are delighted that our partner already owns the license for rental transport services and has received recognition from the government for being aligned with the regulations.
What do you believe is the solution for official taxis and application transportation to coincide harmoniously in Jakarta?
The ridesharing industry is still in its infancy and we will continue to work with the government and all industry stakeholders to expand the regulatory framework.
With millions of people commuting from the suburbs to the city, the number of vehicles on the streets and the number of commuters that use public transportation are some of the key challenges we face, especially in big cities.
Every stakeholder needs to work together to support the development of the city's public transportation network and to ensure that all means of public transport are well integrated.
Mobile transportation apps such as Grab can play a significant role in addressing these challenges, such as increasing alternative transport options and reducing the amount of private vehicles on the street. Grab app, and all of its services can also be a last-mile connectivity option for commuters who take public transportation services. After all, Grab exists from the simple idea of leveraging technology to help people.
Do Grab Cars provide accident insurance for passengers?
Yes, both driver and passenger are covered under the company's insurance policy. Grab's accident insurance policy offers coverage in the event of accidental death, dismemberment and bodily injuries in the event of accidents for drivers and passengers.
According to a road safety report in 2015 by the World Health Organisation (WHO), road traffic injuries kill approximately 316,000 people each year in Southeast Asia. The region, which comprises 8 percent of the world's population, disproportionately accounts for a quarter of the global total of road traffic deaths.
To help reduce the number of traffic accidents in Southeast Asia, Grab has also rolled out significant safety initiatives in Indonesia and across Southeast Asia. In the Philippines and Indonesia, we're operating defensive riding courses for GrabBike, and this will soon be rolled out in Thailand. In Singapore, Grab has been working with the Singapore Traffic Police to promote safety awareness, with plans to improve safety education for drivers.
How do you ensure your driver partners are safe drivers?
All of our drivers are 100 percent licensed, have insurance and have to undergo a strict screening process, including a safety riding test. We continually improve our training system and code of conduct for all drivers and bikers for quality service and they must maintain a star rating above the minimum set by Grab.
Grab is always innovating for passengers' safety, with industry-first features like passengers being able to share the licence plate number and a tracking link with family and friends, allowing their loved ones to follow their ride online and in real time. We also take customer feedback seriously – we will investigate and will not hesitate to deregister drivers if they go against our code of conduct.
What makes you different from your competitors, GoJek and Uber?
We are the only company with a diversified portfolio – the GrabTaxi, GrabCar and GrabBike services are all available in Indonesia. GrabTaxi and GrabBike are both popular services in Indonesia, which serve different needs and customer segments. We also launched GrabExpress, the on-demand courier service for safe and convenient door-to-door deliveries in November.
The industry knows that we set high standards on commuters' safety and fair labour practices. For example, 100 percent of GrabBike riders have a valid license. They are screened and go through background checks, and are also provided with training such as safety riding certification and insurance.
Can you tell us about your achievements in other Southeast Asian nations?
In Vietnam, GrabCar now operates legally pursuant to an exclusive pilot partnership with the Vietnamese government. Under the terms of the partnership, the GrabCar service will be run with formal government endorsement in five specified provinces and cities in Vietnam, as a pilot programme.
In the Philippines, GrabCar became the first ride-sharing app to be legalized when GrabTaxi and GrabCar became the first transport apps to be registered under the new Transport Network Company regulations. In Phuket, the governor officially endorsed the launch of GrabCar. In Singapore, we were among the first to be awarded the Certificate of Registration for Third-party Taxi Booking Apps.
In Indonesia, GrabBike and GrabCar operate under properly licensed entities, obtained through government endorsement.
How are you improving the quality of lives of your drivers?
According to GrabTaxi Driver Social Impact Study conducted on over 600 drivers across the region last year, the drivers' incomes and the quality of their lives have gone up since using Grab. The average taxi driver income has increased by 30-300 percent. Eight out of ten GrabTaxi drivers reported that using the GrabTaxi app increased the number of bookings they receive. Seven out of ten GrabTaxi drivers reported that using the GrabTaxi app gives them pride and dignity in their profession. Six out of ten GrabTaxi drivers reported that using the GrabTaxi app improves their job security. And eight in ten women in the developing Southeast Asian countries find taking a taxi safer now that there is GrabTaxi. 
What are your plans for expansion in Indonesia?
We have a presence in Bandung, Surabaya, and Padang for the taxi service, and Bali for GrabCar, the private car ride with driver for hire. Expansion is a definite strategy, but we're ensuring that we can fulfil the growing demand for safe transportation needs and strengthening our foothold for on service quality before moving to other cities.
Indonesia is indeed our biggest and fastest growing market and there continues to be immense growth opportunity due to the size of the population and the small base of users who currently use ride hailing apps. We will continue with our hyperlocal strategy and roll out services that meet the community's needs and demands.
Thank you, Ridzki. To get in touch, contact: [email protected]