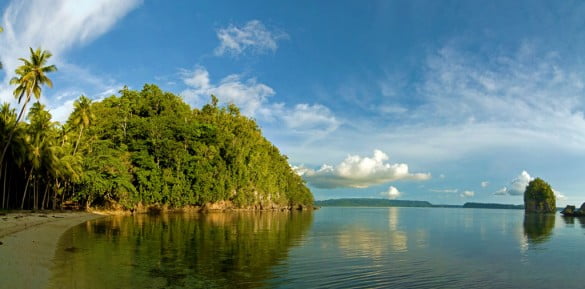 If you're looking for party and nightlife, the Togian islands are not the right destination. On the contrary, if you are looking for complete isolation, silence and amazing nature, you should think about a trip there. But be prepared for a long journey…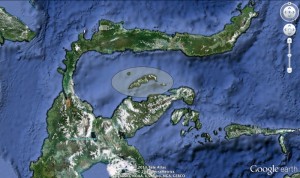 Togian Islands are a remote archipelago of about 56 islands, spread over 90 km, located in the Gulf of Tomini, Central Sulawesi. There are several villages all around the archipelago, but just few families of fishermen form most of them: a total of about 25,000 people. The biggest island is Batu Daka, with the little harbour of Wakai where all the ferries arrive. It's the right place to buy some basic stuff since there are few local shops available. There is no ATM of course, so bring along enough cash.
Due to the remoteness, the Togian archipelago is still an oasis of beauty – even floating plastic garbage, a detestable problem on many other Indonesian islands, is extremely rare. White coralline beaches are among the best you can find in Indonesia, and the probability that you will be alone walking on these sands is actually quite high. The tranquility of this part of the world is soul recharging, especially if overwhelmed by the stresses of city life. Snorkelling, scuba diving and walking on the forest are the main activities you can enjoy.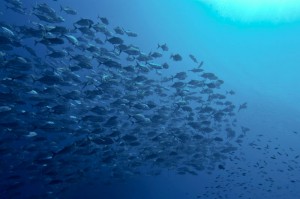 Coral reefs around the archipelago are a haven of biodiversity, offering almost every type of reef formation – atolls, fringing reefs and barrier reefs are present all around the area without interruption. Both snorkelling and diving are unbelievable, surrounded by warm waters and thousand of fish and coral species. Best dive sites are located in the even more remote island called Una-Una, almost 30 km from the closer island, Kadidiri, where most of the touristic resorts are located. Una-Una is a volcanic island with sandy beaches and steep reef walls going into the blue, often affected by quite strong currents that bring extraordinary visibility and even big fish like giant trevallies, barracuda and even sharks. Dive sites like 'Apollo' and 'Jacks Alley' are a must-do. Other interesting dive sites are present all around the archipelago, especially in front of Kadidiri, like 'Batu Gila' (Crazy Rock) where apparently it's possible to see hammerhead sharks. 'Batu Gila' is a very deep dive (around 50-60 meters), so it's available only to very experienced and skilled divers. Another interesting and historical dive site is the wreck of the B 24 Bomber, sunk during World War II, in 1945. This bomber plane, on the way back from a mission, had an engine failure and the pilot decided to try a water landing. All the crew of 11 people survived, and now the plane lays at about 18 metres, almost intact, and being underwater for more than 50 years, it's an aggregation point for the marine life of the area. Even the reefs around the island of Walea are famous for the abundance and the colours of marine life, which includes an endemic species of pygmy seahorse, named Hyppocampus waleananus.
The small island of Taipi, exactly in front of Kadidiri, is also superb for snorkelling. If the sea conditions are good, it's possible to swim around the island in less than one hour and even enter in the small lagoon present inside.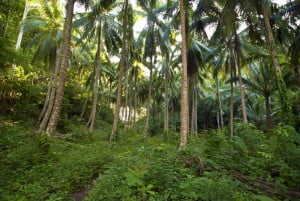 Many of the Togian Islands have very interesting walking or trekking opportunities in the jungle. The main attraction: the Tarsius spectrum, the world's smallest primate, observable especially at dawn. If you're really lucky and have a good guide, you will have the possibility to spot the Maleo Bird, endemic to Sulawesi and who lays its eggs in the soil heated by the sun, or geothermal energy for incubation, and the amazing Red Knobbed Hornbill, the faunal symbol of South Sulawesi province. Some birds like the Togian Hawk-Owl and the Togian White Eye, living only in the Togians, have been recently discovered. Coconut crabs, one of largest arthropods of the world, also live in the archipelago: it's a protected and endangered species, so refuse any offer of food based on it. Less amazing inhabitants of the jungle include, tonnes of mosquitos. Protect yourself also because malaria is diffused in the area.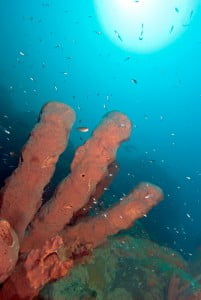 In almost every small bay of the Togians there are some stilt house villages, inhabited by local fishermen or pearl farmers, mainly belonging to the Bajo group (the so-called "Sea Gypsies"). Some of them live permanently on their boats and only come to land to buy rice and trade for other supplies, in exchange of course for fish or other sea products. A visit to a Bajo settlement is an interesting experience, and you will be surrounded by a multitude of children. If you have some space in your luggage, you could consider bringing along some school materials for them (pencils, markers, etc), which they will for sure appreciate.
Togian Islands are probably still a hidden paradise. The relative difficulty of the trip and the absence of high-end touristic structures have protected these islands from massive tourism, preserving their uniqueness and authenticity. If you really need to take a break from the world, these Islands could be the right destination.
How to get to Togian Islands
The trip to the Togian Islands could be little challenging. First of all, don't make strict plans in terms of time. There are many factors that can influence the length of you trip. Ferries are often broken or delayed, and weather conditions can influence the time of departure and arrival.
There are two ways to get to the Togians:
1) Via Gorontalo (north of Tomini gulf). Flights to Gorontalo from Jakarta are scheduled by Lionair, Batavia, Sriwijaya and Garuda, all via Makassar. A direct Wings Air flight from Manado is also available. From Gorontalo, an overnight ferry (Tomini) leaves twice a week (Tuesday and Friday at 20.00 o'clock) reaching Wakai, Batu Daka Island, after 13 hours of navigation, and continues to Ampana. The same ferry makes the return trip on Thursdays and Sundays. Different kinds of cabins are available, but even in the first class, don't expect luxury. Once in Wakai, normally your resort will pick you up free of charge with their speedboat, or you will have to find your own way dealing with locals.
2) Via Luwuk (central Sulawesi, south of Tomini gulf). Flights to the very small Luwuk airport are operated by Merpati, Sriwijaya, Batavia and Wings Air, via Makassar. Once in Luwuk, you will have to charter a car to take you to Ampana, after a long trip on the trans-Sulawesi road, that often is in quite bad condition. An option is to stay one night or more around Luwuk (if you have enough time), and maybe organizing a trip to he Banggai Islands or into some of the local, out from the touristic circuit, natural reserves.
In Ampana you can charter a fast boat (the expensive option) or take the public ferry leaving everyday (except Friday) at 10.00 am. The ferry trip takes normally around four hours to arrive in Wakai. Some ferries continue even until the island of Malenge.
Where to stay: Updated information about resorts, where to stay and practical tips are available on http://wikitravel.org/en/Togian_Islands.