Australian expat Marten Hubbeling is General Manager of DMC Bali Plus – a one-stop and complete Meeting, Incentive, Convention and Exhibition (MICE) provider in Bali. He explains his travel business to us, and reveals an exciting upcoming live music venue he's involved with, opening in 2016.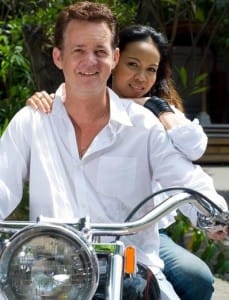 Marten, let's start with a bit of background info. Where are you originally from and how long have you been living in Bali and working in the events and travel industry?
I've been living in Bali since 1995 and have worked in various companies from off-road to horse riding to rafting, and even Volkswagen tours!
When was DMC Bali Plus founded and what was the driving force behind its conception?
We founded the company in 2002 and our aim was to be the best MICE company in Bali.
Can you tell us about the exclusive tours that you offer?
We have general tours like other travel services, but we offer tours with a twist, combining exclusive locations with local interaction. We were one of the first companies to use the open-top VWs in Bali, which we still offer because it offers our clients the right amount of surprise and luxury, while embracing the local village life.
DMC Bali Plus also offers team-building outings, which range from CSR to masterchef to bumper balls, and some of your clients include UOB Bank, Bank BNI and Shell. Can you please explain how outings can benefit a business?
We have a team building arm of the company, which has a variety of programmes. Clients who want to do fun team bonding with challenges that give great memories would enjoy these programmes. Our Corporate Social Responsibility (CSR) tours have helped many orphanages in the past few years, renovating schools or providing donations and interacting with kids who really need help.
Where do your guests predominately come from and do you get businesses from outside of Bali coming to experience your team outings?
We cater for local as well as overseas clients who come from all over the world: Singapore, Australia, New Zealand, England, Greece, The Middle East, South Africa, Italy, Belgium and France.
You have water, land and mountain tours. Is there a most popular tour that you provide?
It's probably a mixture of all – cycling has been a fantastic addition to our group tours over the past few years and rafting is still a tour we highly recommend.
How many staff members do you have in your team? What's the most difficult aspect of their day-to-day jobs?
We have 12 office staff, plus an army of operational staff. As the team has been with me for a long time, there are really no surprises preparing for any type of group. Our clients are very individual and therefore the programmes will also differ from group to group.
Can you tell us what changes or developments you've noticed in the travel industry over the last few years and what challenges you face, if any?
Well, certainly the Internet has affected most companies, as clients will research destinations prior to making a decision on accommodation, places to eat and the like. But for us that's also been an advantage as we have received probably 60 percent of our past two-year business from the Internet.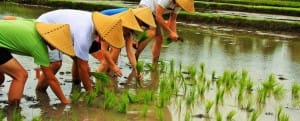 What does DMC Bali Plus offer that other tour and travel companies do not?
We offer all our services in-house and most of our staff have a long history of handling groups from all areas of the world, hence we are truly adapted to providing groups what they require.
Can you tell us about one of the large corporations that have booked with you?
We are handling Yahoo! at the end of the year, who we hosted four years ago. They approached us again this year to create another memorable event.
We hear you are involved in an upcoming live venue in Bali – are you able to give us the scoop about this project?
Watch out for 737, an event location with an amazing concept opening next year. We will be one of the most versatile event locations in Bali; a real destination to go to. Incorporating creative ways to dine and drink, it will also be a wedding location, and, better still, a venue to hold corporate dinners and even festivals. Keep your eyes and ears peeled for more info about this project!
In your eyes, what makes Bali a great travel destination?
It is one of the most awesome places to visit. The people, resorts, restaurants, beaches, bars and the whole island package makes it, in my opinion, one of the ultimate destinations in Asia. My partners and I are committed to developing tourism projects on the island.
Thank you, Marten. To get in touch, please e-mail: [email protected]