Dutch-born Max Ammer first visited Indonesia when he was 29 and not long after made Raja Ampat his permanent residence. Running two dive resorts and an NGO that focuses on vocational training, Max is also considered a pioneer in conservation. He talks to us about his work, his experience diving for WWII wrecks and surviving an airplane crash. 
You started your Indonesian adventure diving for shipwrecks in Raja Ampat. Tell us more about this exciting expedition.
WWII's history has fascinated me for as long as I can remember. To reach ship and aircraft wrecks no others have seen before is like a dream. Finding and researching what happened is very fascinating. We (it is always with the help of the local Papuan people) discovered very many ship and aircraft wrecks and each has a story to tell.
What made you fall in love with and set up a permanent base in Raja Ampat?
The people! I remember one day while camping I heard someone walking around my tent. At first I thought the person wanted to steal something and I was ready to punch the intruder in the nose when he (I presumed it was a man) started opening the tent zipper. It turned out to be a young girl with a pineapple, which she wanted to put inside my tent as a gift. I followed this girl to her house so I could thank her family. It was a simple hut on the beach and I did not see that they had anything edible. Her genuine generosity was possibly the reason I did not want to ever return to Europe and made me fall in love with the people here.
Where did the idea to open Papua Diving Resorts come from? Can you give us a brief explanation of what your resorts on Kri Island and Sorido Bay have to offer?
I wanted to stay and work with the local people. Raja Ampat was a very remote area; no industry existed so it was a logical choice to go for the nature travel business. It was as simple as visiting a nearby village and explaining the idea, asking who would be willing to join and there were more hands raised than we could hire. We started building the same day!
Now, many years later, we still practice the concept of working with as many local people as possible, which means building everything ourselves as well as having only local dive guides. Strangely enough, this is still not common practice and there are resorts that do not even employ a single Papuan dive guide.
We have a wealth of experience and regularly do expeditions and exploration trips, making us unique.
Our team guides some of the top documentary teams as well as scientists and conservation professionals.
We've learned a lot from this and this knowledge is something our guests benefit from.
Kri Eco is located next to Cape Kri reef, which, according to research by the famous marine scientist Dr. Allen, holds the world record for number of fish species. How many species are there exactly and are more still being discovered?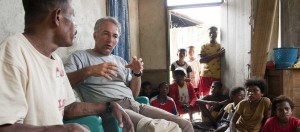 In 2001, during an expedition we organised for Conservation International, 45 reefs were surveyed, with the highest fish recorded at Milne Bay in PNG of 203 different species of fish counted during one dive. Raja Ampat had an average fish count of over 200 species per dive and our house reef turned out to be the richest with 80 species more than the record at that time.
When I asked Dr. Allen 11 years later to dive the location again to see how the situation had changed, he recorded 91 species more than in 2001! The record now stands at 374 species of fish. According to Dr. Allen, this is due to a combination of several factors, one of the major ones being conservation efforts we have been initiating in this area. Before anyone was even talking about conservation, we were doing it and scientists confirm that Raja Ampat is one of the few places conservation is proven to work. One of my great friends, Dr. M. Erdmann, on his latest exploration discovered three new species of fish during one dive, so the count is still going up!
How do you ensure minimal impact on the environment in your area?
We keep our resorts small and thus create minimal pressure on the surrounding reefs. Kri Eco Resort caters to a maximum of 24 guests while Sorido Bay Resort caters to a maximum of 18. The level of education is very high; we employ more senior dive professionals than is usual in this industry and keep working to raise our standards. We do that while mainly working with local Papuan people who have had very little education.
You also run Kayak4Conservation, a not-for-profit initiative working alongside the Raja Ampat Research and Conservation Center. Please tell us more about this programmes and how it helps transform lives.
We hope to make a positive impact and focus on conservation issues. We now have a team of six working on the different initiatives we have come up with and also ideas we learned from others. Building top quality kayaks is one such idea and our sweet potato project is another.
The kayaking project helps the local people become participants from mere bystanders and the sweet potatoes we are growing (25 species) have better nourishment and thus hopefully will contribute to general health improvement of the local population.
What help do you believe the people of Papua and Raja Ampat need and how do you believe this can be aided through vocational education? 
We wish to be engaged in education in fields important for the area, like fibreglass longboats which are the preferred form of transportation here. These boats are 40-50 percent more fuel efficient due to their light weight than traditional wooden boats. These longboats also last at least five times longer and need almost no maintenance. Being able to build a good quality fiberglass boat is a marketable skill and is more profitable due to less fuel consumption.
Another example we are trying to get off the ground is woodworking. Traditionally, one of the only ways for a Papuan family to get their hands on cash is by selling their forest. They do so not because they do not value nature but because of necessity. A tree would get them around US$20 from a logging company. If they instead cut a tree and made timber out of that tree, their yield could be US$700. Better still (something we are working on setting up) is to teach the people to make furniture out of a tree. Doing so would give them the possibility to yield US$3,500 out of that same tree.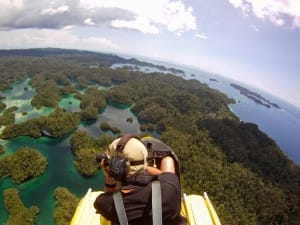 You fly planes to conduct research and unfortunately suffered a plane crash, with only your seat left in-tact. How did you manage to survive such an ordeal and what have you taken away from this experience?
The seat actually also was cracked in half! It was my own mistake; the plane was defective and I should not have flown. The only reason I survived is that I was blessed. I praise the Lord that I came out of that one unhurt as it was a total miracle that I did.
Is Indonesia your 'forever' home? What do you miss when you're away?
I hope it will be in this world! The food and nature here make up for a lot, however being far from family and friends are things one will need to accept. Fortunately in this day and age we have Skype and emails to keep in touch.
Thank you, Max. To get in touch, please email: [email protected]  or [email protected]. For more information visit www.stichting-rarcc.org