Almost 20 years ago, in 1994, best-selling author Terry Pratchett first met the alpha male Kusasi in the rainforests of Tanjung Puting, Borneo.
As Terry shared his thoughts with Dr Biruté Galdikas about his encounter with this giant orangutan in the recent documentary, Facing Extinction, she tenderly nodded, "He made quite an impact on you."
In fact Kusasi, with his lingering stare and large cheek pads made such an impact, that despite Pratchett's rare form of Alzheimer, he trekked across the slippery moss and peat ditches to find him. But Kusasi was not to be found, and only his proud successor Tom was discovered, relaxing in the sun. Dr. Galdikas explained why, around ten years ago, "Tom realised that Kusasi's arm was broken…they battled and of course Tom did so much damage to him that Kusasi was just lying there when we rescued him."
Kusasi's reign as king of Camp Leakey (the famous orangutan research station) was over. He had lived there since infancy; both of his parents had been killed for their meat and he was distrustful of humans. After he reached camp, he escaped from Dr Galdikas' care and remarkably survived on his own.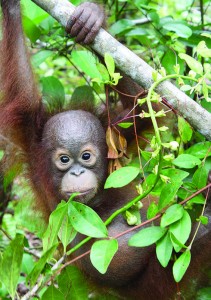 Dr Galdikas first made the camp in Tanjung Puting in 1971 after being selected for research by the famous palaeontologist, Dr Leakey. The trio of women referred to as 'Leakey's Angels' were Dian Fossey who studied gorillas, Jane Goodall who researched chimpanzees and Biruté Galdikas who settled in the rainforests of Borneo. Over the years she worked tirelessly to protect the orangutans and collaborated on projects with influential figures, including Morgan Freeman and Julia Roberts, who encountered Kusasi during the filming of In the Wild, 1998.
Now in her 60s, Dr Galdikas is full of mystery and I remember the first time I met her in 2011 when I was accepted as a communications officer for her NGO – Orangutan Foundation International (OFI). It was about ten o'clock at night when two other volunteers and I received a call to visit Dr Galdikas. With torches, we checked her garden path for snakes in the shadows of durian trees. After living in Borneo for over forty years, Dr Galdikas was very 'Indonesian' in the sense that she had a very 'fluid' and relaxed attitude towards the time! Waiting in her living room, we chatted with her husband Pak Bohap who was smoking kretek cigarettes.
Finally Dr. Galdikas opened two large doors and invited us into her private backroom. We passed through her office into a large chamber filled with Dayak artefacts that she had collected over the years, as well as a photograph of a young Pak Bohap. Her home was breathing with life and I suddenly felt nervous. But Dr. Galdikas relaxed us with her endless stories and described her early adventures in the rainforest.
But one passion drove her – the orangutans – and at the time of my tenure with OFI, her Care Centre in Pangkalan Bun held around 330 orphans requiring rehabilitation. Since there was a policy of 'never turn an animal away', more and more victims of deforestation were pouring in – putting strains on the crowded centre. Many were orphans, whose mothers had been killed, often on plantations. OFI and the volunteers raised funds to build 35 more sleeping enclosures for the orphans and funds were also raised to purchase forestland – where 32 rehabilitated orangutans were released this year. Unfortunately, some of the larger males were too strong and dangerous for day release into the forest and were placed on a waiting list to be released back into the wild. In the meantime, OFI hopes to raise funds to build larger enclosures and buy more release sites.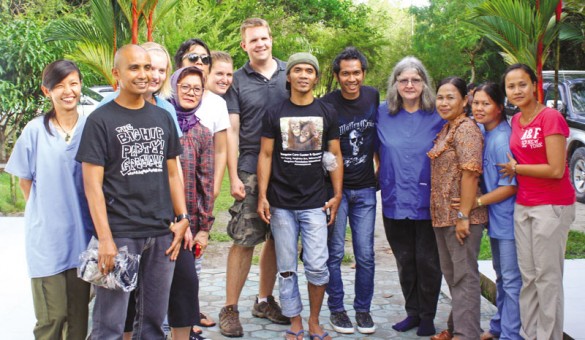 In the wild, an infant will receive constant care from its mother for six years before it can survive independently, therefore each orphan at the Care Centre was allocated a surrogate mother who taught the orangutan skills to enable a successful rehabilitation; however not every case was successful and some orphans didn't survive the trauma of losing their mother and their forest home. Because of the influx of orphans, I helped the veterinarians in the clinic by feeding a nutrient-rich porridge to the underweight orangutans and I bonded with Berman – a grumpy female orangutan who once pulled a splinter out of my hand!
The charismatic orangutans coaxed me deeper into the forest and in Camp Leakey I met Pak Umar who smoked a hand-carved pipe. A great Dayak story-teller, he explained that one night, as he was sleeping in the ranger's lodge, he was awoken and dragged out of bed by Kusasi who dumped him outside and casually ambled away. It wasn't a fair contest – male orangutans can have the strength of up to eight men. After that incident, Pak Umar had no doubts – Kusasi was definitely the boss!
However, I sympathise with Pratchett and the bond he felt with Kusasi, since I often think of Berman. Pratchett never saw Kusasi again and so I contacted some of the rangers in Tanjung Puting to find out more. The good news is that they still hear his 'long-calls' – these are deep bellows emitted by males. However, Androw, a patrolling forest ranger said, "Kusasi hasn't been seen at the camp and also at the feeding location. Actually many people assume that as Tom enlargens his territory, Kusasi is pushed further away from the camp. Once we made a patrol to the North of camp, to post 17, Crocodile Lake and Batang Lake, but there was still no sign of Kusasi."
Yet Kusasi's determination I hope, is a metaphor for the fate of the species, which is facing extinction. The major problem facing orangutans is habitat loss, caused by the pressures of sawit, or palm oil plantations. Thanks to the work of relentless conservationists such as Dr. Galdikas, small pockets of forest are being protected and the fighting spirit of the last orangutans may find sanctuary. As Dr. Galdikas explained, "Kusasi joined that caste of wandering nomadic males that have lost their dominance and those males can wander the forest for years. He will not give up. He will simply not give up."
Further Information
Documentaries:
Terry Pratchett's Facing Extinction
Julia Robert's In the Wild
Books:
Reflections of Eden by Dr Galdikas
Website:
Orangutan Foundation International: www.orangutan.org