Fluro Friday Bali water shot
Onewave is a non-profit surf community, founded by two young Australians in February 2013, to give people hope in order to beat 'funks' such as depression, anxiety and bipolar disorder. These funks affect so many people, but are talked about by so few. Onewave lets people know they are not alone and encourages them to get in the ocean. They use a simple recipe: salt water, surfing and good mates.
Grant Trebilco and the Onewave community aim to share the stoke and peace of mind of the ocean, whether you're surfing, body boarding, body surfing, stand up paddle boarding, the craft doesn't matter. It's all about getting salty with your mates. On Friday, 2nd May Onewave held two 'Fluro Fridays' in Bali. I caught up with Grant and crew during the morning session at Old Man's, Canggu.
"It was such an amazing turnout with 20 people catching fluro party waves in 2-3ft surf. By the end of the surf we had recruited 10 more people who wanted to be part of the crew. Passers-by stopped and asked what all the fluro was about, expecting it to be for a bucks party or something else. Once we told them it is about raising awareness for mental health, their faces lit up, and they wanted to be part of it. Finally it was normal to talk about mental health."
Trebilco had visited Bali five times on surf holidays before he was diagnosed with bipolar disorder. But this time, he wanted to raise awareness for mental health through surfing. Since he launched Onewave with Sam Schumacher, every Friday is 'Fluro Friday'. Fluorescently-costumed surf gatherings commence 6.30am at Bondi and Manly beaches, in Sydney, with events also being held in Byron Bay, Newcastle, Snapper Rocks, Tathra, Victoria and Wanda. The brightest fluro/neon outfits are known to make people smile and by wearing them it encourages individuals to ask questions that usually avoid the subject of mental health.
"Before we surfed at 'Fluro Friday' in Bali, I shared my story with everyone about how I had a manic episode at the Australian Open of Surfing because I was on the wrong medication. I stole a surf club paddleboard and paddled around the women's semi-final, thinking I was raising money for Surf Aid. I was then handcuffed, taken to hospital and that's how I found out I had bipolar. I'm just like everyone else, I have my ups and downs, but I can experience higher highs and lower lows. And what balances me out is surfing."
Grant had suffered from anxiety and depression for years but didn't tell anyone. When he ended up in hospital and was diagnosed with bipolar disorder he accepted there was a mental health issue. It was moving back to New Zealand with his parents and surfing every day with his dad (who also has bipolar disorder) that pulled Grant out of the lowest low. One good wave would produce a smile and real hope that things could get better for him. When Grant told his mates in the surf that he had been properly diagnosed, it was a great relief, as he could speak freely about life.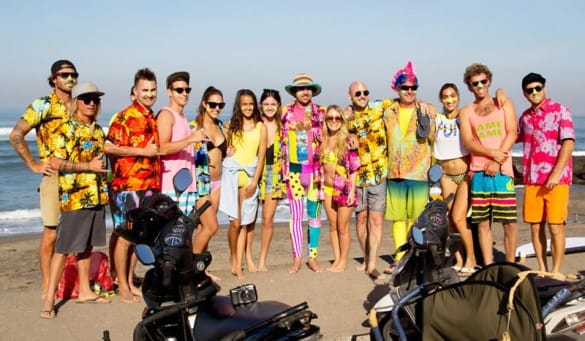 "We noticed that people spoke about mental health quite openly at the 'Fluro Friday' events in Bali. It is so important to remember that just because you live somewhere that seems like paradise, it doesn't mean you are immune to going through a serious funk. From the outside, people who live in Bali can appear to have the dream life, but in reality they can be struggling on the inside."
Getting the correct diagnosis is paramount, and according to Indonesian Psychiatrist Robert Reverger, MD there has been an improvement in the nation's mental health care over the past few years. In December 2013 President Susilo Bambang Yudhoyono launched the government's new health insurance scheme, the first step toward its target of covering all Indonesians by 2019. The president said the government has a "moral obligation" to help the poor get access to health services, which he argued the BPJS Kesehatan would provide.
This is important news for Bali, where the practice of pasung (chaining people with schizophrenia) still exists. Although mental health issues can be seen as 'god's punishment' in poorer communities, people can seek out professionals.
"There are 26 practicing psychiatrists in Bali for people to obtain a correct diagnosis. Bangli Hospital (40 minutes north of Denpasar) specializes in mental health, Sanglah Hospital admits acute cases into ER and the Siloam Hospital sees private patients. The basic level of BPJS insurance allows its members to access free medication, including injectables that would otherwise cost Rp.1 million."
When communities refrain from discussing mental health issues, people decide it is not normal so suffer from issues like depression, anxiety and bipolar disorder. 45% of Australians will suffer from a mental health issue during their life, so we need to start finding ways to beat the stigma. The Onewave surfing community has a positive impact on people's lives. If anyone wants to talk about the funk they are in, they will find accepting people at Onewave ready to listen and to have fun.
"It would be unreal if the Fluro Fridays kept going in Bali. If people don't know how to surf we can teach them or take them for a swim. If they don't want to get in the water, they can hang out on the beach, watch the surfing and take photos."
Bali is so lucky to have a community of legends, such as Tai Graham and Nathan Johnson who are as passionate about kicking the stigma of mental health as they are about preserving the ocean and surfing epic waves. At the end of the day everyone has either been in a funk or knows someone who has. We can show our support by letting people know 'It's okay not to be okay'. Onewave is all it takes!
For more information please visit the website at: www.onewaveisallittakes.com
Contact Grant at: [email protected]