"We call this place Tana Olen," Philius, the Dayak elder explained. "In Kenyah Dayak language this means forbidden forest – forbidden to destroy."
The locals of Tana Olen are spiritually connected with their home and love the forest as much as they love their children. "We enjoy taking the young ones up the river to hunt and fish and teach them the old ways," Philius continued. "This includes dressing in traditional costumes for ceremonial dancing and singing long into the night. When we dance and sing, we believe this is a way to connect with our ancestors, and we can feel their presence." For the Dayaks, everything has a meaning.
I met Philius in the village of Setulang, North Kalimantan, on the edge of a vast area of pristine rainforest about 100 kilometres from the Malaysian border. This forest is original, primary rainforest, estimated to be around 150 million years old. There are unique forest plant species native to this area not found elsewhere on the island of Borneo. In fact, many botanists have visited this part of Kalimantan and believe there are species of herbs and plants living in the forests that have yet to be identified and discovered. Many of these plants hold health and medicinal benefits.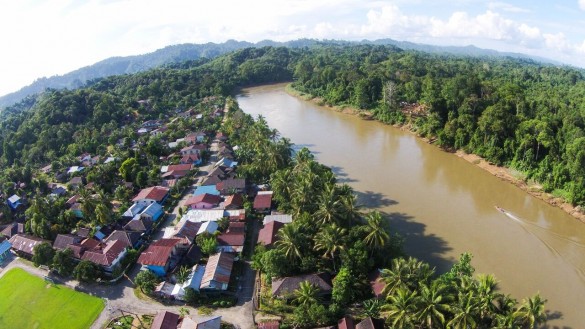 Visitors to Tana Olen are made up of mostly families and small groups, however recently a group of 80 people came from a university in the UK to study and document not only the plants and species but the indigenous people as well.
Empowering the youth
Philius spoke to me in a group with other elders from the village about the concerns they have for the younger generation: "We feel the young ones are losing touch with the forest and their culture, as they take up opportunities and move into the cities," he told me. "Because there is no high school here, they go to Malinau town or further away to attend high school, separated from us at a young and impressionable age." After graduation the appeal is to live in the city. Back in the village there are very few employment options.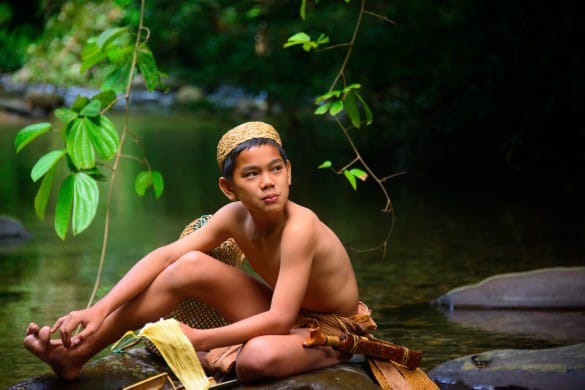 The elders of the village are trying to change that now through a community project called the Eco Jungle Camp, which aims to encourage more tourists, researchers and forest conservationists to come and visit. Philius hopes the young ones will return to the village as English-speaking guides and take people into the forest on tours.
"This is their heritage. This is where they belong," says Philius. "We have developed jungle camp activities and the project is picking up as more people come to hear about it.
There is great scope for a low-key, low-impact tourism project here, which will lead to more work in hospitality and transport services. This is our vision for the young people."
Deep in the jungle
I was very excited to embark on my journey and see for myself what a 150-million-year-old forest looks like. I set out from Setulang village in a long dugout canoe. The journey took two hours and we navigated a series of mini rapids as we headed deep into the jungle. The cool, damp forest clung to the riverbanks, and as we cruised under low overhangs of the jungle, I felt under the spell of nature in a pure and blissful way.
On arrival, I was pleasantly surprised to see my accommodation for the night was a solid wooden cabin. The Eco Jungle Camp was very modern and even came equipped with a western toilet. Built by local villagers, the camp sleeps around 12 people. The river and forest were our food sources during our stay; fruit and vegetables were picked fresh and all we brought with us was rice and coffee.
Remon was our guide for the next three days, and I absorbed as much as I could of his knowledge of the forest and the ways of the Kenyah Dayaks. On our treks, Remon seemed to glide through the forest with nimble feet, which made my large white feet seem clumsy as I tried to keep up. When it came time to cross the river, he skipped from rock to rock with ease and grace. In comparison, being a foreigner from the city, I stumbled and slipped my way across the wet rocks, with a bit of nervousness and absolutely no grace. I am yet to meet a Dayak with shoes! Remon escorted us through the undergrowth and rough jungle tracks completely barefoot.
He told us about his ventures into the tropical, dense, rainforest, where he goes for long periods alone, connecting with the spirits of the forest. "You must always be careful in the jungle. You must stay alert and acknowledge and respect the dangers. When I go, I am not entirely alone; I am guided by the hornbill, the native bird of Kalimantan."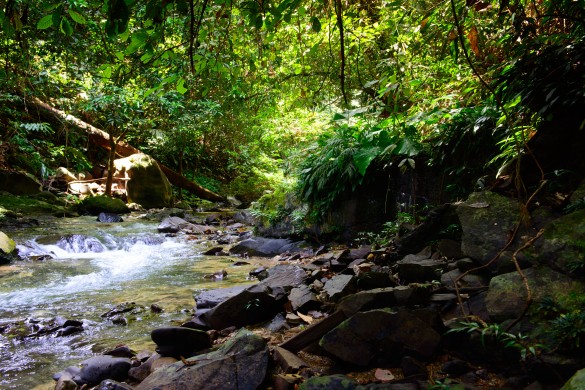 The future of the Kenyah Dayak and many other Dayak tribes is an uncertain one as Kalimantan comes under increasing pressure from mining interests, palm oil operations and forestry companies, whose motivations are commercially driven.
As progress encroaches on many villages like Setulang, the local community feels that establishing an ecotourism programme and attracting tourists is the best long-term sustainable solution for their future. If more people come, there is more reason to keep the area protected as a wilderness area and keep commercial enterprises at bay. Sitting in a small jungle camp deep in the forest allows for a powerful connection with nature, the native Dayaks, and a personal journey.
Fast Facts: Tana Olen
Province: North Kalimantan
Population: 525,000
How to get there
Fly to Tarakan, North Kalimantan, continue by boat (three hours) to Malinau or take a regular scheduled flight in a small plane from Tarakan to Malinau. Malinau to Setulang is one hour by car or motorbike. Stay the night in Setulang, next day go by dugout canoe (two hours) to Tana Olen Eco Jungle Camp.
What to bring
Sunscreen, hat, mosquito repellent, sleeping sheet (silk is best), sarong, long sleeved light shirt (for evening) and light-weight long trousers, hiking shorts, quick-dry shirt, pen and notebook, travel-light hammock.
Where to stay
Setulang Homestay, North Kalimantan
Eco Jungle Camp North Kalimantan – Tana Olen
www.davidmetcalfphotography.com/setulang-adventure
Contact David Metcalf for more info: [email protected]
What to do
Jungle camp activities in Tana Olen with forest guide, soft trekking, optional long trek to the big tree (eight hours), trek to a waterfall, learn to fish and hunt with the Dayaks, learn traditional crafts. Safe and ideal for children.