The gateway city to China commands a stunning harbour skyline, urban greenspaces, unmatched shopping, a fusion of Chinese, British and contemporary cultures, plus the contrast of ancient customs in a cosmopolitan metropolis.
Hong Kong's origins as a fishing village in the 1800s are hard to imagine against the backdrop of today's spectacular skyscrapers. The main island's name is believed to have come from twin port villages, now known as Aberdeen. It harboured thousands of sampans and junks, which debuted as scenery for James Bond and Bruce Lee movies in the '60s and '70s.
This dichotomy of traditional and trend-setting is lavishly revealed in its festivals. If you have to choose one party to attend, make it Chinese New Year (CNY).
The celebration begins with Cathay Pacific's International Night Parade, listed by Forbes as one of the world's 10 best extravaganzas. On the second day, they shoot the moon in a fireworks spectacle over Victoria Harbour, and on the final day, 100,000 people bet their luck on the horses at Sha Tin Racecourse.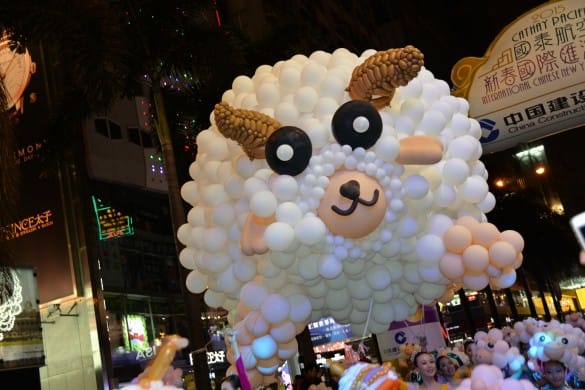 The theme of good luck and prosperity runs rampant, as does warding off bad spirits. This is evident in the clanging cymbals of a lion dance or fireworks detonations. Good luck packets, lai see, are presented at every turn. They hold a card and, perhaps, gold chocolate coins or money for children. Visit the Well Wishing Tree in Lam Tsuen to tie your happy wishes to its branches.
We arrived on CNY Day and hit the ground running – the parade ground, that is. The streets in the Tsim Sha Tsui area were barricaded ahead of massive crowds, so we paced the route to choose a spot for later. Then, at Kowloon Park, our second in an untold number of lion and dragon dance performances gathered an audience. The animals project strength and dispel evil.
Kowloon Park exits onto Haiphong Road, where jewellers display exquisite pieces in gold, jade and diamonds. Intricately gilded necklaces feature classic dragon and phoenix symbols marrying for happiness. Nearby Nathan Road, once called the Golden Mile for its exclusive shopping, still boasts high-end anchors like Polo, Gucci and Hermès. Chungking Mansions sits doggedly among them, offering cheap lodging and goods, while The Peninsula, iconic for its high tea and room rates is 200 metres away.
After an early supper at high rise iSquare, we grabbed a coveted spot at the rail on the east side of Nathan Road at the mid-point two hours before the parade. Jugglers, clowns, bands and personalities performed creating a lively atmosphere. Look for sound and lighting set-ups as clues for premiere viewing areas.
The parade dazzled with three dozen floats boasting sponsors from Disneyland's floral fantasy to the Professional Jockey Association's carload of lion dancers. It is a global show, and America's Denver Broncos Cheerleaders sported their fit bodies and sunny smiles. A young man videoed their moves, mumbling his mother would kill him, but grinned as he uploaded it to Facebook. French divas sang atop mountainous petticoat perches, and Dutch ballerina stilt walkers whirled ethereal gowns. Dance troupes executed routines in costumes ranging from glitzy tuxes to water lily frocks in the nonstop show.
The weather in February is cool, and light winter gear is sufficient. It's also grey, and the next day, shifted to glum. Undeterred, we headed to Victoria Peak for a 360-degree view of Hong Kong. Take the mid-level escalators for a covered, above-it-all glimpse of the steep streets. Hop off at Hollywood Road for antiques and wander Hong Kong Gardens where birds and apes amuse guests. Nearby, 120-year-old Peak Tram whisks travellers 396 metres to the top, but expect long lines on both ends. We hoofed it up Peak Street to burn some calories – it's a cool climb. A shrouded and ghostly panorama prevailed, but on a clear day, ascend Peak Tower's 428 Terrace, named for its elevation as the top spot.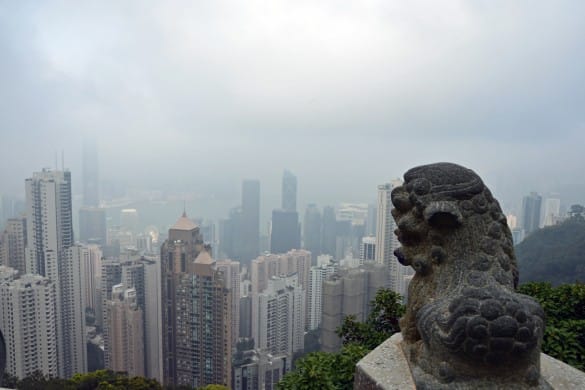 Like locals, we picnicked at the harbour park for the evening's fireworks. Pros, albeit inventors, of explosive displays, the Chinese didn't hold back on the firepower. Boom booms punctuated the air, and the enchanted crowd sighed "Ah, ah" in turn. Each night at 8pm, crowds also gather for the Symphony of Lights, a 15-minute narration, song and illumination, ideally viewed from the north shore.
Day three dripped rain, so we opted for a leisurely dim sum. Metropol Restaurant in United Centre holds 1,200 diners, with a central cooking area, where old-style trolleys trundle by. Bamboo baskets hold dumplings, buns, rolls and wraps, filled with meat, seafood, vegetables and rice. Just point at what looks good and dip in standard sauces, like soy, sesame or chilli oil and peanut. Cards are stamped to keep track of consumption. Before noon, there is no waiting, but it's wildly popular. Tea and hot water arrived at our table immediately. Nearby, Chinese ladies bathed their teacups in the scalding water, displaying skills with chopsticks on heavy ceramic ware we couldn't hope to match.
From there, we took the MTR to the History Museum. Buy travel cards at ticket offices and top up to catch the express airport train as well as subways and buses – just touch and go. The museum's Hong Kong Exhibit offered a fine visual history in artefacts and displays from marriage rites to Opium Wars to natural disasters.
On our sodden, sullen last day, we boarded Star Ferries' Shining Star for a misty harbour cruise. The commentary was light as was the company onboard. Skyline spires pierced the fog in a surreal scene. The tour is a must-do in any case.
Our last stop was Temple Street Night Market. The bargain wares and souvenirs are fun distractions, and the southern end of the street is bounded by local eateries with outdoor tables. Grab a beer and order chilli crab for a sizzling end to even a wet day.
Hong Kong at CNY is ancient festivals that thrill with a contemporary makeover. Kung hei fat choi!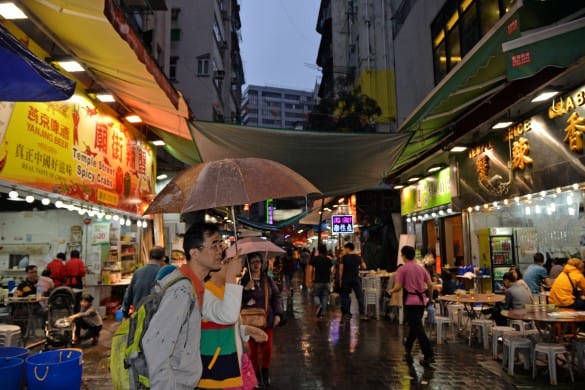 Hong Kong Fast Facts:
Sovereignty: In 1997, Hong Kong became a Special Administrative Region of China
Area: 1,104 square kilometres
Population: 7.24 million (2014); 91 percent of Chinese descent
Getting there: AirAsia, Malaysia, Cathay Pacific, China & Singapore Airlines, Jetstar Asia & Garuda Indonesia
What to do: Watch the CNY Parade, fireworks plus symphony and light show (Starting February 8, 2016). Visit Victoria Peak, the History Museum, Temple Street Night Market, take the Star Ferries Tour.
Mobile App: Download heritage walks, maps and more at discoverhongkong.com
What to bring: Walking shoes, coat and umbrella
Where to stay: The best site to source harbour hotels to discounted digs is hong-kong-hotels.ws