I spotted my first orangutan high up in the trees in the early morning. I heard it before I saw it, awaking to branches cracking and some furious tree-shaking. Luckily, I was on a boat at a nice safe distance from the huge, hairy beast who seemed to be working himself up into a right state.
I was on the Sekoyer River in the Tanjung Puting National Park in Central Kalimantan. My trusty guide, Nanang, assured me: "You are quite safe. Orangutans can't swim, so we can just kick back and enjoy this show. We are very fortunate to see this. He is the king, this guy. The big males fight for dominance and territory. Their harem of female orangutans lives within their territory. That is the way it works for them."
I was in total awe of this large primate of the jungle. He was swaying in the very top canopy of a stand of giant old growth trees towering thirty metres above us. Next, I spotted three more orangutans. These were the king's much smaller females. They were wonderfully camouflaged and I would have missed seeing them if Nanang had not pointed them out. They wrap their branch-like limbs around the trees and blend perfectly with their environment.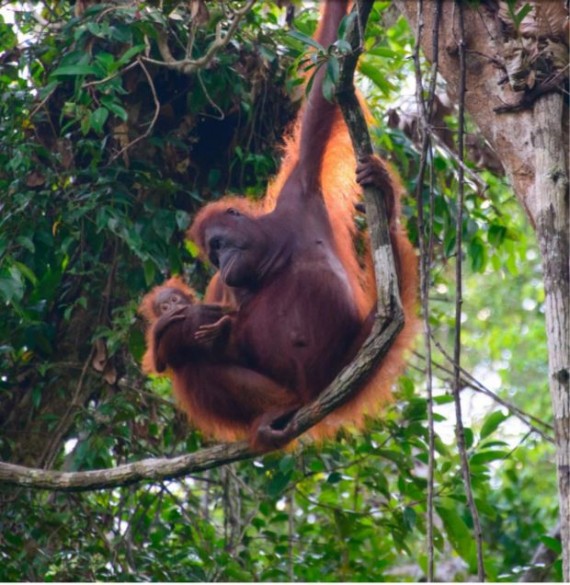 Within minutes of our sighting the orangutans, a family of proboscis monkeys joined in the early morning spectacle. There were seven of them and they swung with wild abandon through the trees, grabbing vines and thin branches on their way. They then disappeared quickly into the dense jungle. I was left holding my morning coffee, which had gone cold, and marvelling at what I had just witnessed.
To experience Tanjung Puting National Park, you need to take a boat. A comfortable traditional houseboat (klotok) is a perfect option. Klotoks can slide easily and quietly onto river banks and allow you to watch impromptu wildlife displays of long tail macaques, proboscis monkeys or orangutans without disturbing them. Simple sleeping quarters are set up on deck in the evening, with mosquito nets and a cover. Sleeping at night on the calm Sekoyer River accompanied by jungle sounds and the natural beauty of a national park is a wonderful experience.
The food that is produced from a tiny klotok kitchen is remarkable. Every day we had a lavish buffet-style spread and our kitchen crew certainly got 5 stars for delicious meals, variety and presentation. Every breakfast, lunch and dinner time the new dishes created were invariably met with a chorus of pot clanging applause from my very enthusiastic group.
Regular flights operate to Pangkalan Bun, Central Kalimantan. From there, a guide will take you on a short car ride to meet your boatman. You need a minimum of three days in the park. Established in 1982, it remains a truly wild place. However, your ultimate destination is Camp Leakey, a rehabilitation centre set up in 1971. It is the oldest orangutan research and conservation centre in the world. The camp looks after orangutans who have been forced out of their natural habitat due to deforestation.
Many of the orangutans at the camp are bottle fed, and some who arrive as orphans are in a very distressed state.
The younger ones require physical handling and touch just like a human baby, and the orangutan handlers sometimes rock these small infants for hours. Eventually, most are nurtured back to health and many are taught to fend for themselves in the wild. Three feeding platforms are positioned in the jungle to provide extra help while they are preparing to return to the jungle.
Ten minutes into my trek I heard some crashing sounds through the trees and found myself sharing the forest trail with three orangutans. It was very exciting and a little nerve-wracking at the same time. The park ranger who was accompanying our group assured us we were very safe. As one came swinging through the trees, another two lumbered up behind us walking on all fours using their palms and fists. Picking up speed as they moved past us and made a beeline for a platform piled high with bananas. Soon more orangutans gathered for the free feed. They ate quickly, tossed banana skins aside, scratched under their armpits, looked around and socialised with one another.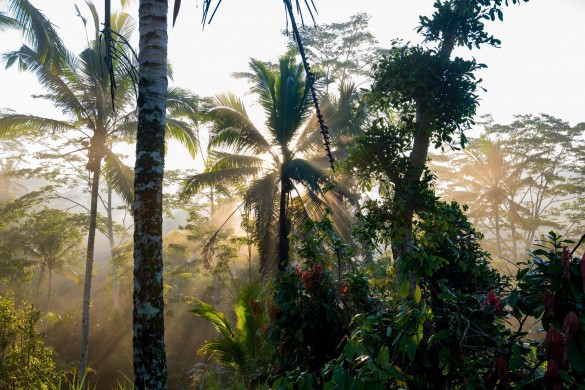 To finish the day off nicely, when we were back on the boat cruising up the river looking for a place to stay for the night, we were lucky enough to catch a glimpse of a few gibbons. As the sun was going down, a magnificent lone hornbill cruised gracefully by on a steamy jungle slipstream. Such is life in the jungle.
Discovering the Tanjung Puting National Park on a slow boat is a perfect way to find a peaceful connection with the jungle. Having the opportunity to get up close and personal with orangutans, which share 97 percent of their DNA with humans, leaves you with a very humbling feeling that we are close in many ways to these great primates.