The first Oktoberfest took place in October 1810 to celebrate Crown Prince Ludwig's wedding to Princess Therese von Sachsen Hildburghausen. The celebrations only lasted five days and ended with a horse race but it seemed that everyone had such a good time they kept the memory alive and each year added a few more days taking advantage of September's finer weather. Now it is a 16-day beer-supping extravaganza that attracts six million tourists annually and is almost a rite of passage for young backpackers on a par with Full Moon parties in Thailand and the running of the bulls in Pamplona, Spain.
Despite the royal origins today the Oktoberfest, or the Wiesn as the locals know it, is all about beer and food. And not just any old beer can be served. It is no use turning up at the field with the cheapest six-pack you could find. Germans take their beer seriously and only beer that meets the highest standards is available.
The Reinheitsgebot, or Beer Purity law, was passed in 1516. Long before Siemens, Mercedes Benz and Hugo Boss helped make Germany a business powerhouse, the Bavarians were setting down in stone what made a beer and you can't help but admire their priorities. So attached were they to their beer and how it should be brewed when it came to German independence they insisted all the other states follow their custom; a demand that led to many small breweries round the nascent nation go to the wall.
They even exported their notion of beer. A Bavarian prince somehow became King of Greece and in fine Bavarian style one of the first laws he enacted in his new country was Reinheitsgebot, which was only repealed by the soulless Eurocrats at the European Union in Brussels.
In addition to being brewed under Reinheitsgebot the beers consumed at the Oktoberfest must be brewed with the city of Munchen. No doubt some brewery will challenge that one day as being protectionist and anti free trade but for now just half a dozen different beers are sold during their festivities and the revelers don't seem to be complaining at the lack of alternatives. After all, why go to Munchen to drink an American or Belgian beer?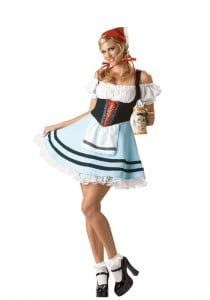 And boy does some beer flow down the necks of the faithful. An estimated 7,100,000 litres during the 2010 festival! Just to show that organizers are sensitive to the concerns of people who don't drink beer, though why they should bother attending a beer party in the first place is perplexing, non-alcoholic beer is available (but only sells about 150,000 litres) as are soft drinks, wine as well as tea and coffee.
Despite the large numbers of foreign tourists who flock to the city the vast majority of visitors are locals who take the opportunity to dress up in their finest lederhosen (leather trousers), which come in short and long form, Dirndl (long, flowing dresses) and Tirolerhute (traditional hats) to join in the thigh slapping, yodeling fun while munching on the bizarrely named leberkase which has neither liver nor cheese and emitting loud Mognschoass (belches) to the drunken merriment of their friends and the annoyance of the few supping the tasteless beer with no alcohol.
The effect of all this beer is intoxicating. Which happens a lot. A person may be pleasantly ogschdocha, or tipsy, or just an out and out Rauschada (drunk), flushed red and gamely struggling to hold on to anything before falling to the ground and waiting for one of the dozens of medics who kept busy stretchering drunks out of the beer halls so one more thirsty soul can make use that space more productively.
This year sees the 179th hosting of the beer frenzy; war and cholera have seen the festival cancelled while other years have seen the tight restrictions on beer sold loosened in response to economic circumstances.
It's not only Munchen that hosts an Oktoberfest. The idea of spending two weeks selling and drinking beer makes such sense that it has spread out across Germany and around the world. The German Diaspora has introduced the idea in towns and cities across the USA and Canada as well as throughout South America.
Even Palestine now has its own Oktoberfest in the West Bank town of Taybeh while an Indian brewery has tried to promote the idea to the increasing middle class in Bangalore.
An Indonesian Oktoberfest has been growing in recent years with a number of venues in Bali and Jakarta offering their own version. However it still remains little known here and while the idea of an Oktoberfest on a par with the Jakarta Highland Gathering is a mouthwatering prospect, it is unlikely any event that embraces public drunkenness with widespread gluttony of pork will be accepted in the foreseeable future.
Hmm. That was thirsty work…