How many people know there's an Indonesian god at Jakarta's oldest Chinese temple? And who knew the city's oldest church was originally built for slaves, who were freed in exchange for changing their religion?
Most Jakarta residents probably neither know nor care much about the old houses of worship of minority religions. Yet these places provide fascinating links to the past and are worth a visit for anyone seeking a spiritual change of scene from the monotony of the city's modern monuments to consumerism.
The title of oldest temple generally goes to Wihara Dharma Bhakti (Temple of Devotional Service) on Jalan Kemenangan III in Petak Sembilan, part of the main Chinatown district of Glodok. A Taoist temple was built at the site in 1650 at the order of a Chinese lieutenant named Kwee Hoen. In those days, the Dutch colonial administration followed the Portuguese example of giving military titles, such as captain and lieutenant, to its appointed leaders of ethnic groups. Lieutenant Kwee named his temple Koan Im Teng (teng means pavilion) after Kwan Im, the goddess of mercy and compassion. Adopted into Taoism's pantheon of immortals following the spread of Buddhism in China some 2,000 years ago, Kwan Im had evolved remarkably from the Indian Buddhist male deity Avalokite?vara into a Chinese goddess due to losses in translation and gender.
Koan Im Temple was razed to the ground in October 1740 when the Dutch quelled a rebellion by massacring most of the approximately 11,000 Chinese residents of Batavia. This ethnic cleansing of the city's mercantile class caused a recession, which was only overcome when more Chinese were enticed to the area by the prospect of profit. Fifteen years after its destruction, the temple was rebuilt in 1775 by Chinese captain Oei Tjhie, who renamed it Kim Tek Yi (Temple of Golden Virtue) to signify that people should focus more on goodness than materialism.
The temple's common name in Mandarin is Jin De Yuan and it is now visited by over 100 people each day, mostly followers of Buddhism, Taoism and Confucianism, as well as a few tourists. Historical attraction aside, the temple is a haven of peaceful open space, covering some 3,000 square meters, and has colourful iconography rarely seen in Jakarta. There are 24 altar stations and more than 50 statues of deities. Beneath one of the long-bearded deities is an intriguing placard bearing the words: "Typically Indonesian Local God". This particular deity was a real person, born Kwee Lak Kwa in the Central Java city of Semarang in 1695. After the 1740 massacre, Kwee was among the leaders of a Chinese guerrilla war against the Dutch but he disappeared near the northern coastal town of Tegal after the rebellion faltered in 1742. He was reputedly killed along with two Javanese aides while fighting the Dutch on the island of Karang Jeruk, although legend has it that his boat was attacked by pirates or Dutchmen off Tegal and he escaped by walking on water. Tales soon emerged that he had obtained supernatural powers and was helping fishermen. An emperor of the Qing Dynasty bestowed upon Kwee the title of Tek Hai Cin Jin (Guardian God of Sea Trade). There are statues of him at six temples across Java.
The simplest way to reach Wihara Dharma Bhakti is by taking a taxi or the Busway to Jalan Gajah Mada and then walking from Glodok as access is via cramped streets and parking is not easy. Directly opposite the Busway's Glodok shelter is Jalan Kemurnian I. Head down there to the end, find the man selling caged birds with clipped wings (bought by devotees, who believe they will receive good karma for releasing creatures from captivity, even maimed birds and homing pigeons) and behind him is the temple's entrance. If you've missed it, just ask any local for the kelenteng or candi (both mean temple). Right alongside the main complex are two separate, more recent temples and outside them are plenty of beggars, mostly older people prostrate on the ground. For those wishing to pray, incense sticks, red candles, fragrant oil and joss paper are for sale. Some visitors also bring fruit, flowers, pork and money as offerings. There is a pervasive smell of incense and quite a bit of smoke and ash. Visitors can pick up a few pamphlets with suggested mantras and advice on how to deal with life's adversities, such as 'Why is my husband unfaithful?' and 'Why don't children think?'. The temple is open from 5am to 5pm and entry is free. If taking the Busway, note that there's no pedestrian crossing or overpass at the Glodok shelter, so take care dodging the traffic.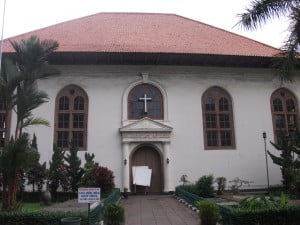 Another contender for Jakarta's oldest Chinese temple is Sin Tek Bio, built in 1698 and now well hidden in the narrow, winding alleys of the old market district of Pasar Baru. Originally named Het Kong Sie Huis Tek (House of Blessings Temple), it was built to honour the Chinese earth god, Hok Tek Cin Sin, provider of good fortune to farmers and traders. He is also called the god of business. In 1820, when the Dutch founded Pasar Baru as a commerce centre, the temple's name was changed to Sin Tek Bio (New Market Temple) and in 1982 it was renamed Wihara Dharma Jaya in line with the Suharto regime's terminology for Buddhist houses of worship. Although smaller than the Glodok temple, this one is more exciting because of its concealed location. Again, entry is free, although here there are no beggars lying about at the entrance. Anyone wishing to visit should make their way to Pasar Baru, have a meal at the famous Bakmi Gang Kelinci restaurant and then start wandering among the backstreet labyrinths or ask a local for directions. The temple's caretaker says the city administration provides very little in the way of maintenance funds, despite requests for assistance.
And so to Jakarta's oldest church, which is Gereja Sion, built over 1693-95 and located at the corner of busy Jalan Mangga Dua Raya and quieter Jalan Pangeran Jayakarta (a healthy walk from the Glodok temple). While Christian houses of worship in some parts of Indonesia are being shut down due to the government's failure to combat religious intolerance, Gereja Sion has been a protected heritage site since 1972 and receives upkeep funds from the city. There are no beggars outside, but sometimes there are police stopping motorcyclists for illegally turning onto Jalan Pangeran Jayakarta. Such infractions are quickly resolved with an informal, on-the-spot fine.
The church was originally named De Nieuwe Potugeesche Buitenkerk (the New Portuguese Outer Church), being the second in Batavia for Portuguese and just outside the city walls. As the Dutch conquered Portuguese trading ports in Coromandel (1616), Malacca (1641) and Ceylon (1656), they sent many natives and Eurasians to Batavia as slaves, most of whom were Catholics due to Portuguese influence. The Dutch promised them freedom if they would convert to Protestantism and speak Dutch. It was for these former slaves, known as Mardijkers, that the church was built. Since 1675 the site had previously been the location of a small Catholic chapel used by Mardijkers. One of the governor-generals of the Dutch East India Company, Hendrick Zwaardecroon, was buried at the church's graveyard in 1728 in accordance with his wish to be among the common people. His is one of only 11 remaining tombs, although in 1790 alone 2,381 people were buried there amid an outbreak of plague.
When Batavia's main Dutch church was damaged in the 1730s and underwent lengthy renovations, officials and their families began to use the New Portuguese Outer Church. This led to the development of luxury stores in the area and the Mardijkers were expelled, ending up in Cilincing in northern Jakarta. They managed to build their own church there in 1738, only for it to be destroyed two years later by the Chinese rebels, who viewed them as accomplices of the Dutch. Today, some descendants of the Mardijkers now live in the Pajambon area near Gambir railway station.
The church eventually became known simply as the Portuguese Church after original one inside the city burnt down in 1808. When the Japanese occupied Java from 1942-45 they planned to use the church as a repository for the cremated remains of their slain soldiers but ended up using the larger Immanuel Church near Gambir. After independence, the Portuguese church came under the control of the Western Indonesia Protestant Church, which in 1957 changed the name to Gereja Sion after the Zion hill of ancient Jerusalem. In the 1960s some of the tombs were moved to Tanah Abang to make way for a carpark.
Nowadays the church looks like an unexciting square block from outside, with a basketball court adjoining a primary school, but inside are several treasures, including original copper chandeliers from India, an enormous original pipe organ (presently awaiting funds for repair), a tall baroque octagonal pulpit, several of the original ornamental chairs and other artefacts.
Originally located on 6,725 square meters of land, the church's grounds were reduced in 1984 to widen the two streets outside. Also displaced were about 200 parishioners who used to live on Jalan Mangga Dua.
The church has a capacity for 1,500 worshippers. Three services are held each Sunday, including one in Mandarin, while the nearby school worships there on Monday mornings. Visitors are welcome, generally between 8am and 4pm on weekdays, and should ask the security guard near the gate for a tour before attempting to enter. The tour includes a chance to sign the visitors' book placed atop a donation box. The tour-guard may also appreciate a donation for his efforts. Much like how some mosques announce received donations, the church's regular newsletter faithfully records who gave how much for fundraising activities.
While it's impossible to imagine no religion in Indonesia, taking the time to appreciate the sites of its minority religions can't hurt.
Kenneth Yeung is nothing if not a hypocrite.