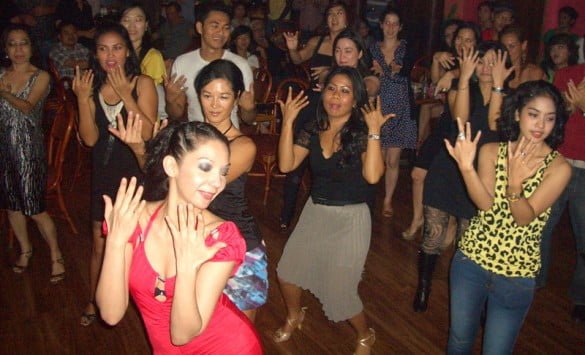 Dancing salsa for twelve years in Rome, which is home to some of the largest Cuban Diaspora in Europe, and where thousands of dancers join clubs on weekends, I would have never imagined finding better salsa. But after moving to Jakarta I discovered some of the classiest and most elegant Latin nights. As you rightly guess, this article is not about the spicy sauce most of you might know, but about dance and music.  
Salsa is a style of dancing that evolved from a combination of multiple roots, diverse cultures and human creativity. It is a mix of many Latin and Afro-Caribbean dances. While a large part of the dance comes from the Cuban Son, the music mixes with other dances such as the African rhumbas. History points out that it was around the time of World War II, when musicians from Latin America and the Caribbean, and largely from Puerto Rico, settled in New York and created what is called salsa today. Since then, the salsa fever has spread like a virus, with more and more people around the world getting addicted to it; Indonesia included.
My salsa experience in Jakarta started at the Ritz Carlton in Mega Kuningan. Every Thursday and Saturday the city salsa lovers gather in this top class hotel to dance in the vibes of the Primavera band. As soon as the band starts playing, their music brings the whole place to life. Dancers start filling the dance floor, wearing some of the most elegant outfits and dancing shoes I've seen. Being used to a more casual salsa scene in Rome, this is quite a change! The Indonesians take dancing seriously and they must look good.
Many people who live in Jakarta, both Indonesians and Expats, are devoting time to studying the moves. But it is not only salsa that these people are passionate about. Watching them dance bachata, cha-cha-cha, milonga, rumba and tango can literally take your breath away. It is a perfect mix of sexy moves, elegance and positive energy that makes you want to join them right away.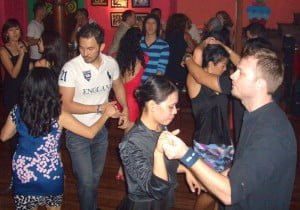 What I found fascinating in Jakarta is that some ladies are willing to pay millions of Rupiah to hire a good partner for the night. In fact, there are dancers who are booked weeks in advance. And if by any chance a Latin event gets cancelled, there is a moment of panic because in Jakarta, the salsa lovers are used to dancing every single night!
So if any of you guys reading this article are unemployed, you might want to consider dancing as your full time job! And ladies who are not willing to pay for a dancing partner, don't worry. Luisa, who is considered the queen of salsa in Jakarta – dance teacher, event organizer and an amazing performer – will not let you sit in the corner. Her salsa students are always around and will take care of you.
Whether you are sad or lonely, for sure dancing will heal you. Apart from enjoying the music and dancing, you can meet a wonderful group of people and join the local salsa community. I have witnessed guys being transformed from depressed and shy creatures into happy and confident men whom the dancing brought back to life.
Every day, the thriving salsa scene in Jakarta has something different to offer to everybody. Beginners and advanced dancers from six to 72 years old can choose from plentiful options to fill their dancing needs and moods. Classes include Columbian, Cali or L.A. style salsa, bachata, cha-cha-cha, tango and Latin aerobic. Here are the places to dance:
Mondays: Club 01, FX Sudirman
Tuesdays: La Piazza, Mal Kelapa Gading
Wednesdays: Benihana Restaurant, Grand Indonesia
Thursdays and Saturdays: Tempus, Ritz Carlton, Mega Kuningan
Fridays: Amigos, Mexican Restaurant, Kemang
Sundays: Four Seasons Hotel
While the Ritz Carlton and Four Seasons offer a classy atmosphere, Amigos is more Latin and relaxed, FX and Benihana are more for people who would like to practice salsa, while La Piazza is mixed. In each of these places, classes usually start from 19.00 and are followed by a Latin night accompanied by a live band.
The Jakarta Latin nights prove that regardless of who you are and where you are from, everybody can dance! As long as you share the same passion for dancing, your origin and age don't matter. Salsa has potential to connect different cultures, enrich relationships and make living in Jakarta a more pleasant experience.
To find out more about dancing classes, please call Luisa at 082112480866, e-mail: [email protected], or PIN: 21CA0897.