Just two hours away from Jakarta, Gunung Salak is a large volcanic range in Halimun National Park (the largest tract of rainforest in Java) and is an ideal spot for a weekend break or a breath of fresh air. Close to Bogor, it is a great place to visit for camping or a day trip and there are places along the way for those wishing to find a comfortable bed for the night.
With a group of Jakartan friends, I recently visited this luscious park, but I will begin this tale by describing our trip to Gunung Salak backwards — with the pleasant bits first and the more extreme bits saved for last.
The walk towards the Queen's Crater is a short, four hour circuit, through a mystical forest. Moss and palms formed intricate corridors over cobbled rocks as we walked past streams and thick vegetation. Finally, we saw the sulphur plumes rise out of the boiling earth. Hot springs were located nearby, full of turquoise water, and rivers of hot and cold water rushed into these gem-like pools. The energy was intense and we sat for a while at the edge, resting on the green and white rocks, stacked in between the ancient, potent-smelling gas.
It is advised not to walk into the crater — in 2007, eight mountain climbers from a Jakarta junior high school died after entering it and suffering from sulphur poisoning. Its emissions can be unpredictable and walkers are not recommended to enter the site at night. In fact, Gunung Salak has a mysterious and foreboding reputation — nine hikers have died in the last five years — it is advised to always listen to the warnings of the patrol team. Sometimes hikers leave the trails, looking for adventure and the safety team are forced to perilously search for them as the light fades.
Considered as a mystical, holy mountain according to the Sunda Wiwitan indigenous beliefs of West Java, Mount Salak has since been described as an 'airplane graveyard' (there have been seven crashes in the region between 2002 and 2012) and mystical explanations have been proposed — such as the mountain's strong magnetic energy fields. One article described that the shaman of Gunung Salak, called Marsa, once explained that there are at least forty ancient tombs scattered over the mountain. Its name is derived from the sanskrit word salaka, meaning silver.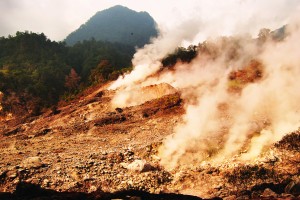 The area has maintained its silver — Gunung Salak is home to the endangered silvery gibbon and we heard its familiar whoops, resonating through the forest just before dusk. It is estimated that there are only one thousand individuals left in Halimun National Park, which is also home to other threatened creatures including the Javan leopard and the Javan hawk-eagle.
As we made our way up to the peak of Gunung Salak, we almost became threatened creatures ourselves. We optimistically believed that we could hike to the peak in less than six hours, which the patrol team had advised. We had a few odd items with us: a bottle of honey, a couple of flasks of water and some lanting biscuits. I had ingeniously brought a torch without its batteries. You can probably guess where this story goes. And so our hike brought us to the 'pig graveyard' — large impenetrable pools of mud engulfed us and we immediately slowed to a snail's pace. At one point we even passed a sign — welcome to the extreme zone — and giggled as someone took a sceptical selfie.
As the terrain grew steeper, we realised that we had almost run out of water and feeling famished, I gulped down mouthfuls of honey at every opportunity. As our legs began to cramp, we decided to split up — and a few of us (including myself) headed down the mountain. At dusk, we scrambled towards the campsite, quite aware that our torch certainly wouldn't be a beacon of hope, but we finally flopped into a warung where we ordered double mie goreng. Noodles had never tasted so good.
A few hours later, in the pitch blackness of night, our friends finally arrived. They hadn't made it to the peak and two had managed to get lost before finally returning to the trail. At the time, it was wonderful to be back — and, yes it did feel good to have done something unpredictable but it wasn't very wise to have been so unprepared. Packing provisions and giving yourself enough time is essential for a good hike and it allows you to actually enjoy the trip and surroundings.
For anyone looking for a guide to the mountain, Portibi Farms (Ekologika Lodge) provide guides and organises trips to the Citaman waterfalls on the side of Gunung Salak and hiking and rafting expeditions. Jocean founded this organic farm over ten years ago with his Javanese host family whom he met as an exchange student.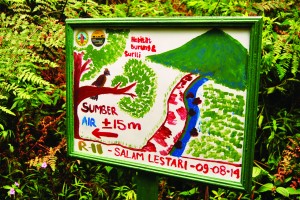 "It is a place for people to escape the harsh realities of the city, and to see what village life can be here, so that the perceived distance/difference between them can be shortened," explained Jocean. With space to host a thirty-member group, Ekologika Lodge on the farm encourages the guests to explore the fourteen hectares of land, surrounding forests and the culture of the region. "We give you an old gamelan set to jam with, invite you to help tend the plants that may make up part of your lunch/dinner…It is meant to be a collaborative project for information exchange, so interested parties are invited to get in touch, if they have an endangered or interesting craft they would like to bring to the farm."
In order to bridge the gap between city kids and the country, Portibi Farms also offers learning in nature programs with local farmers, which are structured around four pillars:  "First, they plant a tree, (since re-growing the forest is our long term goal)," explained Jocean. "Then, they plant or transplant seedlings, learn about fragile root systems, and how to take care of them. After that, they are allowed to harvest, to see the work involved in getting the food from the field to the basket. The last part is cooking together in the kitchen — where guests can learn and taste why fresh local food, grown organically, is better, and worth all of the effort and why taking care of nature is good."