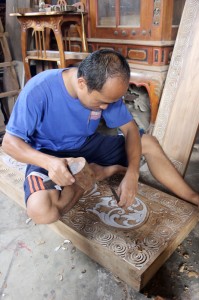 No one cares more for details than Imron. As a carpenter at Konsep Gallery along Jalan Kemang Timur Raya in Kemang, South Jakarta, the 35-year-old depends on an exquisite eye and refined palate when it comes to his designs and concepts. Men like Imron, who line the road in Kemang, are men of patience and of few words. They let their work speak for them. They are craftsmen, well-trained in the spirit of wood. They aren't much in the way of talking. Imron had few words, preferring silence to the company of strangers.
But their dedication and patience is what makes customers search them out, refer them to their friends and point to pieces in their house, referring to them as "sculpted by a craftsman". Most customers head to Kemang Timor Raya because they know that's where the city's best sculptors set up shop.
Imron told me that he got his start at the tender age of 15 when his uncle gave him a crash course in cupboard making. "It was really hard at first, but I had no choice and I needed the money." And Imron's uncle cast a long shadow, one Imron is still struggling to step out of. "My uncle was a good sculptor back then. It's because of him that I've never known anything other than wood sculpture."
Imron is a sculptor. He doesn't work in marble or clay, but rather teak and swan wood, from which he crafts cupboards, chairs, tables, and frames. Most of the customers come to him with a design or concept in mind and he sets to work. With nothing more than a few details and vague directions from the customers, he transforms wood into delicate designs for everyone, from Ahmad Dhani to Jakarta's top interior designers. From 9am to 6pm every day Imron is busy chipping away at his designs, sanding smooth the curves and varnishing his finished product with a smile from ear to ear.
But what's the secret to being a good carpenter?
"No secret," Imron says with a sigh, "but you have to search for the willingness to work with wood and trust your hands." There's a certain patience only carpenters have been able to cultivate and it was extremely present in Imron. "Sometimes carvings and designs change along the way, or they are damaged, then you have to start it all over again."