It's every parent's nightmare: a phone call informing them their child has been in a serious accident and requires emergency surgery. Fortunately, it's usually just a scam; one which has been doing the rounds for many years in Jakarta.
Perpetrators of these hoax calls sometimes operate with inside information, such as a contact list for parents of an international school, including the names of their children. The scammer claims that a large sum of money must be transferred urgently before a hospital will provide a life-saving operation. The hope is that a panicking parent will make the transfer quickly without checking the information.
Parents should treat such calls with extreme scepticism, and if worried, call the school or the hospital for verification. Scammers may give a contact number for a "doctor", who is actually an accomplice.
Indonesia's Financial Services Authority (OJK) is this year publishing a series of books for students from elementary to senior high school to teach them of the risks of fraudulent investment products. The bland-looking book for high school students is titled Know the OJK and the Financial Services Industry. Material from the 51-page volume will be incorporated into national economics exams.
Unfortunately, these new books don't cover some of the most common swindles in Indonesia. There are many reports of teachers and even university professors being scammed. One of the latest methods is an SMS invitation to attend a conference organized by the Education Ministry or a prestigious university. Such invitations include promised expenses of about Rp.10 million. Targets are told to go to their nearest ATM to check the money has been transferred. Once there, the victim is given a series of telephoned instructions, which actually involve transferring funds to the scammer's account.
One victim was 61-year-old Professor Erlyn Indarti from the Central Java capital of Semarang. He received an SMS from someone claiming to be Professor Hertanto, deputy rector of Diponegoro University, offering him money to attend a conference. The message included a phone number for "Professor Purwanto of the Directorate General of Higher Education", whom he was advised to contact in order to obtain the funds. Upon calling the number from an ATM, Erlyn followed directions that resulted in him sending Rp.93 million to the scammer.
School administrators are also targeted, receiving text messages that offer vast amounts of state funding—purportedly from the Education Ministry—if they will first make a facilitation payment.
Scams and dishonesty often originate from schools. Fraud and cheating are common, from teachers using forged qualifications to leaking exam answers. The nationwide pass rate for senior high school exams has been astonishingly high over recent years, reaching 99.52% in 2014.
Despite this phenomenal pass rate, Indonesia does not shine in international education rankings. The Programme for International Student Assessment, which assesses the skills of 15-year-olds in various subjects, most recently ranked Indonesia second-last out of 65 countries for maths and science, and fifth-last for reading.
All too often, Indonesian students are provided with exam answers in advance or allowed to view leaked answer keys via their mobile phones. Many teachers are more concerned with producing high pass rates, rather than offering quality education and accurately measuring students' competence. High graduation rates will attract new enrolments, which means more money.
In 2013, a teacher at Widuri Vocational High School in South Jakarta led senior high school students in a prayer session for good results in their final exams. Then he offered to sell them the answers for Rp.30,000 per student. He claimed he needed the money to renovate a mosque near his house. After being exposed, the teacher apologized, explaining he only wanted to help the students to pass.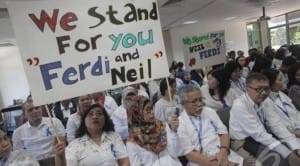 In 2011, a teacher at Gadel 2 State Elementary School in the East Java capital of Surabaya forced the smartest student in the class to share his answers with fellow students during national exams. When the boy's mother complained about the mass cheating, she was attacked for harming the school's reputation, forced to apologize, and then she and her family were evicted from their house. The prevailing local opinion was that cheating and corruption are normal and must not be opposed.
When students are being instilled with values that cheating is better than honesty, it's little wonder that Indonesia faces such an uphill battle in combating its culture of corruption.
The Education Ministry this year begins trialling computer-based national exams in selected schools, replacing the paper-based exams. Education Minister Anies Baswedan wants the new system to be implemented nationwide next year, so that schools can hold the exams simultaneously, thus reducing the risk of cheating. The problem is that many schools lack the necessary equipment for students to sit exams via computer – even though 20 percent of the state budget is allocated to education. Such funding does not seem to be reaching the crumbling schools so often featured on TV news reports.
Indonesia Corruption Watch says there were 296 known corruption cases involving the education budget over 2003-2013, causing state losses of Rp.619 billion. That works out to about $4.7 million annually – and that's only from the cases that were dealt with by law enforcers.
The government recently decided that national exams should not be the sole determinant of high school graduation. Instead, individual schools will also consider students' attendance and attitude, in addition to exam results. This power could result in crooked schools offering graduation for a price.
Schoolbooks provide another avenue for corruption. The Education Ministry has been trying to replace physical textbooks in schools with tablets and ebooks. The move upset principals and teachers who profit by receiving commissions of up to 50% from distributors of compulsory textbooks. Several years ago, the Education Ministry began posting ebooks on its website for free download. But many schools still insist that students purchase physical textbooks, as the ebooks are unprofitable. This means that children are still lugging heavy bags to school. Health experts warn that young children may suffer future back problems if carrying bags that are more than 15% of their body weight.
Finally, the alleged rape case embroiling Jakarta International School (JIS)—which recently changed its name to Jakarta Intercultural School—is viewed by some as a witch hunt that was originally aimed at extorting the school for money. JIS charges annual tuition of over $20,000 and has approximately 2,500 students, indicating a yearly turnover of more than $50 million.
Despite a lack of evidence, and despite the alleged victims changing their stories, two JIS teachers are presently being tried at the notoriously corrupt South Jakarta District Court on accusations of repeatedly raping three kindergarten boys. The mother of one of the boys is suing the school for $125 million.
One of the most bizarre claims in the case is the prosecution's assertion that Canadian teacher Neil Bantleman "conjured a magic stone" from the air to make the boys forget what happened. Five janitors from the school were in December jailed for up to eight years after being convicted of abusing one of the boys. A sixth accused janitor died in police custody.
Education is desperately needed to save students from scams, superstitions and the notion that greed is better than honesty.