The Buku Kami Project empowers former sex workers in East Jakarta who have been forced into the illegal trade for many years by providing them employment making recycled notebooks. This innovative project founded and run by University students has positive social and environmental impacts.
According to UNICEF, over 100,000 children and women in Indonesia are trafficked each year. Child prostitution is on the rise, and one third of sex workers are under 18 years of age. Causes for human trafficking include poverty, lack of employment opportunities, and unequal gender roles to name a few. The cultural acceptance of marrying young often leads to failed marriages followed by forced prostitution for girls.
East Jakarta is considered one of the poorest parts of Jakarta and is home to a red light district, with prostitution based around a park near the Jatinegara station. According to local residents, exchanges take place in a tent beside the railway line.
For women living below the poverty line and tricked into a life of prostitution, there is no light at the end of the tunnel. One such woman, who cannot be named, was promised a job as a waitress 30 years ago and ended up being sold into the sex trade. Today she travels to Jatinegara every time there is a production day at the Buku Kami Project ('Our Book'). She says that she is now able to see the light at the end of the tunnel due to the work that she does there, and will travel the length it takes to make a change in her life.
Buku Kami Project is a social enterprise offering creative cross-disciplinary solutions to sex workers in Jakarta. Founded through the Seeds for the Future grant from the Young Southeast Asia Leadership Initiative (YSEALI) – an initiative founded by US President Barack Obama – the Buku Kami Project offers skills-based training for former sex workers and victims of human trafficking in Indonesia. I meet External Vice President, Garreth Chan, to find out how they are empowering women.
Women involved in the programme design and produce high quality notebooks and agendas made of 100 percent recycled paper, which are sold online. Buku Kami Project purchases their paper from an internal supplier and receives the paper pre-cut. "What the women basically do is cut the covers out, piece the covers together, bind, align, hole and produce the notebooks," explains Chan, who hails from Hong Kong. The notebooks have been on the market as of just over one month ago.
"We partner with brands and organisations that do sustainability work based in US, Canada, Copenhagen, Sweden and India," Chan continues. "We are hoping to have our own retail shop, but because we're still a very new project, this will take us time to achieve."
The initiative was founded and is run by 14 University students based in Indonesia and the United Arab Emirates. Although young, the team members have experience working with non-governmental organizations, social enterprises, embassies and international organizations in Hong Kong, France, Belgium, Tanzania, Cambodia, Thailand, the United States and the United Arab Emirates.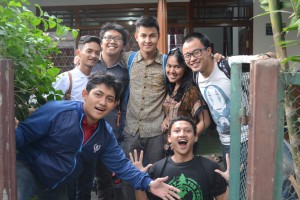 "Indonesia, just like any other Southeast Asian country, suffers from sex tourism. Its child sex tourism industry is slightly smaller than neighbouring countries such as Cambodia or Thailand, but it's there. A lot of the recurring stories that we hear from the women we work with is that 20-30 years ago, they were promised a job and ended up being threatened to work in the sex industry."
The women working with Buku Kami Project are actively trying to escape the sex industry, looking for alternative work, and coming to training and production days. Buku Kami Project partners with a local organisation with a shelter called Bandungwangi, where the production of the notebooks takes place.
Currently 20 women are trained and Buku Kami Project hopes to expand in the very near future. The team are receiving requests from women who would like to join the training programme, which is very encouraging news.
"Right now we are building a fund that goes back to empowering the women," says Chan. "This will offer micro-finance, micro-business, leadership, human resource management, finance training for the women, and hopefully they will want to either receive vocational training from us as well so they can be placed into a job with one of our partners, or start their own business if they wish."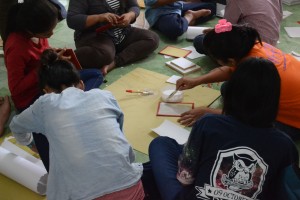 The Buku Kami Project team are trying to spread the message that it's not so much about the recycled notebooks – although they are great – as it is about what the notebooks are investing in: the future welfare of former sex workers in Jakarta. Currently the payment model for the working women is per notebook, although Chan explains that they would like to change this model in the future, with enough support. "We want the women who work with us to have a regular salary and that this becomes a regular financial alternative for them."
Buku Kami Project's blank recycled paper notebooks retail at Rp.75,000-Rp.95,000 and can be purchased online. Please visit www.bukukamiproject.org or follow them on Instagram: buku.kami.project