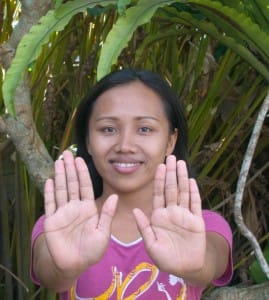 Made Dwi has a gift from the Gods — her hands. Dwi, who is 21 years old, has learnt many different massage techniques and uses these in combination depending on what the body placed before her requires. With three years work experience including extensive training in five star resorts, she works full time in her trade. This has been her one and only job since leaving high school three years ago.
Balinese massage is famous all over the world and people like Dwi are in high demand. However, she has no desire to work overseas and dreams one day of working for herself and owning her own spa treatment facility so she can pass on her knowledge and skills and teach other young Balinese women.
Dwi's father is very well known in his local village for performing healing massage for those in need, however he does this purely to help others and is highly regarded in the village for his healing powers. It seems Dwi has inherited his gift. Dwi's mother died when she was very young, however she was very fortunate that someone in the village cared for her and provided her the opportunity to attend the massage course and training that helped send her on her career path.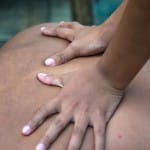 It is not hard to see why Balinese massage is so popular, highly sought after and effective both therapeutically and spiritually. As the beautiful, balanced peaceful energy of the Balinese, together with techniques passed on through the generations, and intensive training such as Dwi has undergone even at her young age, combine to energize the body and relax the mind. Dwi's beautiful, gifted, skillful hands deliver a gift from the Gods and combined with her calm, balanced inner self, this makes for a massage treatment that is uniquely Balinese.