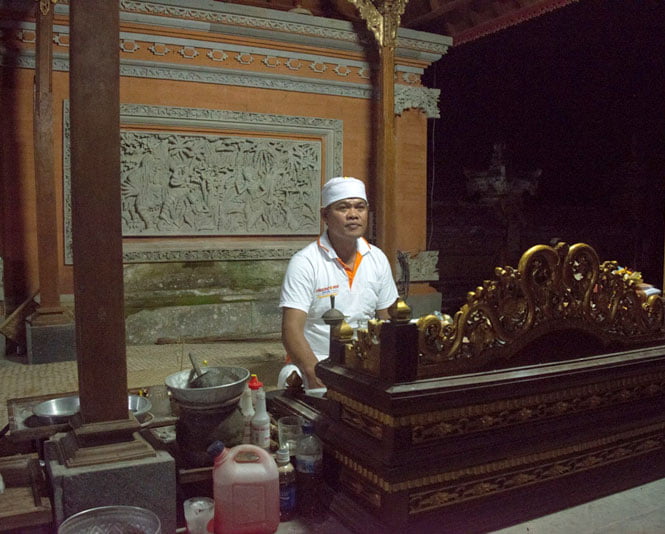 Nyoman Jaya is a very holy man. He is one of five Mangkus (temple priests) in his local village, Pejeng Kelod about 10 minutes from central Ubud.
Nyoman comes from a large family of seven children. He has four brothers and two sisters. One year ago a vote took place in the village to choose a Mangku. A clear signal was received from the Gods, Nyoman was chosen, and then a special ceremony was held. It was recognized by the voters that Nyoman was an extraordinary being with special gifts including the ability to communicate with the Gods. As a Mangku, his future duties include officiating at temple ceremonies and conducting community rituals.
If you are chosen to be a Mangku you must accept this role. To refuse would be seen as defying the Gods. Nyoman Jaya has a powerful influence over Balinese life in his village and must be available at all times to listen and to share, with the local people from his area.
He lives a very busy life waking every day at sunrise to pray and meditate and he is required to attend a busy schedule of ceremonies, plus every night he must be present at the local temple to pray. Somehow he manages to find time to teach at a local high school as well.
Nyoman explained that knowledge is obtained from the Gods via meditation, not so much from traditional methods, although he does consult holy books at times. One day, when Nyoman is chosen to leave this physical world, his son will have an option to take over the roll as Mangku, but this is not compulsory and can be decided at the time.
I could tell that Nyoman Jaya was a very pure individual and was proud to take his important place in Balinese society and, as he explained, "I do everything for the Gods."
This interview was conducted at an ancient temple after a meditation and prayer session.