It's 11:30 pm on a Tuesday night and we've just finished installing some final touches on our emerging eco café in the far south of Jakarta, on Jl. Fatmawati. The LED lights have been sourced, the organic veggie and herb gardens are being planted, our new bamboo office is taking shape, and in just a few short days we will be having our soft opening to introduce what we hope will be the most comprehensive eco café, restaurant and bar in Jakarta, one of the world's most polluted and congested cities. Which is why I have been dreaming of my new home near Ubud, far away from the urban chaos that is Jakarta.
I've been spending a lot of time lately in the city revamping this old bar and restaurant, formerly known as F39 and in a cozy suburb called Cilandak. Our office for Pulau Macan, an island based eco resort north of Jakarta in the archipelago known as the thousand islands, is also based here. Even though Jakarta has been my home for 28 years, my dream home is far from Jakarta – a thousand kilometres to the East, nestled in a ravine 15 minutes south of Ubud in Bali, where Indonesia's first eco neighbourhood is breaking ground.
I re-discovered Ubud a few years ago and after realizing that it was the 'green' heart of Indonesia with such a collection of amazing international and local characters, I fell in love and decided to plant my roots.
After my pilot project on the little islands north of Jakarta flourished, I decided to replicate the model at Michi Retreat in Ubud, Bali. It was during this time that I met Melissa, Petra, and the lovely crew of social entrepreneurs forming behind a vision to establish an eco neighbourhood just 15 minutes south of Ubud.
As I heard about their plans and began to get to know the calibre of people within the neighbourhood, I began to get the sense that I had found my tribe. To live near what I believe to be one of the best towns in the world, amongst an international and local group of folks who are dedicated and accomplished social and environmental entrepreneurs, and a group of seriously fun, awesome, and creative people, amongst rice paddies, and rolling green hills on the banks of a legendary and beautiful river… this was simply a dream come true.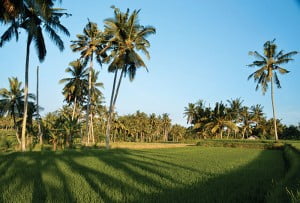 The Taman Petanu Eco Neighbourhood is based on a deep commitment to enhance Bali's environmental, social, cultural and economic sustainability. It is being created to demonstrate a model for sustainable living and community empowerment that upholds the Balinese philosophy of Tri Hita Karana, which balances our harmony with man, nature, and God or Universal Energy.
The neighbourhood includes 16 self contained private plots, supported by a range of common facilities including: waste and wastewater treatment, Permaculture landscaping, an eco pool, playground, barbecue area, amphitheatre and pavilion for workshops and events. After seeing the land and meeting many of the members and local residents, I decided it was an opportunity I needed to move on.
Bali has been called the island of the Gods, and has been likened to paradise many, many times over. It's the most popular island in the world. And it's being trashed. There is way too much development, way too much energy being consumed, way too much trash being produced and the stresses of being the world's favourite island destination for the past twenty odd years have taken their toll.
Among the frenzied development, however, there are many examples of projects done right. Places like Desa Seni in Canggu, the Sarinbuana Eco Lodge on Mt. Batukaru, Bambu Indah in Sayan, and the Swasti Eco Cottages in Ubud are all examples of expats who have fallen in love with Bali and wish to contribute to the preservation of natural environments and cultural heritage. Taman Petanu is another inspired project fuelled by that same love and respect for Bali, and the wish to be an example of sustainable development.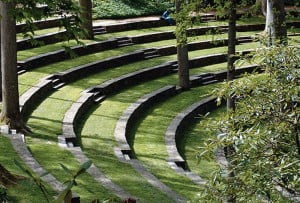 Indonesia is one of the world's best kept secrets. It's a gorgeous archipelago with a very bright future. Especially if those of us who live here and visit here recognize the incredible natural and cultural wealth this place holds, and act in a way that conserves and enhances this wealth.   If like me, you see that our world is in need of examples and solutions, then look out for the hidden gems across this great archipelago while you're here and you'll find many pockets of paradise. The Taman Petanu Eco Neighbourhood is one of those, and we have a few spaces left for folks who share our vision and commitment. If you are looking to move to Bali or Ubud and the same values and dreams speak to you, then please visit www.tamanpetanu.com and get in touch.
The world is a crazy place and it gets crazier by the day. But among the chaos there are examples of the way the world could be. Visit an eco resort or eco café, ones that genuinely steward such titles, and you'll see some very inspiring examples. And if it's the right time in your life, choose to build and co-create villages of the future by seeking some like minded folks who might just be ready to do the same thing.
Over the next few years, we will see more and more intentional communities spring up around the world where people will seek, join and co-create their model of paradise.
If we can build paradises wherever we are, and wherever we have the real or potential influence to do so, then let's do it.
It's an idea whose time has come.