Taking on challenges for the kids of Elisama
Hitting middle age for some can cause a big life shift, but it doesn't have to be a crisis. Fiona Forrest, an Aussie expat in Jakarta for eight years, woke up at age 45 and something snapped. She was going to get really fit. And she did. Coinciding with this inward focus on health came an outward focus on those less fortunate. Since then, Forrest has undertaken three physical challenges as fundraising efforts for underprivileged children's education.
Her first feat was to climb Mount Rinjani, a 3,726-metre volcano towering over Lombok. A sponsor offered to double his pledge to US$10,000 if Forrest summited and snapped a photo to prove it. In 2013, she trudged the mountainous 96-kilometre Kokoda Track, scene of ferocious fighting in WWII. The same sponsor increased his giving with the distance trekked to spur her on. This year, Forrest will walk the 450-kilometre road around Bali with plans to grow sponsorship to do even more for children. Forrest created the Fiona Unity Foundation and shoulders all of her personal expenses, funnelling 100 percent of funds earned to Elisama Orphanages in Denpasar and Singaraja.
Why did she choose to help Bali's children? While on vacation there with her husband Peter and children, Holly and Jack, who were teens at the time, they heard a choir from Elisama sing. Forrest connected visually and emotionally with one girl, and she says, "That was it." She wanted to sponsor the child and went to Elisama Denpasar to found out how. "I didn't pick Bali. It picked me."
Forrest met Ester Ketut Tinggalini, who founded Elisama in 1991. She explained that is was impossible to sponsor one child; all must be sponsored. Ibu Ester grew up in the same orphanage as did her three dedicated staff, and they have since been a family. "They could work elsewhere with their skills, but they remain where there is so little, yet gain so much through working with the children," Forrest says. "They are rich in heart."
In the same way, the 69 children at Elisama are family, calling Ibu Ester "Mama". She is a devout Christian and keeps children connected to any relations. "I was given to give," she is inclined to say. The children have learned this same consideration. The older ones hold or read to the little ones, creating fierce bonds. In fact, when the oldest children leave, they return to Elisama to visit and bring food.
With more than 70 orphanages on Bali, Elisama is one of only 10, which are reputable and recognised by the government, though they receive no funding. That is where Forrest comes in, tackling big projects on the campuses. The Rinjani climb funded a well and pump, plus a 250-metre security fence to keep dogs from mauling the children and other dangers out. Kokoda's trek brought in US$50,000. Forrest then grabbed a shovel and started digging to create a large playground, kitted out with equipment and a grassy area.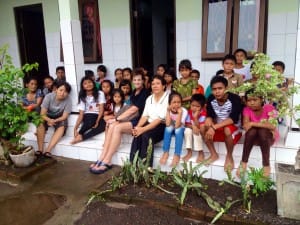 "When I walked through that safe place and saw the kids playing and rolling balls in the grass, I cried," Forrest says. There are many fruit trees and vegetable gardens with squash, spinach and more, which the children tend to supplement their meals. Inspired by 17-year-old Holly, the children are also learning about protecting the environment. Recyclables are collected, earning them a small amount and helping to form good habits.
Forrest's family contributes a great deal personally. At Christmas, they load a car with gifts, boxes of food and new school packs. Forrest loves to see the children, dressed in their uniforms, walking to school or riding their bicycles. "They wash, cook and take care of themselves and one another," she says. Forrest's foundation has been the sole supporter for over 60 students from kindergarten to university. The overall cost per year is US$30,000. Sponsoring or donating money pays for school fees, books, uniforms and transport. Investing in children's education offers a huge step today, yet a giant step for our future. Forrest's motto is 'together we can make a difference'.
The children are making educational strides beyond Elisama, too. Some have gone on to college to get degrees in hotel management, architecture and culinary arts. "They are so appreciative of the chance to earn a vocation of their choosing," Forrest says.
The aim of Forrest's Bali walk is to set up a five-year education plan as well as bring continuing awareness to Elisama. Her reach is expanding, and her desire is to involve major players with businesses sponsoring the next generation, especially some Indonesian companies.
Each fundraising event challenges Forrest. The Bali walk will be made on large and small roads with a decorated van following for safety and promotion. Still, it's the start of the wet season, plus Forrest is petrified of dogs, and nearly every family in Bali has at least one. She kicks off on November 15 and will be striding forth for 15 days. As she consistently says, "I will never give up."
Learn more and donate: www.fionaunity.org