Echo Beach Puppy Adoption Day is held every last Sunday of the month at Olé Olé Ollie Cupcake Shop in Echo Beach, Bali. Two adoption days are dedicated to displaying adorable rescued pups and healthy adult dogs. What a great day out for Bali dog lovers, supporters, and of course for the kids! Olé Olé Ollie have teamed up with Sunset Vet, I Love Bali Dogs and Saving Bali Puppies & Dogs, to run this regular event in the hope of pairing loving individuals with Bali dogs.
A small group of dog lovers bonded over coffee and cupcakes and the adoption idea was born. Olivia from Olé Olé Ollie, Hannah Stone from Chewy's, together with Sunset Vet and a group of friends, neighbours, and volunteers help run the event. On average, half of the dogs at Adoption Day get adopted or fostered. They also get a lot of people coming and then falling in love with a certain dog and will end up fostering or adopting a few days afterwards.
"We thought what if we have an adoption day where instead of the pups being penned or caged, they get to run around in a big yard and interact with people? It gives them a chance to bond with the dogs and hopefully it will translate into more Bali dogs being adopted. And it has turned out to be a fun and happening event where like-minded people meet up and exchange ideas, receive advice from our vet, and get better informed about the dogs' welfare and how to care."
The Echo Beach Puppy Adoption Day started its inaugural adoption in January 2014. The Old Dogs @Old Man's event in Batu Bolong began in May later this year. Their mission is to raise awareness about Bali dogs, their characteristics and highlight their plight, at the same time as raising funds for the tireless people who continue to help Bali dogs, and who find them a safe, loving home.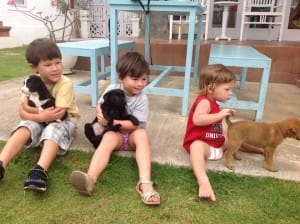 A lot of the puppies are boarded at Sunset Vet in Kuta or at other facilities 29 days out of the month while waiting for a permanent home. For these pups, going to Adoption Day is also a fun 'field trip' where they get to be free, play and get cuddles. Not all the rescued dogs are boarded at Sunset Vet. If they are too young or still recovering from medical conditions they receive proper treatment and many are put in foster care. A network of amazing people, the majority of which are locals, are the backbone of the rescue and adoption process.
"Cyrille is a passionate dog lover and animal activist who devotes much of his time and resources to helping stray dogs in Bali," comments Matt from Sunset Vet. "The Echo Beach Adoption Days feature puppies and adult dogs rescued by Kris Ritchie from 'Saving Bali Puppies & Dogs' and Francesca Montoneri from 'I Love Bali Dogs'. Francesca currently feeds 57 dogs on a daily basis. If you ask her how many dogs she has rescued, she probably can't tell you, as it has been so many!"
Half a million semi-feral dogs, one to every six people, roam the island. When rabies arrived during 2008, the government attempted to control the disease with mass culls. But these animals have become woven into the tapestry of Bali's Hindu lifestyle for almost 5,000 years. Bali dogs typically forage for food amongst the trash, and especially around warungs where food may be discarded. The lucky ones meet a human who has sympathy and leaves food out for them.
"The solution to overpopulation of dogs in Bali is to spay and neuter them. The number of rabies cases in both humans and dogs has fallen dramatically due to the government and Bali Animal Welfare Association vaccination program. However, we are starting to see a comeback this year as the immunity wanes, especially in North and East Bali. It's vital that all pet dogs get their rabies shots."
Infectious disease is rife, such as distemper and parvovirus. Skin disease is common, particularly demodectic mange. This is when small cigar shapes mites burrow into the hair follicles, causing the hair to fall out and the dog goes on to develop itchy sores. Fortunately, skin disease is easily treated with inexpensive drugs, but it can require six-eight weeks for the dog's coat to return to normal again.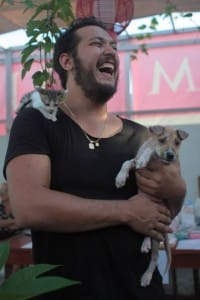 All participating dogs have been checked and vaccinated by Sunset Vet. Everyone who fosters or adopts fills in a form, and the attending vet will then do a follow-up check after the adoption. The Old Dogs @Old Man's event is created specifically for older dogs. The event offers people a chance to meet and bond with lovely older dogs looking for homes, as well as a great opportunity to relax by the beach, browse the fun flea market wares, eat delicious products offered from the many vendors and also buy a few items from the charity table.
"Putting adult dogs together with puppies for adoption does not work well, because nine out of ten times, the puppy will be chosen instead of the older dog. So we thought, why not have an adoption event especially for these lovely mature dogs? Thanks to the kind support of Hannah from Chewy's and working together with Old Man's, we hold the event on popular Saturday Market Day."
Please spread the word about Adoption Days. Even if people are not sure about whether to adopt or not, I suggest you come along for a coffee and a cupcake and have a play with these healthy doggies. One of them might just steal your heart!
For more information on adoption days, contact: [email protected] or Olivia at: [email protected]
To find out more about the dogs available for adoption or fostering, please check out 'I Love Bali Dogs' and 'Saving Bali Puppies & Dogs' on Facebook.