For those who are not familiar with playgroups, the concept is quite simple. Starting as soon as a few months old in some places, playgroups is a place for children not quite ready for preschool yet, to play in a safe environment and get together with other kids. It is a good place for them to socialize with children their age while you either enjoy a cup of coffee or get on your knees and play along.
There are dozens of different playgroups in Jakarta and each one has his own specificity. Some are very organized, others more casual. Some have drop-ins and others have a program and require registrations. Some accept children accompanied by nannies, while others only accept toddlers with their parents. Some playgroups are loud and energetic and kids are encouraged to run around and dance, while others are more calm and encourage reading and singing. Whatever your child's personality, there is a playgroup out there for him or her. Note that most of the following organizations have free trial classes and all are in English. Don't forget to bring socks as they are usually mandatory.
PLAYGROUPS
Gymboree
Gymboree Play & Music is an American born early childhood development institution with locations in 30 countries around the world. Classes have different themes: play, music, gym, sports, etc. Activities are age appropriate. There are several locations in Jakarta, among others: Kemang, Pondok Indah, Cilandak, Bekasi. The location in Kemang is a bit dark and could be refreshed a little bit. Half expatriate, half Indonesian clientele.
Cost: Enrolment fees Rp.800,000, annual fees Rp.200,000, monthly fees start at Rp.400,000. Drop-ins start at Rp.125,000 for members and Rp.150,000 for non-members.
Location: (head office): Le Codefin building, 2nd floor, Kemang Raya no 8.
Tel: (021) 7183525
Other locations in Pondok Indah, Sunter, Puri Indah Mall, Bekasi, Cilandak, Menteng.
Website: http://www.gymboree-indonesia.com/
Kindyroo
Kindyroo is an Australian researchbased early childhood learning centre established in 1982. It provides play programs for babies from six weeks to five years old. The concept behind Kindyroo is to focus on stimulation and parent and child bonding through play. The classes are age appropriate. Very bright and clean installations. The owner, Steven Wijaya Ali is very knowledgeable, so are his staff. Good balance between physical activities, singing and reading. No outdoor area.
Cost: Membership fee Rp.1,350,000, monthly fee start at Rp.600,000.
Location: Gedung Kemang Square Lt 3, Unit 9, Jl. Kemang Raya no.5.
Tel: (021) 719 8101
Website: http://www.kindyrooindonesia.com
Rockstar Gym
Rockstar gyms are real gyms for children from age six months to 16 years old. Classes go from usual playgroups to ballet classes, mummy and me yoga classes and gymnastics. Installations are great and brand new. Good mix of Expats and Indonesians. Can be very loud and overwhelming. Great place for extrovert and active children. If you want your kid to move, this is the place.
Cost: Processing fee: Rp.231,000, monthly fee start at Rp.795,000.
Locations: Gandaria City, Plaza Indonesia and soon in Mall of Indonesia.
Tel: Plaza Indonesia-(021) 2292 3588, Gandaria City-(021) 2900 8085.
Website: http://rockstar-gym.com
EXPATS WOMEN'S ASSOCIATIONS
Most expat women's associations have weekly mummy and me drop-in play groups in a less formal setting. It is mostly mums gathering, although dads are welcomed. They usually sell drinks and snacks. Sometimes there is singing and dancing, but it is mainly a place for kids to play together while parents have a chat. All nationalities welcome.
Australia New Zealand Association (ANZA)
Schedule: Wednesdays from 9.30am until noon.
Cost: Rp.20,000 for members and Rp.70,000 for non members. Annual membership is Rp.650,000.
Website: http://www.anzajakarta.net
American Women Association (AWA)
Schedule: Every second and fourth Tuesday of each month from 10am until noon.
Cost: Free for AWA members and Rp.20,000 for non members. Annual membership is Rp.750,000.
Tel: 021-718-1877, Website: http://www.awajakarta.org
British Women Association (BWA)
Schedule: Thursdays, 10am until noon
Cost: Rp.25,000 for BWA members and Rp.65,000 for non members. Annual membership is Rp. 600,000.
Tel: 0852 1237 4470
Website: http://bwajakarta.org
PRESCHOOLS
For a more formalized setting, many preschools offer mummy and me playgroups. If you plan on putting your child in kindergarten, it has the advantage to make this moment a smooth transition for you and your child. By going to the playgroups with your child, you can make sure it is the right place and ensure he or she gets used to this new environment in your company before going on their own. Some mummy and me groups in this category start at six months.
Discovery Centre
During the first part of each session, under the parent's guidance, children can move freely between the riding area, water table, animal feeding area, swings, climber, play house, toy centre and art centre. Free time is followed by a group story time, a musical movement activity, snack time and singing time. Could be cleaner. Mostly Expat children.
Age: Start at one year old.
Schedule: 9.15am – 10.30am from Mondays to Saturday depending on location.
Cost: Rp.85,000 for drop-in or five coupon book for Rp. 400,000. No administrative fee.
Locations: Cipete- Jalan Haji Abdul Majid Dalam No. 28.
Tel: (021) 765-7040. Other location in Menteng.
Website: http://www.discoverycenter.co.id
Tutor Times
Tutor Times is an international franchise pre-school with American curriculum. They offer a Minime class starting at six months old in different locations in Jakarta: Pondok Indah, Kelapa Gading, Pluit and Intercon Kebon Jeruk. The program is rich, well structured and encourages physical as well as creative development. We particularly love the experiments where children and parents get their hands dirty and get to play with water, bubbles, paint and other fun stuff. Staff speak very good English.
Age: Minime class starts at six months old.
Schedule: Crawler class (age group 06 – 12 months) held on Saturdays 10.00 – 11.30am. Walker class (age group 12 – 16 months) held on Saturdays 09.00 – 10.30am.
Costs: Registration fees are USD 75, term fee (10 weeks): USD175.
Locations: Jl. Sultan Iskandar Mudano.1, Pondok Indah.
Tel: (021) 72798185
Website: http://tutortime.co.id
Kinderland Preschool
Kinderland Preschool is a Singapore born curriculum. It is a one and a half hour program divided into 15 mini sessions. It starts with an outdoor play session, followed by snack time, indoor creative activities, interactive storytelling and music time. School days are Monday to Friday with the option of two, three or five times a week.
Age: Start at 12 months for walking toddlers until two years old.
Schedule: 08.30-10.00am or 10.30-12.00pm.
Cost: Registration fee Rp.50,000, monthly fee start at Rp.520,000 for two sessions weekly.
Location: Jl. Caringin Barat No.1, Cilandak Barat.
Tel: (021) 7590 8818
Other locations: Kebayoran Baru, East Jakarta, West Jakarta and North Jakarta.
Website: http://www.kinderlandindonesia.com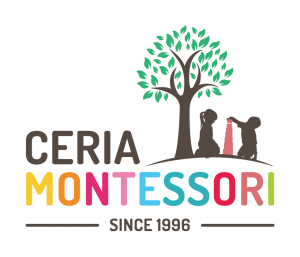 Ceria Montessori School
Ceria Montessori School is dedicated to the Development of Intelligent, Independent, Happy children since 1996. The name Ceria stands for CErdas—Intelligent; MandiRI—Independent; GembirA—Joyful—Our belief and our pledge for all children who enter our programme. Ceria Montessori Method focuses on the whole brain development, using the best Montessori teaching materials and tools imported from Nienhuis, Holland, an officially authorized Montessori material manufacturer. The school holds on to the following principles on a daily basis:
Care and attention are given to prepare the older children for their transition to Primary School.

Ceria Montessori guarantees our families strict adherence to the Montessori Philosophy and Curriculum.

  

Montessori Method creates specific, dynamic programs for each learner, focusing on always encouraging each child to be the best they can be. Children are proud to be Montessori learners.
Since its inception, the school has strived to give the best education for children in their golden years of development, from birth to the age of six. Its core curriculum includes practical life, sensorial, mathemetics, language, cultural studies and supplementary activities.
The Core Curriculum
Montessori Curriculum consists of five separate yet interconnected areas of study:
Practical Life
Sensorial
Mathematics
Language
Cultural Studies
Supplementary Activities
Classes
Timetable
MOM & I Montessori Class
·       Crawler

8 Months – 1,2 Years old

·       Walker

1,2 – 2 Years old

MEL (1.5 – 3 years)
08.45 AM – 11.30 AM

PP1 (3 – 4 years)
08.30 AM – 12.00 PM
PP2 (4 – 6 years)
08.00 AM – 13.00 PM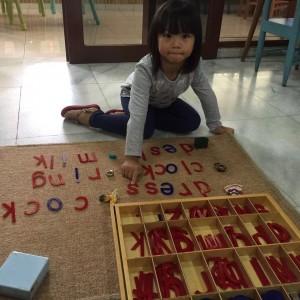 Enrichment Classes
Enrichment classes support the Montessori belief that the whole child must be educated since the development of one aspect is closely linked to the child's development in other areas. Children continue to grown, learn and develop through Arts & Crafts, Cooking, Music & Movement, Water Play and Physical Education. Mandarin is also introduced as part of the curriculum to prepare children for Primary school. Based on your child's needs, an understanding of English grammar class may be substituted for the Mandarin class.
Hip Hop: Ages 3 – 6
Tae Kwon Do: Ages 3 – 6
Junior Master Chef: Ages 3 – 6
Traditional Dance: Ages 3 – 6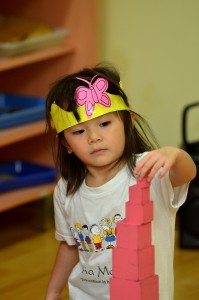 Engineering For Kids: Ages 3 – 6
Yoga For Kids: Ages 3 – 6
Day Care: Ages 1 – 6
Location: Jalan Sinabung II No 1 Senayan – Jakarta Selatan
Tel: 021 – 73910000 or 081377107720
Find us by clicking on the map