As one of the 'youngest' ibis hotels in Indonesia, ibis Styles Bogor Raya have scored a good number of achievements and recognitions, including gaining the most anticipated 4-star certificate, and to be the first 4-star ibis family in Indonesia. After the rewarding journey and accomplishment, the management believe that it would be a perfect occasion to welcome the third year by throwing a birthday celebration highlighting the hotel's strongest character, "Colorfully Stylish".
The anniversary of the ibis Styles Bogor hotel will be conducted on Sunday, November 17, 2019 and be held with Stylish Family Run: 3km – attended by various groups of participants from hotel guests, VIPs: owning company, the AccorHotels network family, local government officials, media, corporate clients, media influencers, and the general public registering as participants. The event, targeting 500 participants, is open for public and ideal for families who crave for a healthy quality time together with family while enjoying the fresh morning air surrounded by a beautiful and green landscape of Golf Estate Bogor Raya. And the most-stylish runners would win special prizes for their creativity.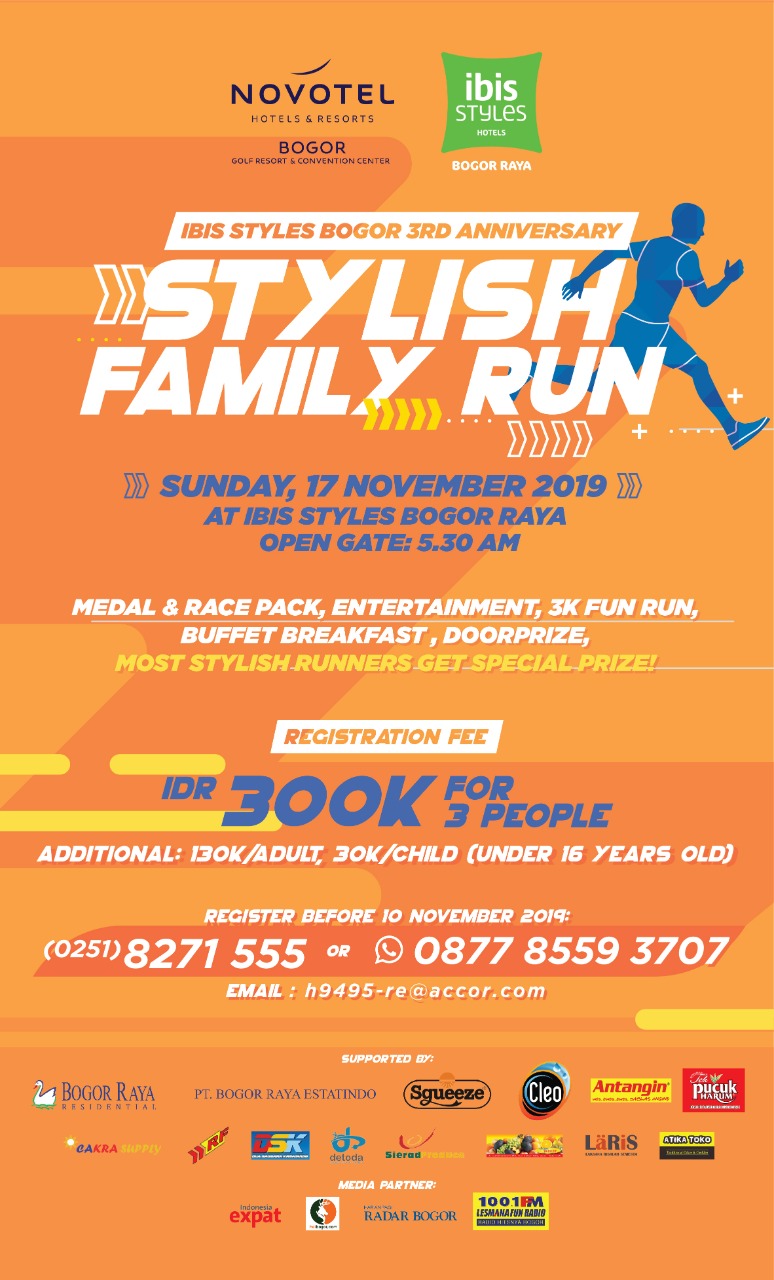 Stylish Family Run Gate will be opened at 05.30 WIB for registration, entertainment, and the run itself will start from 07.00 WIB until 08.00 WIB. The celebration will continue with all-you-can-eat buffet at ibis Styles Bogor Raya's sTREATs Restaurant along with exciting entertainment such as Live Band Performance, announcement for the most-stylish runners, and lucky draw vouchers for hotel stays at AccorHotels properties in Indonesia and even South Korea.
The Stylish Family Run will start from ibis Styles Bogor Raya hotel circling around the Golf Estate Bogor Raya main road with a total of 3 km track, while runners can enjoy the leisurely route surrounded by eye-soothing shady trees. The hotel general manager, Charles Choi expressed, "From 2016, ibis Styles Bogor Raya hotel have been thriving and earned to be one of the top hotels among Bogor's hospitality industry. By saying that, we long to express and share our joy with everyone for trusting and supporting us in the past three years, by throwing a birthday celebration 'Stylish Family Run' and all-you-can-eat buffet breakfast".
Registration with entrance fee of IDR 300,000 for 3 people, all finisher runners will receive countless benefits on the event, namely medal, t-shirt, drawstring bag with a race pack, all-you-can-eat buffet breakfast, live-band performance entertainment, most-stylish runner winners, and a chance to get door prizes. A various and wide range of mouth-watering favourite dishes from the archipelago will be prepared by the Executive Chef of ibis Styles Bogor Raya hotel, ranging from Live cooking stalls, bakso bakar, tauge goreng, Cianjur chicken porridge, sausage satay, nuggets, even instant noodles, es cendol, es dawet, and much more; Needless to say, the upcoming Stylish Family Run 3K event will be the highlight of the year which represents the overflowing gratitude and happiness as part of the birthday spirit.
JOIN in and register yourself, families, and friends via WhatsApp to 087785593707 or 081299066987, call 0251 8271555 or email [email protected]. Registration is closed on 10 November 2019.
Unlimited slot. Put your stylish running gear ON and celebrate the good life with us!