Michael Franti is an internationally-acclaimed musician and lead vocalist of Michael Franti and Spearhead, who is also a global activist for social justice and spiritual consciousness through music and dance. We meet Michael and his new bride Sara Agah Franti, to discuss how they spread the love through their NGO 'Do It For The Love'.
You are one of Bali's favourite sons. Tell us your Bali story.
Michael: I started coming to Bali in 2007 and fell in love with the culture, artistry, and nature. I knew from the moment I arrived it would be a place I'd return to for the rest of my life.
Bali is a place which spawns my creativity and makes me want to give back to the local community and to Indonesia; the nation that has given me so much joy and inspiration.
Since 2007 we have thrown fundraising events for Bumi Sehat Natural Birthing Clinics and since 2013 we have helped support The Green School, a school dedicated to educating the next generation of environmental leaders. We also staged the Soulshine Bali Festival, music, yoga, sustainability, arts, and culture building event bringing together both international and Indonesian artists.
What is SoulShine, Bali?
Michael: Soulshine Bali is a hotel and yoga retreat oasis just outside of Ubud that I co-founded in 2011. Our intention was to create a place of happiness; where people from all over the world can come to re-charge, relax, and get back to being their authentic selves. It is a place where life-changing events happen and where lifelong friendships are born. We believe in the practice of play as a pathway to new inspiration and we encourage people to explore the cultural and natural magic of Bali, while letting their souls soar in the sun. At Soulshine Bali we are a family and we want people to feel that welcome when they arrive. We have teachers from all over the world put on retreats with us throughout the year. We want people to leave feeling refreshed and ready to live and love life to the fullest.
Sara: It is really incredible to meet all the different people who come and spend time at Soulshine Bali and to see the growth, transformation and fun they have!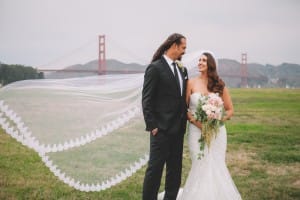 Tell me all about your wedding.
Sara: Our wedding was magical! Everyone told us how quickly this experience passes by, so we were very mindful and conscious about connecting to each moment. The day of our wedding started with a yoga class to set the intention of love, unity and family for the day. At the end of the class our friend Ryan Leier, who led the class, had everyone sit in a giant circle. We had our arms around each other and we were all singing to John Lennon's Imagine. It was a powerful moment.
Michael: One of my favourite moments was watching Sara walk down the aisle. Because we are always travelling it was really special to have all our friends and family all in one place to celebrate with us. The whole wedding weekend was an intimate, emotional, full of love, wild party!
Sara, as an emergency room nurse, you've helped people live, and die. Do you believe in miracles?
I believe that working as a registered nurse is a great privilege. You are given the responsibility to help someone heal from trauma, welcome their birth and sometimes transition from this life. I do believe in miracles, but I don't think those miracles always come in forms we might want or expect. It could be an event, a feeling, or a shift in perspective. It is about living your most authentic life so you can be open to those 'miraculous' experiences, whatever they might be. I will continue to work as a nurse, and I don't ever see myself leaving the healthcare profession. It is a world I love and have a lot of passion for. I am currently working on my Masters in Public Health. I hope to be more involved in policies which can help empower communities to reach high standards of health and wellbeing.
How did 'Do It For The Love' manifest?
Sara: In April 2013, Steve and Hope Dezember reached out to Michael and explained that Steve had a wish to see Michael Franti and Spearhead in concert. Steve is living with advanced stages of ALS (Lou Gehrig's Disease). During the show Michael invited the couple to join him and the band on stage. Although Steve is now wheelchair bound and with little mobility, he asked Hope to lift him out of his chair. They danced in each other's arms in front of the over 20,000 music fans. There was not a dry eye in the house, and that included me! We went home that night and decided we wanted to create the same experience for as many people as possible. We wanted to keep giving that gift of live music to inspire joy and healing and to help families create these lasting memories.
With my experience in health and healing, and Michael's experience in music we founded the Do It For The Love Foundation in 2013. It is now a non-profit network of musicians, health workers, concert promoters, and music venues dedicated to giving the gift of live concerts to wounded veterans, children with severe challenges, and people living with life-threatening illnesses. Through concerts and one-on-one meet and greets with their favourite artists, Do It For The Love offers fans and their caregivers an opportunity to laugh and dance, to sing and celebrate, and to break away from everyday hardships, and to create vivid memories. We have had the opportunity to grant wishes all over the world, including Bali!
To nominate yourself or someone you know who might need the healing power of music, visit www.doitforthelove.org. You may also volunteer or donate by visiting this website.
When are you coming home to Bali?
Michael: Bali is our second home and we never miss an opportunity to return. We plan to be back for the New Year's holidays, so keep an eye out and be sure to say hello if you see Sara and I!
Be your best, serve the greater good. Rock out wherever you are!
Thank you, Michael Franti and Sara Agah Franti!
Contact: www.doitforthelove.org