Ralph Klemp thought up the idea of his Bali Expats group on Facebook almost by accident. As a long-time aficionado of Bali, he realized that newcomers had no clue as to why the island was addictively attractive. This realization gave him the zany idea to write a book on the historic Bali Expats, those pioneers who moved here 30 or more years ago. Believing that their stories were uniformly fascinating, Ralph's plan was to do 30 short interviews.
In 2010 he set up the Bali Expats group in order to connect with those who fit the criteria. Though it was his initial intention to invite only old-time expats to join – many of whom he knew personally – other people's profiles began to pop up. Ralph soon received hundreds of other requests to join from friends and friends' friends. Thus Bali Expats was born. To date there are more than 30,000 members.
How come the group grew so fast?
In the beginning, there were few postings, but they became viral and triggered a tremendous amount of interest. We had an old New Zealand guy in critical condition in a Bali hospital who desperately needed help. The man was falling in and out of consciousness with no documents, insurance, family or friends to assist him. Some of our members stepped in to pay his hospital bills and move him to better facilities. We connected with the NZ Embassy and set up a fundraiser. Another trigger was a young Irish man wandering aimlessly and disoriented around Poppies Lane, sleeping on the streets. He had been injured in a motorbike accident and had infected wounds on his leg. Some of our members tracked him down, took him for medication and circulated his details until we were able to reunite the boy with his father, who ultimately flew in from Ireland to collect him.
Who make up the Bali Expats membership?
Our group is the United World on one island.
I don't have the exact demographic breakdown, but the majority are from Australia with the rest from Europe, with some Americans, Russians and Japanese. Of course, we also have plenty of Indonesians, but we try only to accept those who have a significant interaction with the expat community. We discourage those who join just for commercial reasons. Starting from our page, there are now many subpages which are categorized by ethnicity, place of residence or common interests. Yet Bali Expats remains the main real time blog of what is happening in Bali. Thousands of Bali's residents browse our page as the very first thing they do in the morning after they wake up!
What kind of information are people looking for?
We have 30,000 freelance journalists on our page. So many topics are brought up that it's difficult to categorize them all, but to name a few: information exchanges on visas; changes in visa rules; villa and land ownership; building a house; where to get a translation done; how to buy a scooter; where to find a lawyer and other legal matters; warnings about crime; new flights and travel info; job advertisements for cooks; where to buy the cheapest Bintang; where to buy fireworks; info on many health related issues; plenty of animal related issues; info on what to do during cultural events like Nyepi or Independence Day. We also have a lot of jokesters, people who believe that from behind the anonymity of their FB profile they are allowed to poke fun at everyone and everything. It's a difficult, painful and tiring job to keep them at bay, warn them or delete them, but it must be done.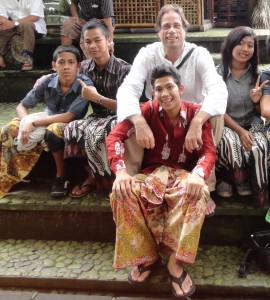 What types of posts make you proud of having started your Bali Expats page?
Definitely it is seeing how much people help people. It's a marvellous platform where we are all connected and are able help each other. It restores your faith in humanity. The most humane members seem to be the Australians for whom 'mateship' or mutual-helping-out is just a part of their DNA. I also enjoy the photos and sharing of personal experiences. Some of our members are incredibly skilled at describing a funeral ceremony or explaining the origins or meanings of things like the Balinese penjor poles used for Galungan, or the banten daily offerings. I learn so much every day.
Which posts do you find the most irritating?
I'm tired of the whole bunch of animal activists and their endless truly annoying posts about street dog and cat adoptions. I truly feel disgusted when jokesters start useless and offensive discussions, which, if not deleted, quickly turn into smouldering, heated arguments with blistering insults on all sides. Sometimes you get the impression that the Internet is the new mad house – Psychotic United. Keeping this element civil and the lawn clean is a daunting task.
After 4 years running the group, what lessons have you learned?
We get to see Bali from many points of view. It's like having 60,000 eyes. I'm also amazed to see the good in mankind. The Good Samaritan cases earlier mentioned are only the tip of the iceberg. So many random acts of kindness continue to happen. Despite the many personal attacks I've received, I am committed and madly happy about how the Bali Expats FB group turned out. It is truly an amazing window on Bali.
Thanks, Ralph. To get in touch, email: [email protected]