Grace Ariens and Astrid Gordijn are a Dutch pair who followed their hearts to create the simple yet elegant Karma Kayak Bungalows and Restaurant in Gili Trawangan.
Grace, where were you and Astrid born and raised?
Astrid grew up in Delft, Holland close to an orphanage with lots of Indonesian kids. Her grandfather was a janitor of an Indonesian cultural centre, Nusantara, so Astrid's love for Indonesia was born in her childhood. I always wanted to explore different worlds and knew Holland was not forever. My favourite area in the world has always been Asia. When I eventually came here I fell in love with Indonesia and the people here.
What brought you to Indonesia originally and what motivated you to settle in Gili Trawangan?
Both of us fell right in place travelling throughout the country. After a few different islands such as Sumatra, Java, Bali, Sulawesi and Flores, we started to think about settling down in Indonesia since we felt so at home here. We knew this was the place for us!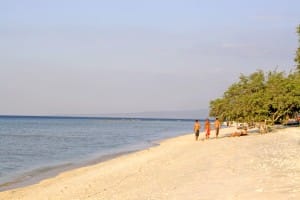 Tell me the story which led to the creation of Karma Kayak.
Every holiday we would dream of building our own small resort on some beautiful beach. After a few holidays, the idea of starting something stuck so we decided to take a sabbatical and go to Bali for a few months to see whether we could actually achieve our dreams here or forget about it and find a new focus.
We went around Bali for over two months. As much as we loved Bali, we could not afford the places we liked while the affordable places did not meet our expectations. So we went to Gili Trawangan to review our options. We stayed in the village but almost every day we went to the quiet and pristine northern part of the island to go snorkelling and enjoy the nature. We had found what we were looking for! Instead of the planned three days we stayed three weeks and tried to find out more about this island paradise.
After this sabbatical we returned to Holland and planned our return. We had a budget to live off and a budget to invest; the plan being if we went through the initial budget and still had no plan, we would use the investment money to travel the world. We decided to try our luck on Gili Trawangan first.
We were very lucky to start Karma Kayak near the spot we initially fell in love with.
Astrid loved doing water sports activities while I preferred reading a good book under a shady tree. That is how the idea of Karma Kayak was born – to create an environment where people can spend their day eating, drinking, lazing around or being active all right here at our resort.
What do you feel are the most important aspects of offering accommodation and dining to your guests?
It is important to offer simple but clean rooms with ambiance, a good selection of food and happy staff. We started the Tapas menu as guests can eat as much or as little as they like all day long and there will always be something to suit their taste buds. At sunset, guests gather on the beach for Tapas and Sangria while a bonfire is made and music is played. We keep our beach as natural and clean as possible and guests appreciate the totally natural environment. We strive to give people the real paradise island experience and it is right here. It is magic!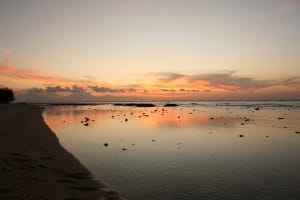 Karma Kayak is known for the ocean kayaking and snorkelling trips. Do you recommend it for beginners?
We have instructors available for beginners and staff to accompany people when they go out if required. We get lots of people who do not stay here but use Karma Kayak as their base to relax and use the facilities, as we are right in one of the main snorkelling areas. Visitors also come just to watch the sunset and have a private beach barbeque.
Which part of each day do you enjoy the most? What takes your breath away?
For both of us sunset is still the most breathtaking part of the day. The light changes, the temperature drops, locals venture out to fish or look for bait. Cloudy or clear, the sunset is never the same and is always beautiful!
Do you have any other dreams to fulfil?
This is a hard question to answer. We have excellent management now, which makes it possible for us to take some steps back and think about our future a bit more. We do not have big dreams, but would like to spend more time travelling. There are still some places in Indonesia we would love to go; we have not been to Papua, especially Raja Ampat. That is high on our wish list, as is Kalimantan. Our biggest dream now is to be able to spend the rest of our lives here in Indonesia; whether it is in Bali or Lombok. We shall see where the future takes us!
Thank you, Grace and Astrid!
Contact- [email protected]  mobile +62-081805593710