Rodney Holt was born in Australia. When he was a year old, his family moved to Italy where he grew up. Rodney became interested in sports very early on, playing football on the street after school and learning how to ski by the time he was nine. Rodney studied hotel management in Italy in 1981 in Cortina D'Ampezzo and then, from 1984 to 1987, at Sydney and UNE universities in Australia. Working as a chef and businessman, he has been living in Bali and Southeast Asia since 1992. He was the first player from Bali Rugby to play for the Indonesian rugby team in 2007 and won Bali Sports Personality of the Year in 2007. Before founding Bali Sports Foundation, Rodney co-founded Bali Rugby Union, initiated various sporting events, such as HOTAIR! Kite surfing, the Sanur Village Sports Festival and more recently Bali Ocean Swim, Bali Stickfighting Challenge and the Bali Beach Games.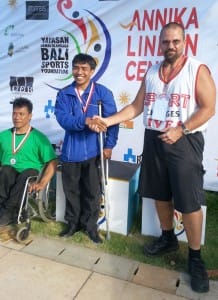 What was your most memorable childhood recollection?
The senior school organized a day trip to the ski fields outside Rome one winter. The organizers had three tickets left, so they asked the 6th grade students in junior school if anyone was interested in going. I had never been skiing or even contemplated it, but something in me made me raise my hand. The next thing I knew I was off to learn how to ski. The first couple of times were disheartening, but by the end of that winter I had gotten the hang of it. In one way or the other, skiing was to shape the rest of my life.
What was your proudest moment of your sports career?
Competing in the 1992 Winter Olympics in Albertville, France and the FIS World Cup in 1992-93 in speed skiing.
What kinds of work have you done in your life?
A mixed bag really. I feel life is too short to focus on one thing, so I've worked all kinds of jobs, from shovelling elephant manure in a circus during my school holidays to escorting King Gustav of Sweden on helicopter ski outings in the Alps. I've worked as an in-betweener for Hanna-Barbera Animations, as a bodyguard for a music impresario bringing Gospel groups to Italy. Since moving to Asia, I've run sporting events, chef'ed for Hyatt and Amanresorts, established my own businesses in Bali and Singapore, produced a couple of books on Balinese history, written articles for newspapers and magazines, set up sports federations, helped establish a museum, and more recently opened Singapore's first Warung Babi Guling.
How did you first become interested in Bali?
To be honest I never considered even visiting Bali. It was only after my father passed away in 1992 and I was looking for a new chapter in my life to begin that a job offer to open the Italian restaurant for Amanusa in Nusa Dua came up. I decided to take it. I've been in Southeast Asia ever since.
What's the Bali Sports Foundation all about?
The idea was first mine, but hardly unique. After years of organizing, sponsoring and helping mainly expat-oriented sports, I felt it was time to focus on disadvantaged Indonesian youth. There is no one more disadvantaged in Bali and Indonesia than persons with disabilities. Seeing that others shared my dream, I put together the organization with their support. From the start, the idea was to use sports as a tool for personal and physical development of disabled youth in Bali and other islands.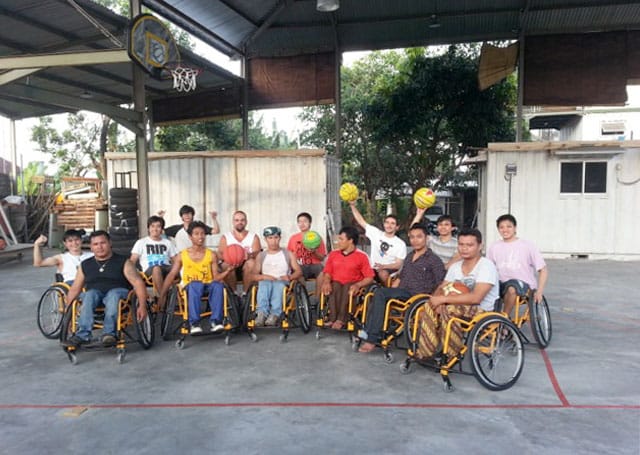 What type of sports programming does the foundation offer?
We focus on Disabled/Special Needs/Adaptive sports. BSF is running swimming programs for autistic, cerebral palsy, blind, deaf mute and amputee youth; blind judo and deaf mute self defence; amputee power-lifting and sit volleyball. We also run a regular wheelchair basketball league at Bali International School, and look forward to offering wheelchair shooting and paratriathlete programs.
Doesn't the government offer training in team sports?
Like everything else in Indonesia, the programs and regulations here are up to world standards, but the problem lies in the implementation, resources and enforcement. We aim to plug those holes, to cover areas the government doesn't reach. We have introduced new sports, provided equipment and opportunities to the disabled and ultimately seek to help in our own small way to improve Indonesia's standing in disabled sports, which was highlighted recently at last year's London Paralympics to which Indonesia sent 4 competitors. This meant that Indonesia had 1 competitor representing every 61 million of its population. By contrast, Malaysia sent 22 competitors out of a population of 29 million and Thailand sent 50 competitors out of a population of 67 million. Thus Malaysia had 1 competitor for each 1.3 million of its population and Thailand has 1 competitor for each 1.34 million of its population.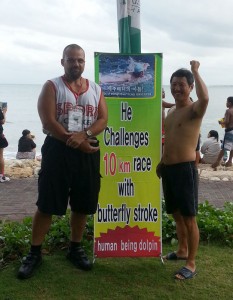 Do your students compete overseas?
Yes, when BSF can afford it. Every year since 2010 BSF has taken a group of young Balinese boys to the SCC Soccer Sixes. In 2012, we sent martial arts students to the West Australia Karate Association. In January 2014, BSF will be sending a wheelchair basketball team to Singapore.
Besides sports, does the foundation teach other life skills?
We try to teach our kids to be humble yet strong, disciplined, achieve their goals, show respect for all and lead a healthy lifestyle. With disabled persons, sports helps build self-esteem and gives great satisfaction in being part of a larger community. BSF is particularly focused on introducing Integrated Sports; sports played by both able and disabled, for example blind soccer and wheelchair basketball, so able bodied persons are able to appreciate what it's like to live with disabilities and therefore engender a greater understanding and empathy.
Does BSF have any future plans?
Yes, this year BSF created and organized the 1st ParaGames here in Bali with 349 parathletes in six sports. For next year we plan to increase the number in terms of sports and parathletes. We plan to send parathletes to the ASEAN Paralympics In 2015 and to the Rio Paralympics in 2016.
I know that you still like to compete. After sailing for Italy, skiing for Australia, playing rugby for Indonesia, what are you doing now?
I have continued my love of contact sports. I've been selected as a member in the Indonesian team which will compete in Arnis Eskrima, the Filipino style of martial arts. I won a bronze in my most recent tournament. I also enjoy playing wheelchair basketball every week.
How may readers help the foundation?
Volunteers, donations and any suggestions are always welcome by contacting us at www.balisports.com.