Not just the tallest, this list also includes some of Indonesia's most controversial statues.
Garuda Wisnu Kencana
Where: Bukit Ungasan, Badung regency, Bali
Height: 121 meters (46m base, 75m statue)
Erected: September 22, 2018
Creator: Nyoman Nuarta
Located near Bali's airport, this is the tallest statue in Indonesia. It is the 14th tallest statue in the world and becomes the third-tallest if its base is counted. It depicts the Hindu deity Vishnu riding the mythical Garuda bird. The statue was designed in 1990 with the backing of then-tourism minister Joop Ave. Construction commenced in 1997 and took 21 years to complete because of funding and engineering problems. The Garuda's tail was the last of 754 parts erected. The project involved 120 sculptors and cost Rp450 billion (US$29.6 million). The statue has a concrete and steel skeleton, covered in 3,000 tons of bronze. The individual pieces were made in Bandung, West Java. The statue is said to be earthquake-proof. Maintenance or repairs can be done via an internal staircase.
Welcome Monument
Local name: Tugu Selamat Datang
Where: Hotel Indonesia roundabout, Central Jakarta
Height: 30 meters (including 22m pedestal)
Erected: 1962
Creator: Edhi Sunarso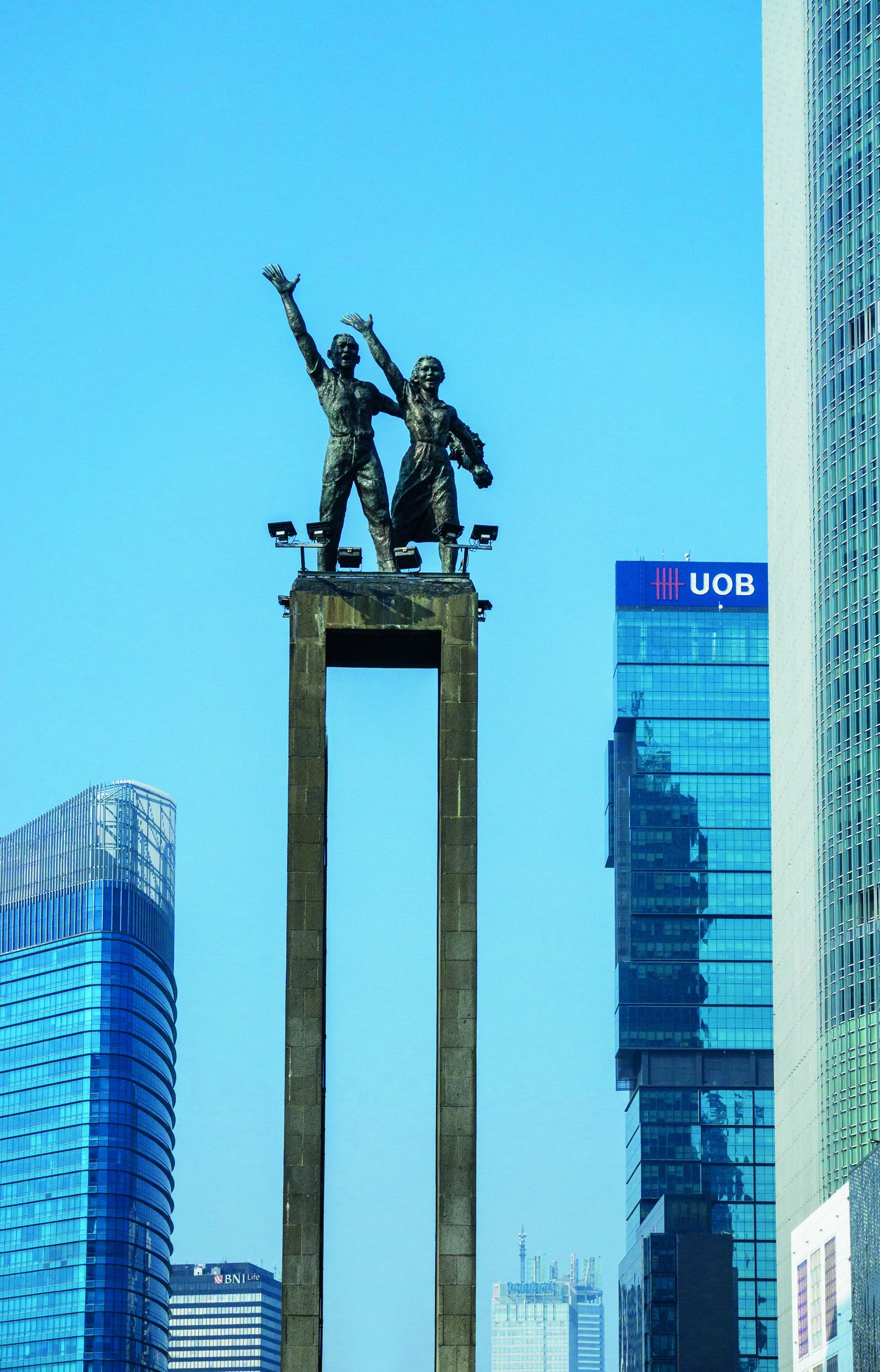 In 1959, president Sukarno commissioned a 27-year-old sculptor from Yogyakarta, Edhi Sunarso, to make a 9-meter-high bronze statue to welcome foreign athletes to the 1962 Asian Games in Jakarta. The city's then-deputy governor Henk Ngantung had come up with the concept of a teenage boy and girl standing atop two pillars. Their stance was based on Sukarno's gesture of welcome with his arms outstretched. Edhi, who had learned to draw and sculpt while a prisoner of the Dutch, was reluctant to take the job, having never used bronze, let alone attempted such a large statue. Sukarno responded it would be shameful if the project were given to a foreign sculptor. Edhi's first two models were rejected. His third attempt was approved. Edhi then studied a book on metal casting, sought advice from a man who made statues for churches and visited a building site to learn about using steel, wire braces and concrete. He made a 9-meter statue from steel and gypsum, but it was deemed too large for the pedestal. Edhi then made a final version, measuring 7 meters from fingertip to toe. It was cast with 50 kilograms of bronze, 1 centimetre thick.  The statue was erected at the Hotel Indonesia roundabout and faces northward to greet people coming from the old Kemayoran Airport. You'll have plenty of time to admire the monument's fountain when stuck at the roundabout during heavy rainfall.
Youth Advancement Monument
Local name: Patung Pemuda Membangun
Where: Jalan Sudirman, South Jakarta
Height: 24.9 meters
Erected: March 1972
Creators: Imam Supardi, Munir Pamuncak
This memorable statue's numerous nicknames include the Mad Waiter, Pizza Guy and Hot Hands Harry. It is not one of Sukarno's Soviet-style monuments, but was ordered by Suharto to inspire Indonesian youths to participate in national development. The near-naked man is shouting while his muscles strain as he holds aloft a flaming platter. The flames symbolize the eternal spirit of youth. Designed by a group of sculptors called the Bureau of Architecture Art Engineers, it was built over July 1971 to March 1972. Funded by state oil company Pertamina, the statue was presented to Jakarta to celebrate the city's 445th anniversary. It is made from steel-framed concrete coated with terrazzo. Located at Senyan roundabout on the border of Central and South Jakarta, it caused headaches for engineers building the city's long-awaited MRT system. Steel frames and girders had to be erected in 2015 to keep the statue upright while the subway was constructed.
Jesus Blesses
Local name: Monumen Yesus Memberkati
Where: CitraLand Manado, North Sulawesi
Height: 50 meters (20m pedestal, 30m statue)
Unveiled: December 2, 2007
Creators: Team of sculptors from Yogyakarta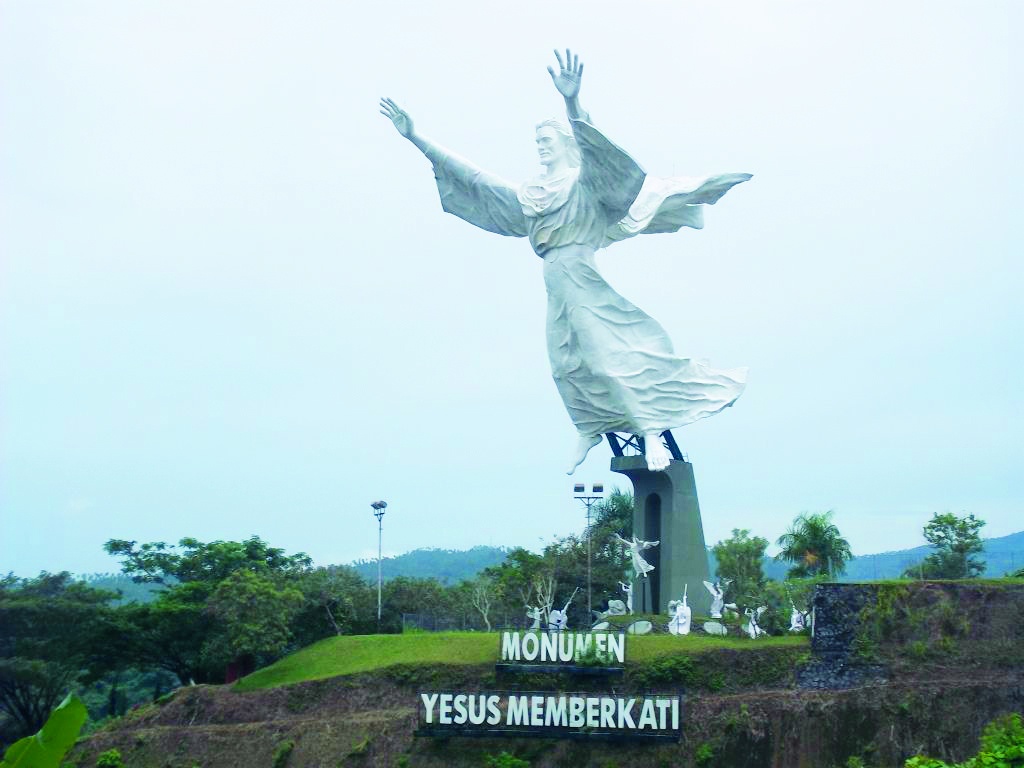 Take a drive around the southern outskirts of Manado and you'll see this enormous statue suddenly looming out of a steep hillside, arms outstretched and leaning forward, as if launching into the heavens. It was built on a residential complex owned by Ciputra, a prominent real estate developer and art collector. It is Asia's second-tallest and the world's fourth-tallest statue of Christ. Construction took nearly three years and cost about Rp5 billion (US$540,000). The statue has a declivity (downward angle) of 20 degrees, causing it to be dubbed the tallest flying statue in the world.
Grinning Tiger
Local name: Patung Harimau Lucu
Where: Subdistrict Military Command 1123, Cisewu, West Java
Height: About 1 meter
Erected: 2011
Destroyed: 2017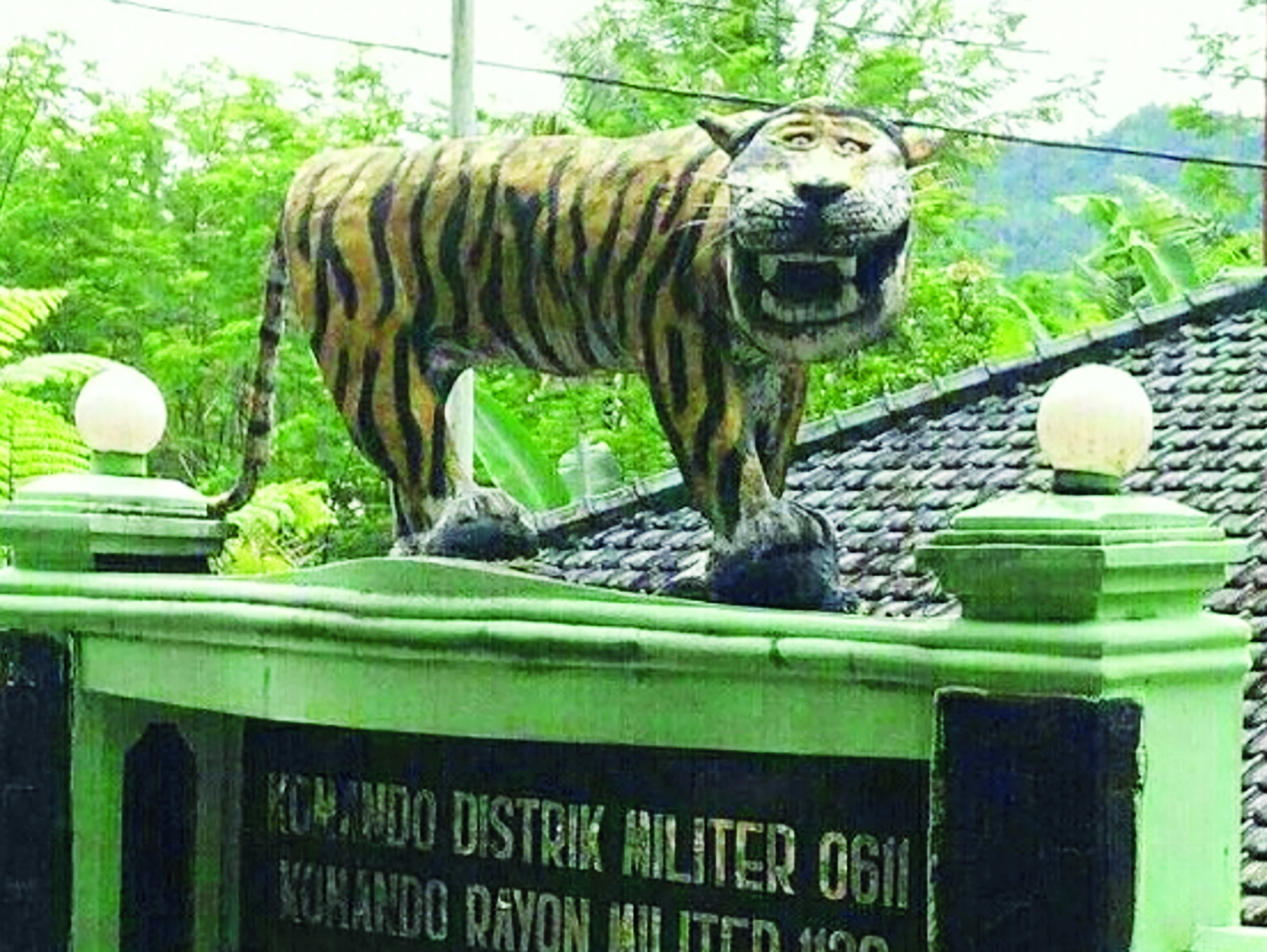 Unfortunately, kitsch is not cool, especially when it causes people to mock a military mascot. This cartoonish, grinning tiger statue had for six years stood guard at the entrance to Subdistrict Military Command 1123 in Cisewu, Garut, West Java. In early 2017, photos of the tiger began appearing in humorous memes, mocking its lack of ferocity. Stung by the jokes, the Siliwangi Military Command in March 2017 destroyed the statue. Later that month, a more menacing tiger statue was installed. The Army said it would review about 360 tiger statues at other bases to check whether they appropriately reflect military authority. The mascot was inspired by the legend that King Siliwangi of Sunda's Hindu kingdom was guarded by sacred tigers and could even transform himself into a tiger. Many people felt the grinning tiger statue should have been preserved as a tourist attraction.
Guan Yu
Local name: Kwan Kong
Where: Kwan Sing Bio Temple, Tuban, East Java
Height: 30.4 meters
Erected: July 17, 2017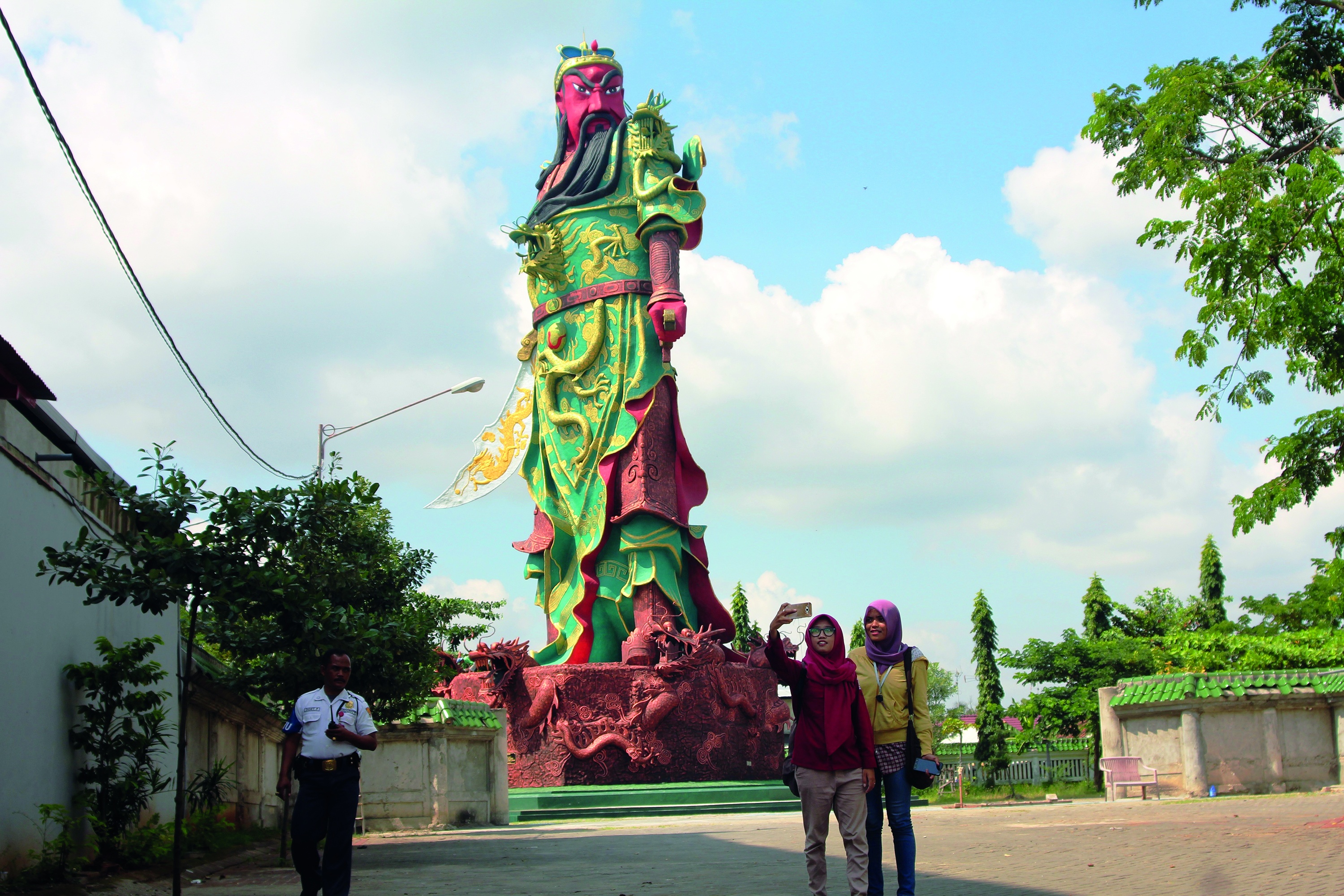 Guan Yu was a third century Chinese general, famed for his honesty. He was immortalized as a god during China's Ming Dynasty (1368-1644). He is said to be a protector of trade and a defender of people from war. In the ancient fishing town of Tuban on the north coast of East Java, administrators of the Kwan Sing Bio Chinese Temple in 2015 received private donations to erect a huge statue of Guan Yu. Construction began in September 2015 and was completed in July 2017. The colourful statue, which had cost Rp2.5 billion (US$160,000), was inaugurated in a ceremony attended by People's Consultative Assembly (MPR) speaker Zulkifli Hasan, who leads the Islam-oriented National Mandate Party (PAN). The statue was an instant tourist attraction, but militant Islamic organizations demanded its destruction, saying it was treasonous, a form of idolatry and just too big. Managers at the temple (which has a giant crab on its entrance gate) reached a compromise in August 2017 by covering the statue with an enormous white sheet. In February 2018, the sheet was taken down so Guan Yu could be spruced up for Chinese New Year. The statue has remained uncovered after officials said Indonesia should not bow to the will of intolerant extremists.
Three Women
Local name: Tiga Mojang
Where: Kota Harapan Indah, Bekasi, West Java
Height: 15 metres
Erected: 2007
Dismantled: June 18, 2010
Creator: Nyoman Nuarta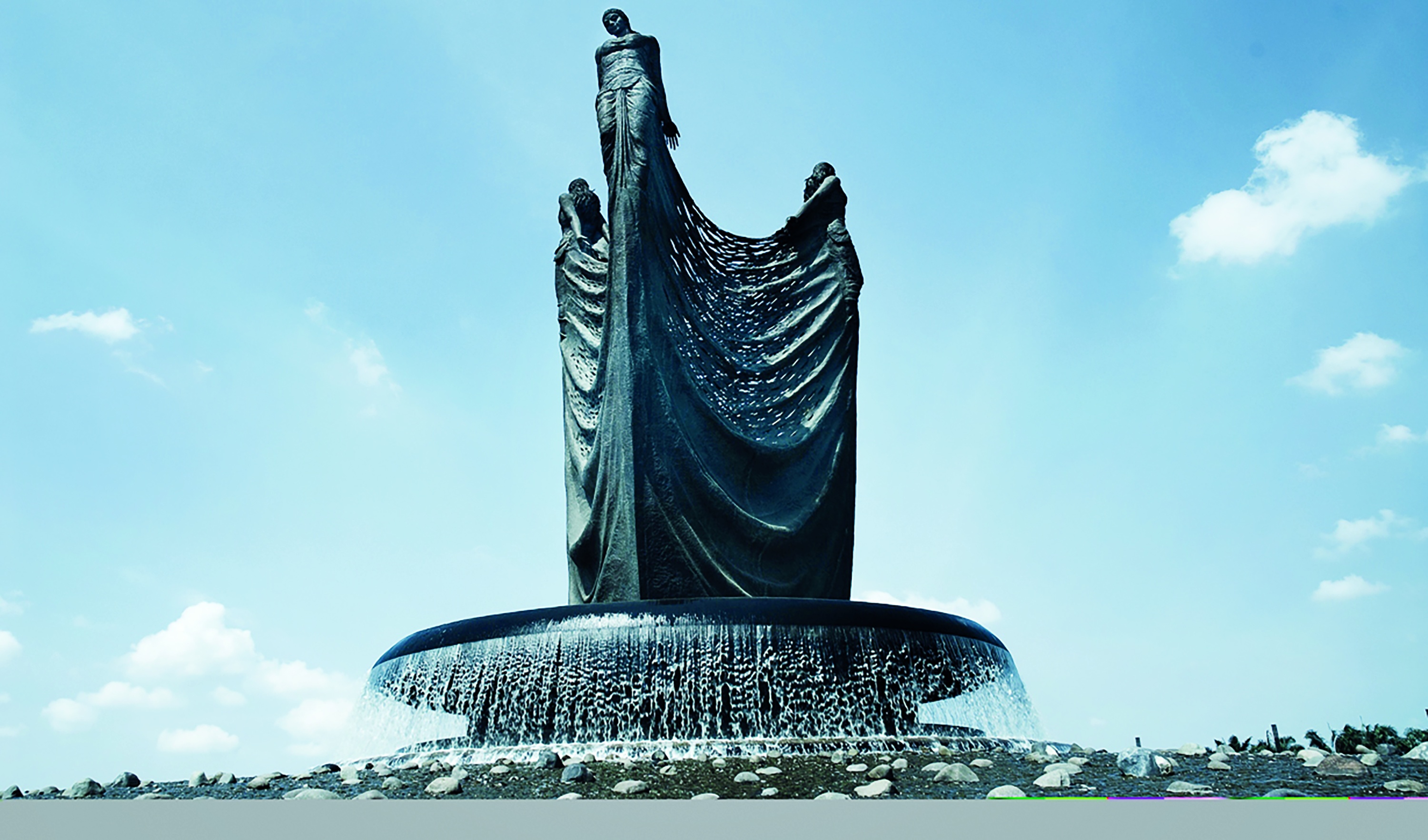 In 1985, Muslim extremists bombed Borobudur, the 8th century Buddhist monument in Central Java, because they considered it inferior to Islam. In Afghanistan, the Taliban in 2001 blew up the Buddhas of Bamiyan – two enormous stone statues from the 6th century. Radical groups in Indonesia are eager to continue destroying statues. Over 2006-2007, Balinese sculptor Nyoman Nuarta (born 1951) completed a statue depicting three Sundanese women. It was erected at a luxury housing estate in Bekasi, east of Jakarta. There were no problems until March 2010, when extremists such as the Islamic Defenders Front (FPI) began complaining. They claimed the "pornographic" statue was arousing lust in men because the women had bare arms and were wearing traditional Javanese kemban (fabric wrapped around the torso) and selendang (a long shawl), instead of Arabic veils. They also claimed the statue was an attempt to convert people to Christianity because the three Sundanese women represented the Holy Trinity. Nyoman, a Hindu, said he did not even understand the Holy Trinity. He explained the housing estate is at the intersection of three roads, so no matter which road you enter from, you are greeted by a face. Bekasi mayor Mochtar Mohamad sided with the extremists and in May 2010 ordered the Rp2.5 billion (US$160,000) statue be removed. When it was dismantled the following month, people gleefully spat upon its faces and vandalized it with spray-paint. The extremists wanted a replacement statue symbolizing martyrdom and sharia. Instead, it was replaced with Nyoman's Sky Dance statue, symbolizing hope.
Heroes Monument
Local name: Patung Pahlawan
Where: Jalan Prapatan, Menteng, Central Jakarta
Height: 5 metres
Erected: 1963
Creators: Matvey Manizer, Ossip Manizer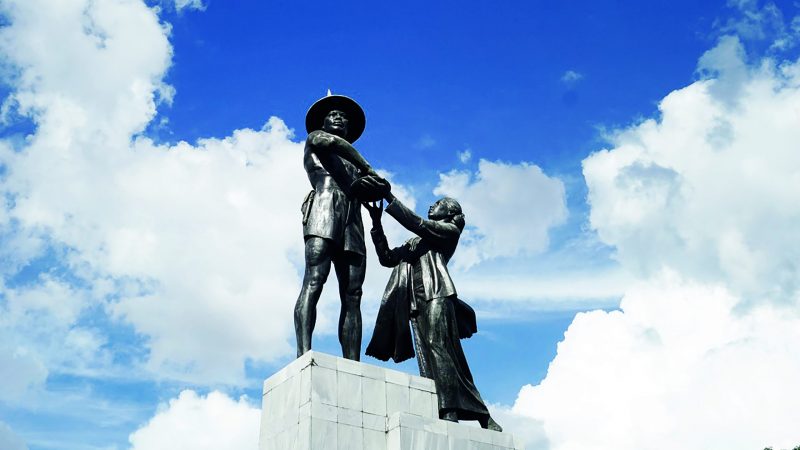 In recent years, Islamic extremist groups have demanded the destruction of this bronze statue, claiming it symbolizes communism. The statue depicts a peasant youth, about to set off to fight against the Dutch. He is wearing a rice farmer's conical hat, with a rifle on his shoulder, while his mother gives him a bowl of rice. The statue is colloquially known as the Farmer's Monument (Tugu Tani). Sukarno had visited Moscow in 1956 and was impressed by its statues. He later invited Soviet sculptor Matvey Manizer and his son Ossip Manizer to visit Indonesia to design a statue symbolizing the country's fight for independence. The statue was made in the USSR and shipped to Indonesia in 1963. It bears the inscription: "A nation that honours its heroes is a great nation."
J.P. Coen
Where: Waterloo Square, Batavia
Height: 4.6 metres
Erected: September 4, 1876
Destroyed: March 7, 1943
Creators: Eugene de Plyn, L.J.S. van Kempen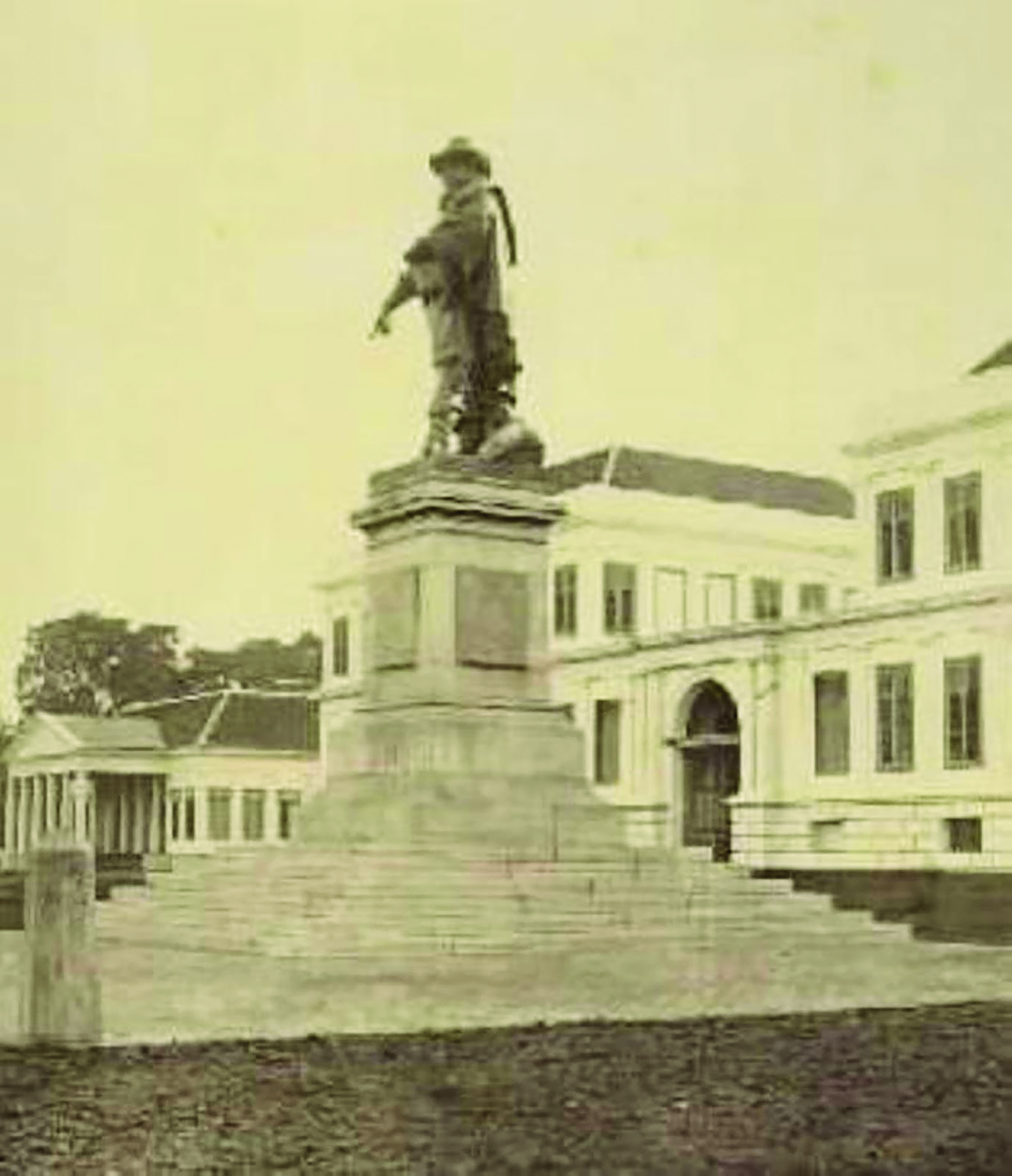 Jan Pieterszoon Coen (1587-1629) served two terms as governor general of the Dutch East Indies (1618-23 and 1627-29). Notorious for ordering massacres in pursuit of trade monopolies, he claimed he was acting with God's blessing. In 1869, the Dutch celebrated Batavia's 250th anniversary by laying the first stone of a monument to Coen. The statue was sculpted in the Netherlands by Eugene de Plyn and cast in bronze by L.J.S. van Kempen in 1873. It was shipped to Batavia in 1874 and erected two years' later outside the governor general's palace at Waterloo Square (Waterlooplein), which is now Lapangan Banten (Bull Field). Coen stood proud, his left hand holding a map of the city, while his right index finger pointed to the ground. The pedestal featured Coen's motto 'Niet Dispereet' (Never Despair). Also erected in the park was a statue of a lion atop a massive column. The lion looked so small it was nicknamed "the poodle". Both statues were destroyed at the order of Japanese occupying forces in 1943, symbolizing the movement to end Dutch rule. In 2011, there was a campaign to remove a Coen statue in his Dutch hometown of Hoorn, but it remains standing, although a new inscription mentions his responsibility for thousands of deaths. Lapangan Banten now has a statue symbolizing West Papua's freedom from Dutch colonialism.
Jalesveva Jayamahe
Where: Tanjung Perak, Surabaya, East Java
Height: 60.6 metres (30m base, 30.6m statue)
Erected: December 5, 1996
Creator: Nyoman Nuarta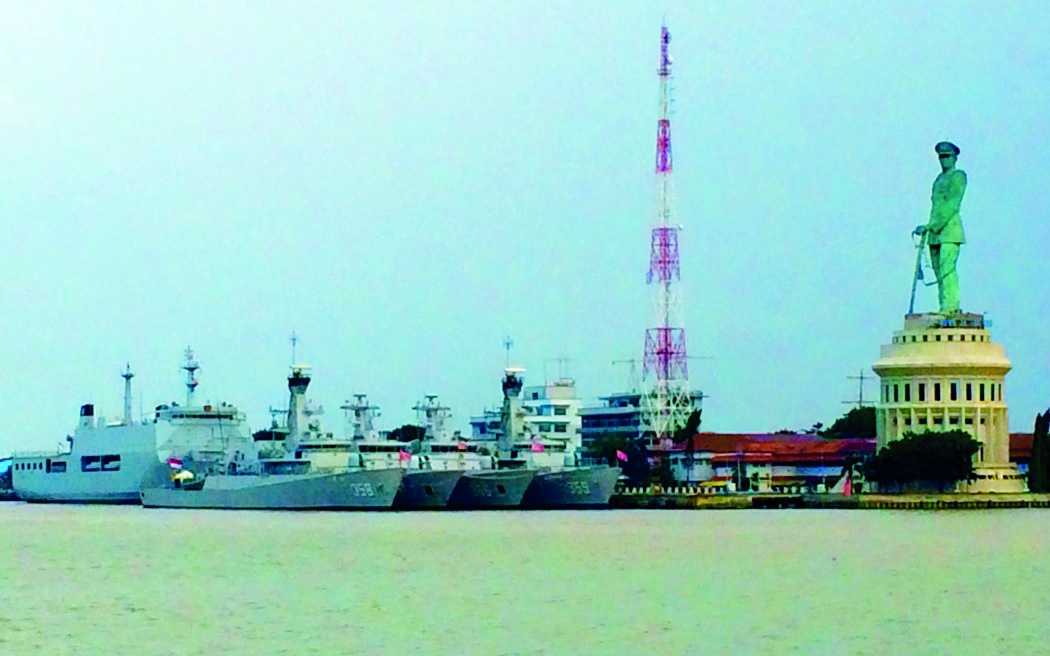 This statue makes the list because it is the second-tallest in Indonesia. It shows a naval officer looking out to sea, symbolizing the Indonesian Navy's readiness to defend the country. It also functions as a lighthouse. The name Jalesveva Jayamahe is the Navy's motto in Sanskrit and means "At Sea We Are Victorious". Construction of the bronze statue began in 1990 and was completed in 1996. It is known locally by the abbreviation Monjaya. It was built at a cost of Rp27 billion (then equivalent to about US$11 million). Beneath the statue is a Navy Museum.