To say football is massive in Indonesia is an understatement. Fans of English, Italian and Spanish teams regularly gather in warungs to watch their favourite teams play live at ungodly hours of the morning, cheering on the world famous footballers they read about on a daily basis in the prolific local sports tabloids.
Then we have local football. Teams usually only make the headlines when something bad happens, which sadly is an all too common occurrence.
Team Soap Operas
As you might expect, controversy is never far from Indonesian football. The 2017 season, which is just winding down, is no exception. As I write, British coach Simon McMenemy will be celebrating after seeing his team Bhayangkara win their first ever title after defeating Madura United (3-1). Sadly for McMenemy and his players, the headlines aren't about the team's win and their consistent performances over the campaign. Instead, many local football fans–who have cynicism as part of their DNA–are worried about how a letter from the local football association could have gone missing.
The letter, advising East Kalimantan team Mitra Kukar that their former Liverpool midfielder Mohammad Sissoko should miss the game with Bhayangkara as he was suspended following a red card, was never received by the club. Sissoko played, the game ended tied at (1-1) and Bhayangkara dropped two vital points in their title bid. Then hours ahead of the game with Madura United, the league announced Mitra Kukar had to forfeit the game with Bhayangkara as they were awarded the points and received a win for the oversight (Bhayangkara are owned by the police and don't have a fan base, which added to the intrigue)!
This was good news for Bhayangkara, but bad news for Bali United. Their swashbuckling style of play has won them many admirers over the years, and a football club in Bali could never fail to attract interest. With foreign-born players like Stefano Lilipaly, Irfan Bachdim and Sylvano Comvalius (who has scored 35 goals so far this season), they have torn teams apart and earned rave reviews at home and abroad; Bali United is the default favourite Indonesian team.
One team that has fallen short of their high standards has been Persib Bandung. They started the season in style by signing ex-Chelsea players Michael Essien and Carlton Cole on expensive contracts (rumoured to be around €800,000) as well as high-profile local players like Raphael Maitimo. However, the team failed to gel and Cole struggled with injuries. There were also rumours of infighting behind the scenes as the team's manager sought to impose his will on the coach who was actually responsible for putting the team together. In Bandung, rumours spread like wildfire and the fans were quick to show their discontent. The coach tried to quit but wasn't allowed. The manager declared Cole incompetent and that the Englishman would be leaving, only to backtrack on his statement after a meeting with club owners. The coach did eventually quit, Cole did leave, the manager has been banned from the sport for six months, and Persib's losses continue.
Live to Die for Football
The state of Indonesian football is changing. Three years ago Bali United, Bhayangkara or Madura United didn't exist. However, tobacco sponsorship and local government funding have been banned from professional football clubs so teams have had to look to the private sector for sponsorship. This new breed of clubs has proved to be very successful in attracting private business.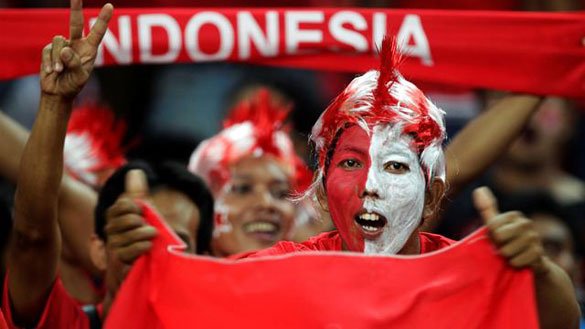 Sadly, crowd safety isn't as important an issue as it is in other countries, and this year has seen some particularly tragic moments. The league has made efforts to clamp down on flares and fireworks in stadiums, and at some venues, security checks can be quite vigorous. However, it isn't consistent as one supporter died when a flare was let off and hit him in the face during the Indonesia versus Fiji match. Another supporter died at a match between Persib versus Persija in Bandung.
One group of supporters attacked an individual who they felt wasn't supporting Persib with enough passion.
A goalkeeper lost his life after what appeared to be an innocuous challenge during a game. Choirul Huda was born in Lamongan, studied in Lamongan and played for the local team Persela Lamongan. He made his debut in 1999, and unlike some footballers who see themselves as big-time Charlies, there were no airs and graces about this humble young man. Despite being a professional footballer, he had a full-time job with the Lamongan government and his retirement goals were to coach goalkeepers at Persela.
The challenge involved a teammate during a home game with Semen Padang just before halftime. A video showed him to be in considerable discomfort, and he was rushed to a hospital where doctors tried to revive him after a suspected heart attack. His teammates finished the game and rushed to see him in the hospital. The grief at his passing was genuine and overcame many rivalries and even the likes of Arsenal goalkeeper Petr Cech were moved to pay respects to the esteemed, one-club player.
The Future is Bright
It hasn't all been doom and gloom, though. Seventeen-year-old Egy Maulana Vikry has been making a name for himself at home and abroad, even earning the title Breakthrough Player of the Toulon Tournament in France, a prestigious international youth tournament. He burnished a growing reputation by scoring eight goals as Indonesia's Under 18 finished third in the ASEAN Football Championship in Myanmar.
And for football fans living in Jakarta, there is also some good news. Local side Persija Jakarta look set to qualify for international club competition and could well be competing in the AFC Cup in 2018. If they do, it is probably the group stage games will be played at the Patriot Stadium, a short walk from Bekasi Station. Meanwhile, if you see a tall, tattooed British guy walking around Kemang with a big smile on his face and a spring in his step don't be too concerned. It's probably Simon McMenemy savouring his title success!