Welcome to the first instalment of "The Expat Golfer". Each month we will explore the wonderful golf scene here in Jakarta and throughout Indonesia. This series will include: Golf Lessons & Tips, History of the Game, Rules and Etiquette, Player Profiles, and much more.
Together we will explore the Indonesian Golf Scene, on the lookout for golf deals, bargains and values. Whether playing a local course on Sunday or off to Bali for a weekend golf get-a-way, the Expat Golfer series is sure to enhance your golfing experience!
Let's kick things off with a golf tip, shall we?
Chili Dip?  Get on the Stick!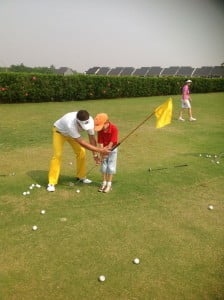 "Drive for show, putt for dough'. Most golfers are all too familiar with this axiom and yet very few golfers spend enough time practicing the short game. Let's put the driver back in the bag for a moment and spend some time around the green. It is truly time well spent. In fact, I recommend a 50/50 approach to your practice sessions. Half of your time working on the full swing and the other half chipping and putting. Let's talk about chipping for a moment. In golf, the hands are the enemy. This is especially true when it comes to the short game and chipping. In pressure situations, adrenaline, stress and tension often work their way down into the arms and hands, rendering them completely unreliable.
Furthermore, these pernicious elements combine to activate the hands; resulting in a flipping or helping motion of the hands and wrists and ultimately spell disaster. In a proper chip shot, the hands and wrists maintain their angle and are not flipped. The hands should be soft or even dead, as Dave Pelzs describes in his book, "Short Game Bible". So, how do we get the hands out of the short game? How can we get away from the flipping motion of the wrists and more of raking motion with the forearms and shoulders? Answer: get on the stick!  Simply find a three foot long stick and tape it to the handle of your club (see photo). Now, for right-handed players, position the club and stick combination to the left side of your body whereby the stick extends under your left arm and left side of your body. As you proceed to practice your chip shots, the stick should not touch your left side. If you are in fact flipping your wrists, the stick will bang against your left side, which is wrong. The chipping motion is similar to that of raking leaves.  As we rock our shoulders, arms and hands, the handle is pulled through not flipped. Just as in raking leaves, the handle goes first, then the end of the rake.
To summarize, here are the checkpoints:
1)    Tape stick to handle of golf club
2)    Dead Hands
3)    Stick should not hit your body as you chip
Good Luck!