They take their pool very seriously in Jakarta. Most evenings in many bars across the city you will find small groups huddled round tables of varying quality, either playing or watching, keeping an eye on potential opponents, chalking cues or potting pinks. In fact so busy do the pool tables get that it seems the waitresses racking the balls are busier than those pulling beers for other punters.
The Jakarta Pool League has been up and running for the best part of a decade and with 18 teams from nine different bars currently competing boasts more than 700 active participants.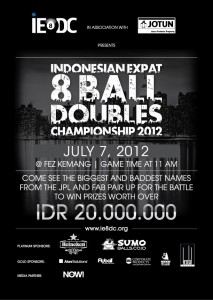 With the season over and keen to keep on playing, organizers have come up with the Indonesian Expat 8 Ball Doubles Championship. This promises to bring the best of the best together in serious, but friendly of course, rivalry, to compete for the 10 million Rupiah first prize.
I met with a couple of the organizers one evening to chat about the event. Geoff Culshaw is a jovial Canadian. After living and working in 37 countries, he arrived in Indonesia in 2007 and the first thing he did, after unpacking his toothbrush, was gravitate to the nearest bar with a pool table.
It was a natural thing to do. He had played semi professionally in Canada and took part in world championship events in Las Vegas in the mid to late 1990s.
As we sat and talked, and drank, in the new downstairs bar at Fez in Kemang, the obligatory pool games going on behind us, he explained the idea behind the IE8DC.
"It's the first of its kind in Indonesia", he said though they do have similar competitions in Bangkok, Singapore and Shanghai. "We want it to be a national championship."
As the name suggests, players play as part of a team; a big difference to the JPL where team members rack off against opponents individually. "This is what makes it interesting," Geoff enthuses. "Individually players can be very good, excellent in fact, but in doubles they have to take into account what their partner wants to do or what their partner's particular strength is."
The first competition is limited to 32 teams; 64 players and the organizers are promising the best of the best in Indonesian expat pool circles.
I asked if I could enter and he laughed, indeed most of the people at the table laughed. I wanted to complain they hadn't even seen me play but to be fair their instinct must have told them most of my shots had spectators running for cover.
"All competitors are screened," said Paul Cross, another of the organizing committee, "in fact we know who we wanted to enter and they are the very best players in the JPL." Given their involvement in pool circles this past decade or so, it was very unlikely any good player had not been noticed by them.
"Obviously if some player out there we didn't know wanted to enter then we would have a look at them." It was a challenge I didn't take up!
The draw, along with an auction, will take place on July 6th in the new downstairs bar at Fez in Kemang with the first round featuring 16 match ups. The competition itself will rack off at 11 am on the following day, Saturday 7th July and will go on till about 9 pm.
The initial 16 games will produce eight winners who will go on to the next round and so on until we get to the final doubles who will go head to head in the final for the prizes on offer. The winning team gets 10 million rupiah and a trophy that will be displayed in the bar, a couple of top end Meucci cues and a bag of chalk.
The runners up will get 5 million rupiah while the 3rd and 4th placed teams will get themselves a million rupiah each. And each of the top four finalists will receive their very own trophy they can place in their trophy cabinet at home.
Nobody will go home empty handed as the organizers are putting together a goody bag of bits and pieces provided by the various sponsors.
But it's not all about taking. Proceeds from the auction will go towards local charities as will any monies left over after the running costs have been deducted from the registration fees.
Indeed, with happy hour prices all day and live music on the night of the draw and following the final itself the whole event promises to be a busy and fun filled day with, as Geoff says, "Some excellent pool played by some excellent players," and spectators are, "more than welcome".