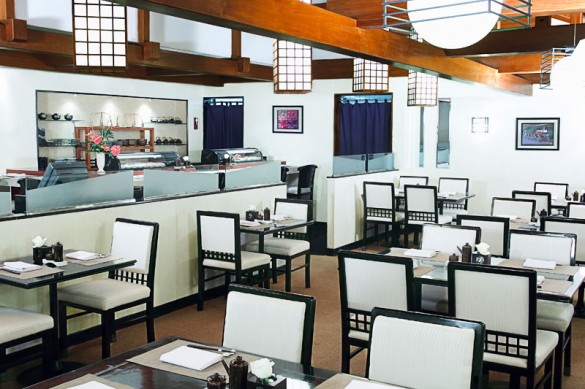 Japanese cuisine is no doubt an acquired taste to some. In Jakarta, Japanese food has often been 'watered down' to more casual joints, with modified flavours and sometimes questionable freshness. For modern Japanese restaurants, fusion sushi is the usual deal. Traditional Japanese restaurants don't come in the bunch in Jakarta, but when you find a good one, you stick to that one. The key is freshness.
"Irasshaimase!" is the proper greeting at a Japanese restaurant, a phrase that means 'welcome to our shop'. Upon being greeted in such a way at Keyaki restaurant, a nice traditional Japanese interior met the eyes, it was the sort of interior that compels you to feel transported to an actual Japanese home, just casually having lunch or dinner there for a few hours. Perhaps it's the white walls with wooden squares accents, purposefully built like a shoji, a traditional Japanese room divider made of translucent paper and wood frames. Or perhaps it is the servers all dressed up in kimonos or the tatami dining setting at the VIP room. In any case, my first impression of Keyaki is centred on its success in creating a homey Japanese atmosphere.
Keyaki is housed under the roof of Sari Pan Pacific Jakarta hotel in Central Jakarta. It was first established in 1976, along with the opening of the hotel. Ever since then, Keyaki has undergone some renovations to get to its present state and even changed its name from Furusato to its current Keyaki. The place has since stayed true to its trademark of serving authentic Japanese cuisine among a sea of fusion sushi restaurants in the city.
By the entrance, a Robatayaki counter is proudly displayed. This is the Japanese way of grilling, and guests get an assortment of fresh seafood to choose from at this bar. In addition to the Robatayaki grill, and of course freshly cut sushi and sashimi, Keyaki's cuisine is prepared in a variety of ways, such as teppanyaki, sukiyaki, yakiniku and even shabu-shabu.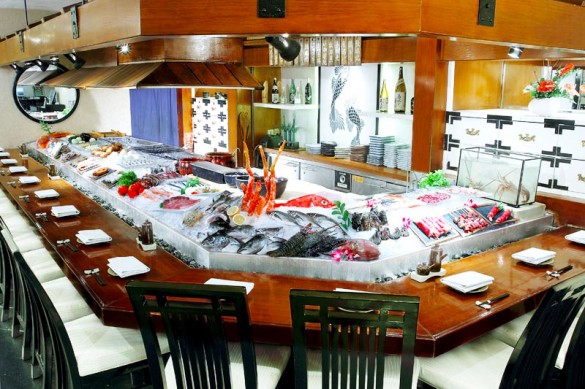 As I was shown to my seat in this spacious restaurant, the customary wet towel greeted me at the table, a common practice at Japanese restaurants. The friendly servers were quick to offer guests a glass of ocha, or green tea, which in Keyaki is offered on a free-refill basis.
Keyaki's menu is very large and varied; it helps to know what you are jonesing for when coming in. If noodles are your preference, the Nabeyaki Udon (110K) is a classic must-try dish. Served with either chicken or beef, Nabeyaki Udon comes in a very large serving, with piping hot soup and vegetable tempura on the side. Most dishes in Keyaki comes in a large portion, it would be advisable to share.
To start, we dined on the Nama Yasai Mori, or fresh garden salad (45K). As previously said, freshness is key at this well-respected restaurant, and it's even apparent in the preparation of the salad. Order the fresh salmon or tuna nigiri sushi and you won't be sorry. The assorted Keyaki tempura dish (150K) is an instant favourite as a starter, featuring vegetables, shrimp and fish tempura with a soy-based tempura dip. The crunchiness of the tempura is just right and was a delicious start to the meal.
The food was prepared swiftly and elegantly as our sushi arrived. The salmon avocado roll (87K) was exquisite and fresh, it was gone in seconds. Another winner on the sushi menu is the Hot Special (86K) which is also a salmon-based roll with avocado and spicy seasoning. This roll takes home the trophy as the salmon is slightly smoked and is simply heaven to the palate.
Another sushi platter to arrive was the Rock 'n Roll (98K), which consisted of scallops, grilled eel, prawn and bonito flakes. This particular roll is crunchy on the inside and the grilled scallops on top practically melts in your mouth. Served with a bit of mayonnaise, this is a great fusion sushi dish at Keyaki.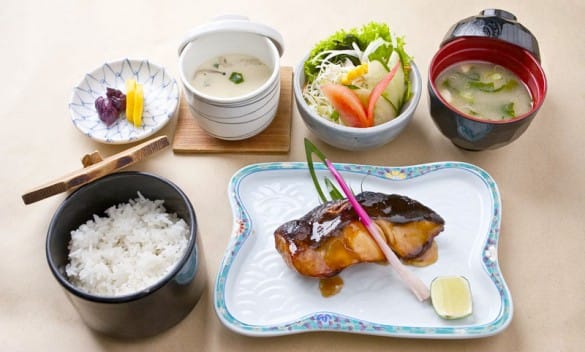 One of the most recommended, mouth-watering dishes at Keyaki is the Gindara teriyaki zen (276K). This is a set menu with soft and properly seasoned cod fillet with Keyaki's teriyaki sauce. This dish is served with rice, miso soup, salad and a mini tempura set. The set is a great option for lunch. The beef teriyaki set (240K) is another favourite of Keyaki's patrons.
It's not the end of the meal before dessert is served. Keyaki offers an array of ice cream and sherbet flavours, served with red bean paste on top for 48K/scoop. One of the tastiest is the black sesame ice cream (75K/scoop) and it is home-made. Other options for dessert include fresh fruits, pan-fried banana with honey and black forest cake.
Beverages at Keyaki are just as important as it complements your authentic Japanese food experience. Beer is served all day, sake is popular during dinner time and green tea is endlessly flowing.
Single diners are seen by the bunch at Keyaki, but tables of group business lunch-goers also frequent the restaurant, especially during the weekends when the weekend buffet deal (210K++) is on offer. Keyaki welcomes a large amount of regular customers every day, and these loyal customers are a testament to their delicious and fresh food daily. The chef makes sure that freshness of seafood, vegetables and all other dishes is up to a top-tier standard.
If you feel like having a nice lunch or dinner in what feels practically like Japan, Keyaki is a superior option. The authentic Japanese food at Keyaki is not only delicious, it's a timeless classic.
Keyaki
Sari Pan Pacific Jakarta Hotel (lobby level)
Jl. MH. Thamrin 6, Central Jakarta
Ph: (021) 2993-2752
Hours:
Lunch: 11.30am – 2pm
Dinner: 6pm – 10.30pm