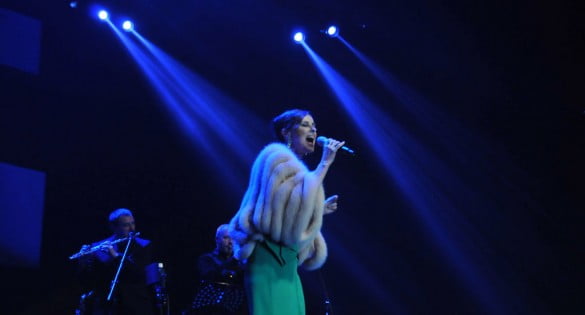 As a jazz fanatic it was a privilege to be at the Java Jazz Festival this year. Held for the ninth time, this festival not only attracts artists from all over the world, but visitors also travelled from far to be at this prestigious event. I reckon they got what they came for: enough satisfying ear candy until the festivals' tenth anniversary.
Being a newcomer to Jakarta I was first introduced to the Java Jazz Festival only a few weeks ago. As a music lover, for jazz in particular, I wondered why I had never heard about it before. Taking comfort in the fact that it would probably be a small, local fair, I started doing my research. More than one hundred artists, one thousand musicians and 50,000 annual visitors later I found myself looking quite baffled at the screen. This was a major event unlike any other in the region. It had to be something special for the eyes and ears of any jazz aficionado, or any music aficionado for that matter. There was no doubt in my mind; this was an event not to be missed.
Upon entering the Jakarta International Expo in Kemayoran there was a familiar festival feeling. While passing dozens of people selling tickets at incredible discounts, the muffled sound of music hailing from within the expo seemed to be dragging everyone to the entrance. Befitting to European culture, I stood impatiently in the queue. Hypnotised by the idea of all things wonderful that awaited me, there was no gratifying feeling tarrying behind the slow moving masses. Retrospectively, all the hassle was definitely worth it.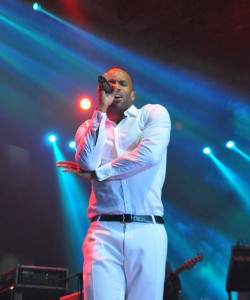 Local band The Extra Large had the heavy duty of welcoming everyone to the festival at the time of my entry. Their bluesy jazz was a delight to the ears and with it they set the bar for all musicians to follow. Up to that moment I did not yet know all musicians would be so good. As a warm-up to the rest of the day the early crowd seemed to be equally enjoying this great band.
To fully grasp the magnitude of a festival it is always a good idea to walk around and whiff up the air in every corner of the venue. Surrounded by large outdoor stages and nine halls was a big pavilion in which sponsors had their stalls and stores. Without these sponsors the event would have been significantly smaller, and because they had their own centralized stage this was no annoyance. Some of them organized music themselves, mostly performed by young, local bands. However, like the bands performing on the bigger stages, most of these were tremendous.
Together with Lisa Stansfield, Basia was the main act on the second day of the festival. I was lucky enough to be sitting right in front of her most hysteric fan; squealing at the first note of every song, yelling every word with a crazed sensation. Accompanied by her very talented, international band, Basia performed a few of her greatest hits, along with lesser-known songs. Most of them were allowed a small introduction about the history of how they came to be, such as Astrud, which is a tribute to one of the best samba and bossa nova singers, Brazilian-born Astrud Gilberto.
The influence of Gilberto did not stop there; even though Basia has a unique style, it is evident she is an admirer of the Brazilian singer. Third Time Lucky and An Olive Tree could have easily been sung by the former, which, to my tasting, proves what a great singer and composer Basia actually is.
The recurring 80's layer in most of her songs can be a nuisance to those who have never been fond of the decade, while others may forever yearn for the return of these good old days. Performances like How Dare You and Time and Tide were welcomed by much applause and accompanied by sleek visuals of colourful bubbles and moving gradients.
Some of the musicians received some well-deserved individual moments during Basia's concert. Cruising for Bruising was introduced by an incredible solo from saxophonist Ian Kirkham, better known as a member of Simply Red. And later, the Italian Giorgio was given the spotlight to show off his mastery of the guitar, Latin-American style. After the introduction of the band, the concert was concluded with Copernicus; taken from Basia's successful 1989 album London Warsaw New York.
With the schedule in-hand numerous great bands passed the revue. Local and international bands alike gave performances varying from great to fantastic. The only difference between them would be the language of words. Regarding the language of music, local artists carried as much weight as their counterparts.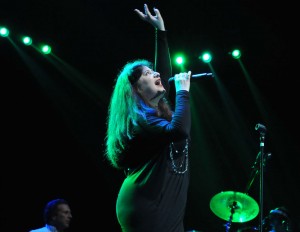 One oddity did strike me numerous times. With the exception of some jumping and cheering young spectators, many visitors seemed to be walking around aimlessly and large groups sat on the ground in the halls, not applauding or moving on some very energetic sounds. I wondered if this was culturally normal, or if they did not understand the music? After sitting and lying down between them, I still hesitated on the answer. Regardless of sitting or standing, my feet moved with the beat and my hands mimicked the melody as if I was playing one of the instruments myself. It just feels better standing. This is why I was a bit perplexed that the special shows were designed to be all seating. Joss Stone actually mentioned it during her concert on the first day of the festival: "If you guys want to get up, and have a little boogie, please feel free. Because isn't that what music is for?"
At one point I was making so many notes on my phone that there was no time to listen to the music. It was impossible to give every good musician an ear, write everything down and be with the next band in time to catch the essence of their music. Luckily some of the larger shows will be on the festival's YouTube channel (http://www.youtube.com/user/javajazzfest), however if there is a downside to any festival of this magnitude it is just that – the magnitude. It can be difficult to leave a stage in order to eat at the food court, or the thought of missing an amazing moment because of a visit to the lavatory.
These are no complaints. All of abovementioned critiques are excuses to anxiously anticipate next year's line-up, because the Java Jazz Festival is something special for the eyes and ears of any jazz aficionado, or any music aficionado for that matter.